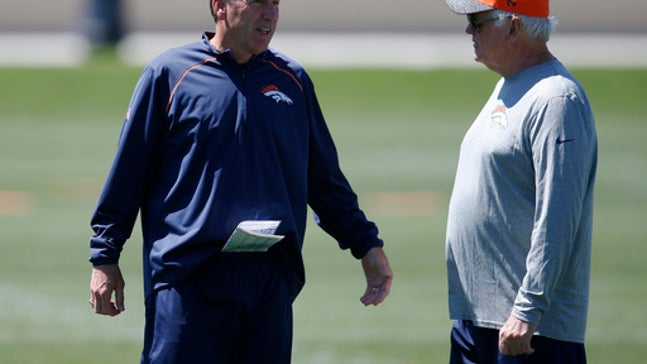 Broncos remain positive in face of endless drama
Published
Jun. 15, 2016 7:19 p.m. ET

ENGLEWOOD, Colo. (AP) The Super Bowl champion Denver Broncos will break for summer vacation with plenty of questions still unanswered, including who will be under center when they return and whether Aqib Talib will be able to play. The biggest unknown is whether superstar Von Miller will sign a long-term deal.
Miller is hoping to do that by the July 15 deadline after his camp rejected the team's six-year offer because only $38.5 million was guaranteed.
Eagles defensive lineman Fletcher Cox set the standard this week with a six-year extension that includes $63 million in guarantees, the largest pledge to a non-quarterback in NFL history. Of that amount, $27 million is ''virtually'' guaranteed as that money kicks in during subsequent years when the salary cap hit would make cutting him cost-prohibitive.
Cox's deal could serve as a blueprint or a jump-start for Miller's negotiations.
Miller sat out the Broncos' entire offseason program, which wraps up Thursday with a morning lift and a team photo. He made only two appearances with his teammates, one to visit the White House and the other to pick up his championship ring.
At that ring ceremony, Hall of Famer Shannon Sharpe took a serving tray and turned it into a collection plate, imploring everybody to pitch in and help GM John Elway sign Miller. The tongue-in-cheek gesture actually netted some greenbacks.
If the sides don't reach a compromise by mid-July, Miller would have to play on the $14.129 million exclusive franchise tender for 2016 unless he decides to sit out the season in a first step toward a probable departure in 2017.
Cornerback Chris Harris Jr. said he's confident Miller will be back when training camp begins.
''No, I don't have any worries. I don't think anybody in there does,'' Harris said as he left team headquarters Wednesday. ''We think everything will get sorted out.''
Miller made an appearance on Chelsea Handler's new show on Netflix and said he's still hoping for a deal to get done: ''The franchise tag, it's a one-year deal. I would like a little bit more stability. I want to be a Bronco forever. I just want the feeling to be the same from the Broncos.''
When Handler asked him if there's a chance he'd sit out the upcoming season, Miller said: ''No, I mean ... we still have a month. I just can't see myself with any other team. My boys - T.J. Ward, Aqib Talib, Kayvon Webster, DeMarcus Ware, all those guys, I built very, very close relationships with those guys, and I would like to continue to build that for the rest of my career.''
Ware didn't participate in any offseason practices because of a bad back that sidelined him for five games and parts of two others last season before his impressive playoff run when he teamed with Miller to harass Ben Roethlisberger, Tom Brady and Cam Newton.
''I'm definitely worried about D-Ware,'' Harris said. ''You just never know how back injuries are going to affect you. But hopefully he'll be ready to roll by training camp.''
Talib could be facing both legal issues and league discipline over a shooting in Dallas earlier this month that left him with bullet wounds to his right leg and raised questions about whether he'll be the same Pro Bowl cornerback whenever he returns to the field.
''Same thing with Aqib, definitely I'm worried,'' said Harris. ''You never know how you recover from that type of injury, so we just hope that he'll be able to go before the season starts and that he's still the same guy.''
The Broncos have had plenty of drama since beating Carolina 24-10 in the Super Bowl. They lost Brock Osweiler to free agency 48 hours after Peyton Manning retired and then watched Malik Jackson and Danny Trevathan leave.
They failed to persuade Colin Kaepernick to take a pay cut to come to Denver, so they traded for Mark Sanchez and drafted Paxton Lynch. But the most impressive QB so far is second-year pro Trevor Siemian, who's been in coach Gary Kubiak's system the longest.
None of the uncertainty will derail Denver's quest to repeat, Harris insisted, because this team is accustomed to dealing with drama.
''We feel like we have great mental toughness to get through these situations,'' Harris said. ''We've had great OTAs, great practices. Everybody is bringing that same attitude to the practice field that we've had in the past. There are just things that every team has to go through. It happens to every team.''
---
AP NFL website: www.pro32.ap.org and www.twitter.com/AP-NFL
---
Follow AP Pro Football Writer Arnie Melendrez Stapleton on Twitter: http://twitter.com/arniestapleton
---
---