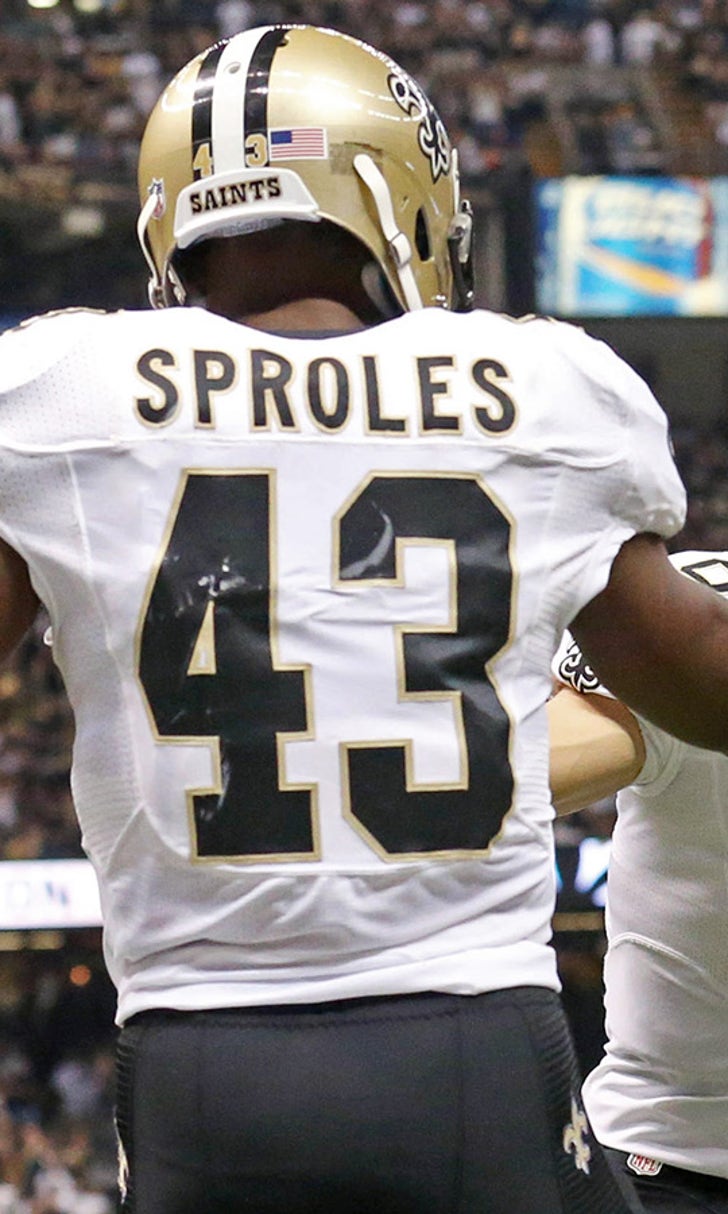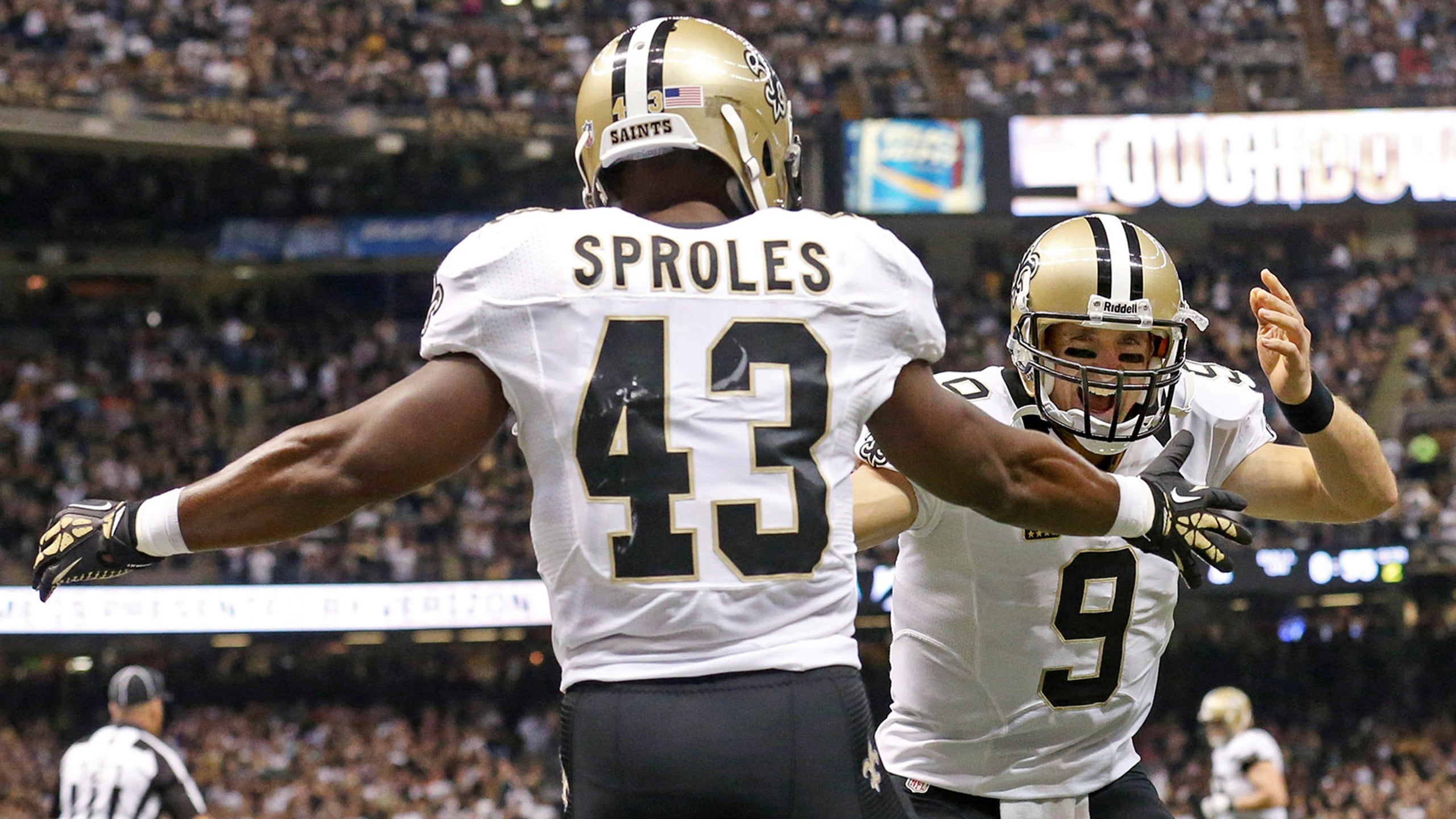 Brees disappointed Saints lost Sproles
BY Mike Garafolo • March 18, 2014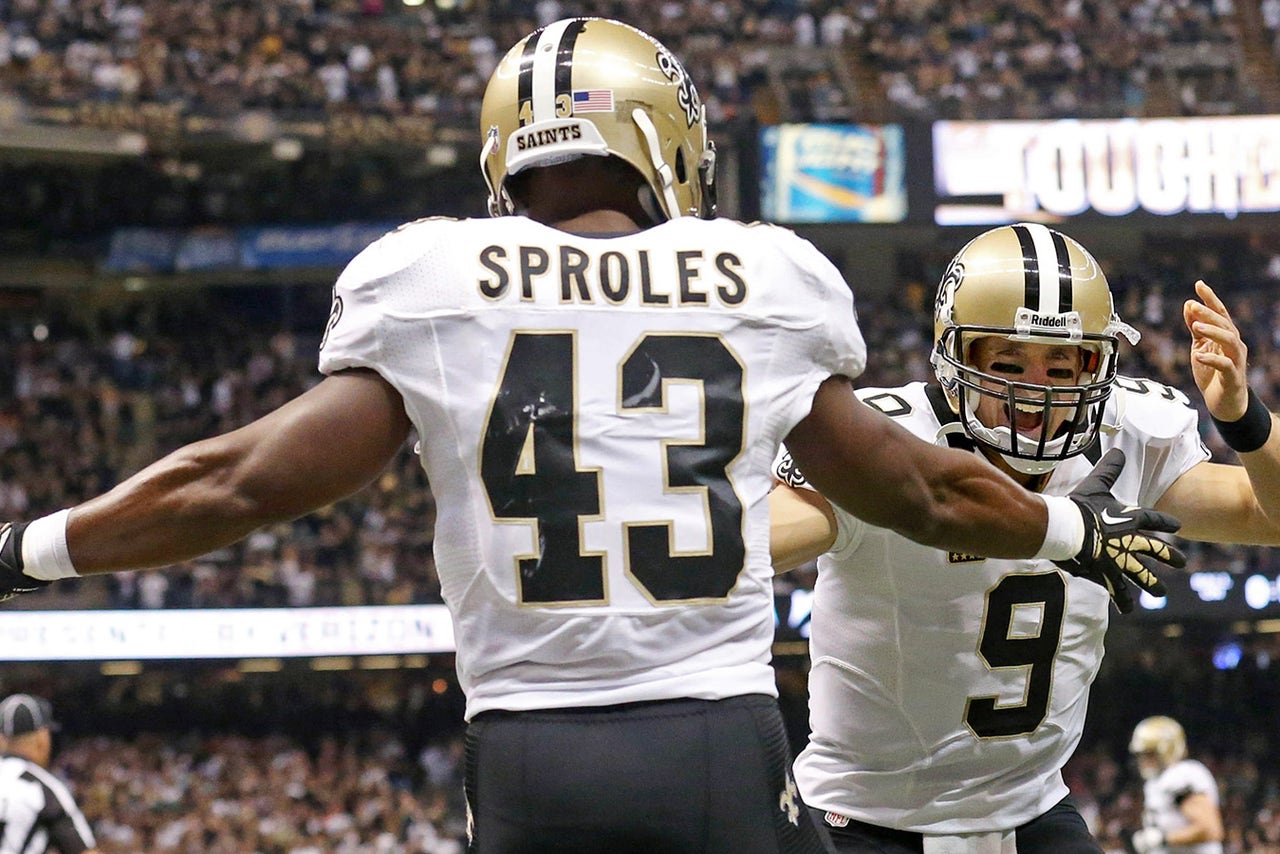 Drew Brees was in Darren Sproles' ear three years ago when the two were working out together during the NFL lockout.
"Bro, you're going to be a Saint, just get that in your head right now," the New Orleans Saints' quarterback recalls telling his once and future teammate. "When this lockout is done, you're going to be a Saint."
Brees was right. Sproles signed a four-year, $14 million deal with New Orleans and, over next three seasons, compiled more than 3,000 total yards as a slippery dual threat with which head coach Sean Payton tinkered. But Sproles will not see the fourth year of his deal -- at least in New Orleans. He was traded to the Philadelphia Eagles for a fifth-round pick and then signed a two-year extension.
The man who helped sell Sproles on the Saints is now disappointed to know his recruit is no longer with the club.
"I think a Darren Sproles only comes around once in your lifetime, in my career and in everybody's career," Brees told FOX Sports and USA Today Sports at the NFL Players Association player rep meetings. "There may be another one 15, 20 years from now. But there's not many guys like Darren Sproles. He's a special player, he's a special person, he's a special teammate. I'm lucky to have had the chance to play with him on two teams -- '05 in San Diego when we drafted him in the (fourth) round and three years in New Orleans."
As a member of the NFLPA's executive committee and a high-profile player who had a public contract squabble two years ago, Brees understands the business. But that didn't make the Saints' trading away Sproles any easier for him.
"That was one of the tougher ones for me," Brees said, adding: "I feel like that was my guy, that was my pick and I wanted that to last forever. But unfortunately, it didn't last forever."
Nothing lasts forever in the NFL these days. Case in point: the dismantling of the Saints' Super Bowl XLIV roster, which is nearly complete. Brees sighed as he rattled off the names of the six players from that team who are still Saints: Brees, punter Thomas Morstead, guard Jahri Evans, wide receivers Marques Colston and Robert Meachem (though Meachem left then returned), tackle Zach Strief and running back Pierre Thomas, the last two being players who just signed new long-term deals with the Saints.
"That's crazy. That was just four years ago," Brees said. "It's tough because a lot of those guys I've played with for eight years. Eight years. Which is rare. I'd say that's very rare in this day and age, to have that amount of time with a group of guys. You become very connected during that time, so it's always hard when you get to this point.
"It's going to be a new team in a lot of ways, a lot of young guys stepping up into roles that maybe they haven't been in before and it's where the new leaders emerge. You kind of forge a new identity a little bit."
That new identity will include an old face in Jimmy Graham. Well, at least Brees is confident it will.
Graham is a free agent who received the non-exclusive franchise tag. He's free to negotiate with other teams right now, though his asking price combined with the two first-round picks a team would have to give the Saints will likely scare off any potential offers. And there's still a matter of a potential grievance to be filed by the NFLPA on Graham's behalf to determine whether he should receive a franchise-tag salary equivalent to a tight end ($7.035 million) or a wide receiver ($12.312 million).
Nonetheless, Brees believes Graham will be back with the Saints. Eventually.
"Since I've been through it just two short years ago, you just know it's part of the process. You can't take any of that personal," said Brees, who came to an agreement with the Saints in July 2012 after the team tagged him five months earlier. "Listen, I know Jimmy will be ready to play, whether that means he's coming in tomorrow, April 21 or Aug. 21, I know Jimmy Graham will be ready to play and he'll be a big part of our offense and a big part of our team for a long time. I'm very confident that will work out."
A source told FOX Sports recently Graham is prepared to sit out part of the spring, if not all, while his contract situation plays out. It's unclear whether Graham would miss part or all of training camp.
Asked whether he has any doubt Graham will be on the field come Week 1, Brees said, "No, no doubt, no doubt."
And he has no doubt this Saints team will have a different look and feel from those in recent years.
"It's funny because as I look into my career, and someone has told this to me at some point," he said, "really, in your lifetime, you're going to play with about five or six different teams in the sense that every four years on the team, it's really a completely new team."
Meanwhile, it will be almost completely new team on the NFLPA executive committee, which will be named here on Wednesday. The players will also elect a new president to replace the outgoing Dominique Foxworth.
Brees said "maybe" he'll return to the executive committee, though his body language indicated he's planning to step down to allow a "young guy champing at the bit" to take his place, especially since he now has four kids and increasing responsibilities elsewhere in his life.
Brees was one of the key members of the executive committee during the 2011 lockout. This new regime about to take over has the comfort of seven more years of labor peace. Though Brees said there are always issues with the collective bargaining agreement that must be addressed, he knows other concerns will be at the forefront for the new executive committee to manage.
Chief among them is player safety.
"That will always be the No. 1 issue -- player health and safety. That's something we've always talked about as being non-negotiable," Brees said when asked about keeping the game entertaining and as safe as possible at the same time. "There is a balance. Is this game always going to be rough, tough, fast, violent? Yes, it is. That's what we love about the game. That's what the fans love about the game. But there are measures that will continue to be taken to help protect guys.
"More so than ever, we realize the long-term effects of certain elements of this game if we don't put the measures in place to protect guys. We know so much more now than we did 10 years ago, 20 years ago, so we are constantly thinking of ways to not only improve this game going forward but reaching back and helping those guys that came before us and helped pave the way for what we have with this game now."
---
---