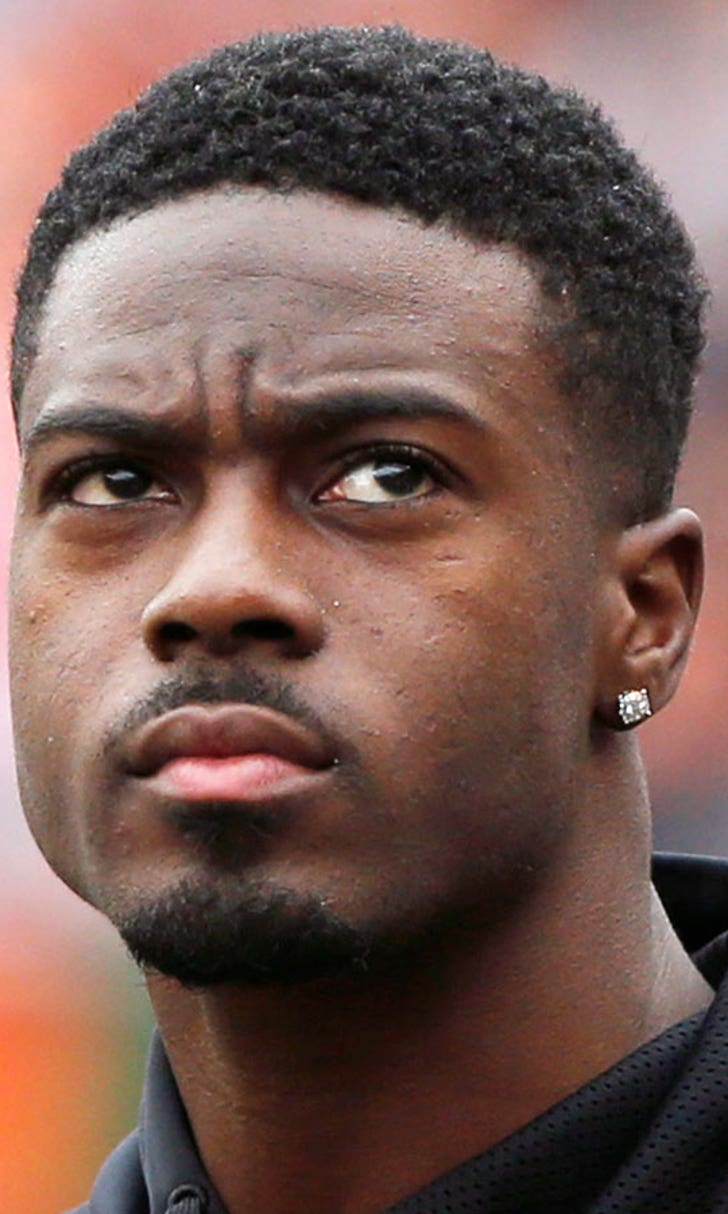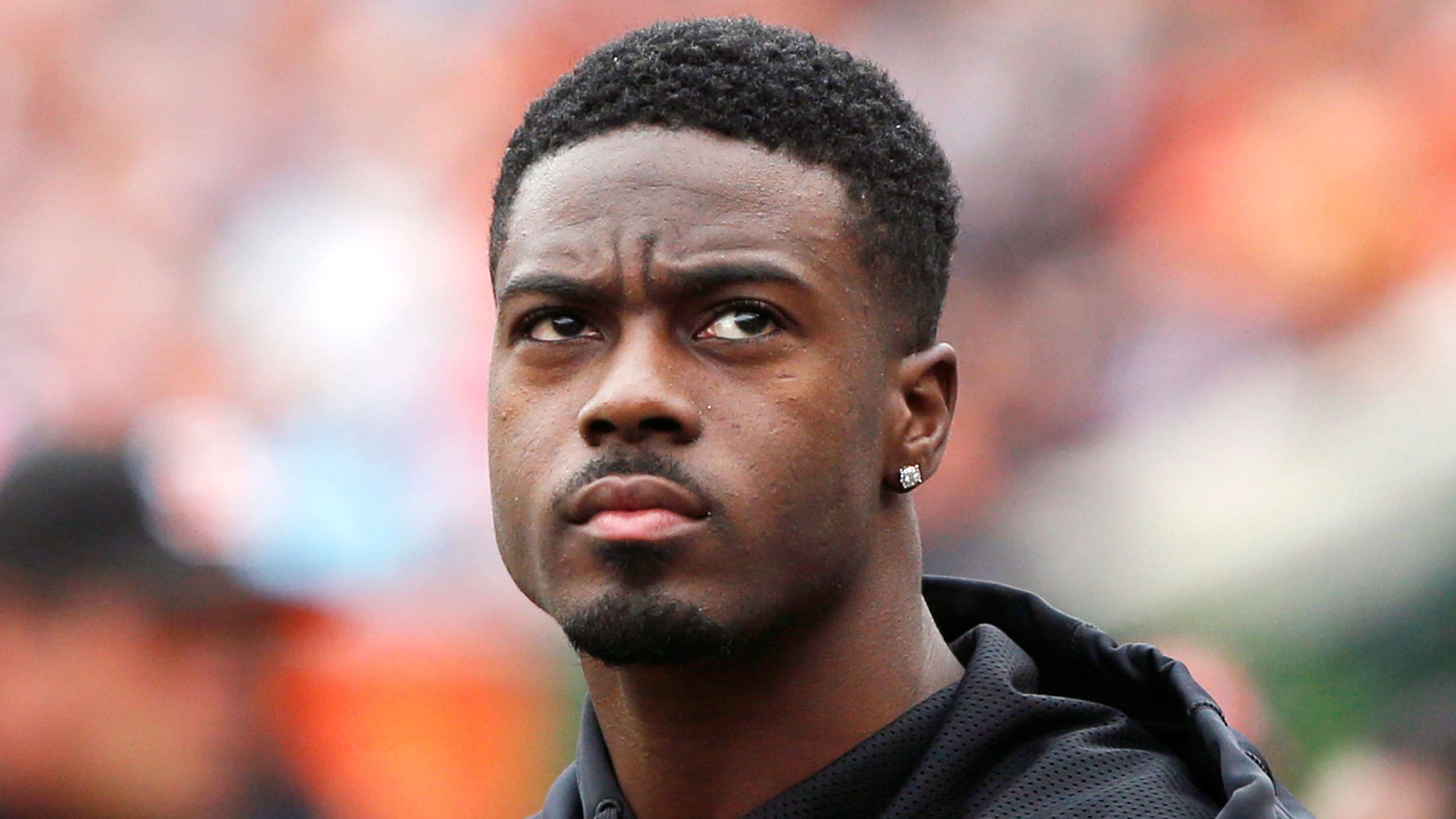 A.J. Green: 'No excuse' for banged-up Bengals' struggles
BY Sid Saraf • October 21, 2014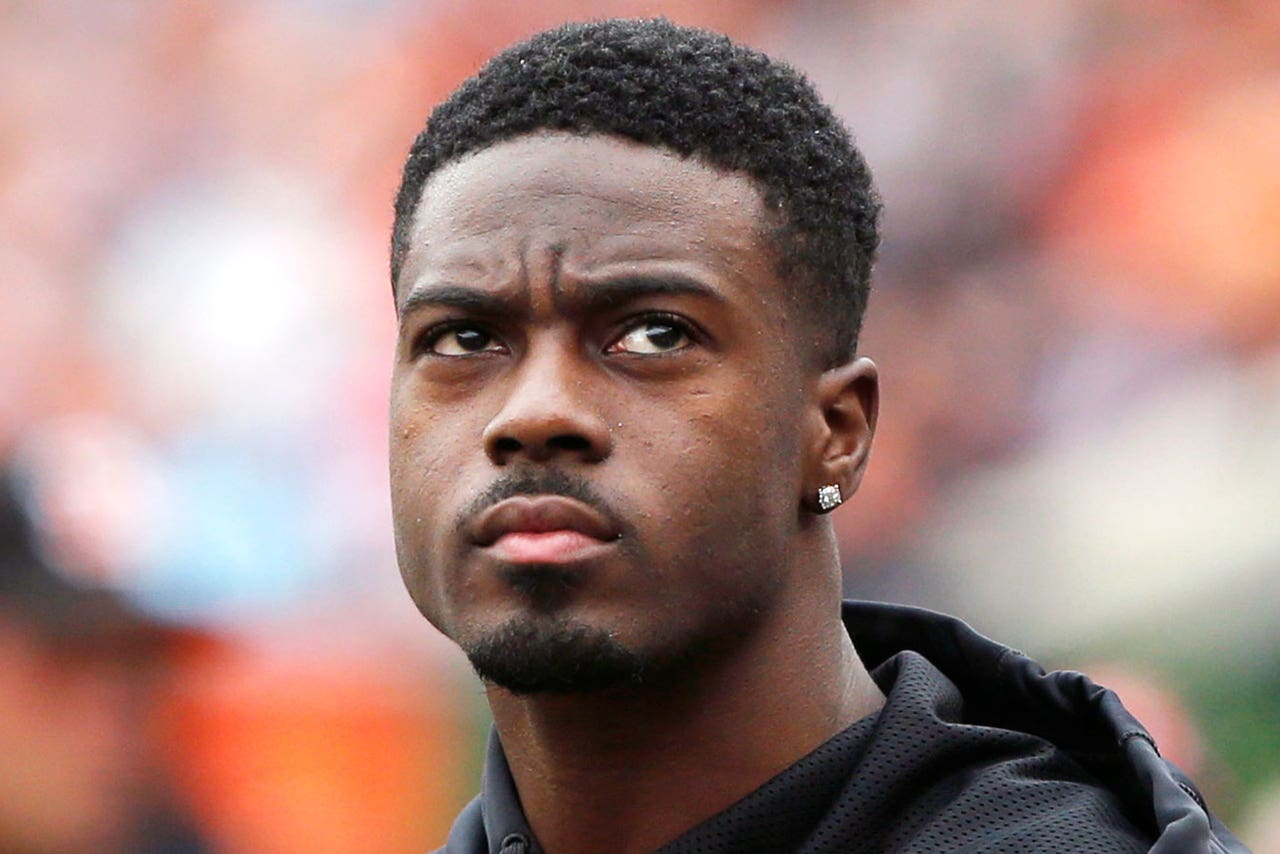 For A.J. Green, standing on the sidelines is painful. Not because of his injured toe, though that doesn't help matters.
Watching the Bengals' struggle without him is what really hurts.
Green had missed only one game since coming into the league in 2011, but a toe injury has kept him out the past two weeks. On Sunday, he could only watch in street clothes as Cincy's offense struggled and sputtered in a 27-0 loss at Indianapolis, mustering just 135 yards of total offense.
"Just being out there and knowing you don't have any control to help the offense is frustrating," the three-time Pro Bowler said in an interview with FOXSports.com.
Frustrating is the perfect word to describe the Bengals last week. They were just one for 13 on third down and ran just eight plays on the Colts' side of the field.
"We couldn't get in the groove. It's crazy, I've been around here for a while and once you can't get anything going, it's hard to pick it up, especially on the road."
It feels like it was a lifetime ago when the Bengals were flying high after winning three straight games to start the season. People everywhere had tapped them as the NFL's most complete team as they headed into their bye week.
Then came a 43-17 loss in New England, followed by an inexplicable 37-37 tie with Carolina. Sunday's game against Indy keeps Cincinnati winless in October. So how would one characterize the Bengals now?
"Average. We started out flying high, and now we're getting our face rubbed in it a little bit," said Green, who just finished shooting a video bit for Old Spice, where he is interviewed by the company's famed robot.
At least one of his teammates agrees.
"We're not playing good football right now," defensive end Carlos Dunlap said to The Associated Press. "So we've got to figure it out and get back to doing what we did the first three games. We've been off our stuff right now."
One thing that has bitten the Bengals hard is the injury bug. In addition to Green's injury -- which he pegged as an eight on a pain scale of one to 10 -- the team has had the likes of George Iloka, Marvin Jones, Rey Maualuga, Andre Smith, Andrew Whitworth and Kevin Zeitler all miss time.
Linebacker Vontaze Burfict, one of the team's emotional leaders, has also missed a pair of games with concussion issues and left Sunday's game with a cervical strain. Head coach Marvin Lewis has said Burfict is "fine," but the walking wounded seem to be growing en masse in Cincinnati. It's no wonder this team was gashed for 506 yards against Indianapolis.
But Green isn't playing a violin.
"With some of the defensive players hurt, we don't really have the rotation that we want, but there's no excuse," he said. "The year Green Bay won the Super Bowl (in 2010), they had a lot of injuries, so we have to overcome them."
The Bengals have allowed an average of 416.7 yards per game over their first six games, compared with just 305.5 yards at this point in 2013. What's more troubling is that the defense has allowed their past four opponents to average 171.8 yards on the ground. Lewis feels it's a matter of consistency, rather than a matter of injuries piling up.
"We've got to do a great job in run fits all the time is more the answer to the question," Lewis told FOX Sports Ohio on Monday, in regard to fixing the run defense. "Consistently all the time, whether it's in seven-man spacing, eight-man spacing, and so forth, we've got to do a better job of it, and understand when they're in those spacings."
Quarterback Andy Dalton isn't making excuses either, even though he's been a lightning rod for criticism over the past couple of years for his lack of playoff success. He had his worst game of the season Sunday, completing 18 of 38 passes for 126 yards.
"I think it is a good wake-up call for everyone on this team," said Dalton, who despite the team's recent struggles, was leading the NFL's fifth-ranked offense entering Sunday's game.
"I'm sure if you talk to any of the players, they'll say they never thought that was coming," offensive coordinator Hue Jackson told the AP. "They didn't see that happening. I didn't, either, but it did. So, what are you going to do about it now?"
Dalton not having either Green or fellow wideout Marvin Jones couldn't have helped.
"You look back on it and say, 'Well, maybe if you run the ball more, maybe you have more chances,'" Jackson told the team website. "Could I have given it more of a chance? Yes ... I didn't yesterday."
Green has his quarterback's back.
"Even though we didn't have the best game, it's not all on [Dalton]," Green said. "He's our guy to take us to the Super Bowl."
Well, before any Super Bowl plans can be made, there is pressing business in the immediate future. The Bengals will face the first-place Ravens on Sunday in the first of three straight home games. Cincy has won three of its past four games against Baltimore, including a 23-16 victory in Week 1.
The Bengals have also won four of their past five against the Ravens at home, but past accomplishments mean nothing when it comes to AFC North battles.
"They're grind-out games because you play those guys so often, so it's not really a secret of what you're going to do," said Green. "You've just got to beat your man. Me vs. You. There are no trick plays because we've been playing each other so long."
The Bengals follow Sunday's game with winnable contests against the Jaguars and Browns before heading back on the road to face a vulnerable Saints team.
"Now, it's down to a 10-game season, and if we can get seven of those, we'll be good," Green said. "Five of them are at home, and if we steal a couple on the road, we'll be fine."
Another teammate is with Green.
"It's not the end of the world, guys, we'll be alright," defensive tackle Domata Peko told FOX Sports Ohio. "It's a three-game little rut, but I have a lot of faith in my team, I have a lot of faith in our group here, and we'll be OK."
As for Green's injury, the Bengals are optimistic that the wideout can play against the Ravens, but no firm decision has been made yet. Green, despite being a ferocious competitor, is learning how to properly deal with his recovery.
"Some days it feels good, some days it doesn't. They key for me is to keep feeling better, manage it through the season and still be able to play at a high level."
The Bengals are undoubtedly crossing their fingers that Green will be back in the lineup and in his dominant form soon.
You can follow Sid Saraf on Twitter @RealSidSaraf
---
---