San Diego Padres
San Diego Padres
Royals' Kennedy returns to Petco to face Padres (Jun 10, 2017)
Published
Jun. 10, 2017 2:49 a.m. ET

SAN DIEGO -- Ian Kennedy is a guest in name only when the Kansas City Royals face the San Diego Padres on Saturday afternoon.
Kennedy draws the start for the Royals and he'll face Miguel Diaz, who will make his starting debut in the majors.
The right-handed Kennedy knows what it's like to take the Petco Park mound with "Padres" across his chest. He was 26-30 from 2013-15 with the Padres and said he still feels at home here despite wearing a rival uniform.
"It's always nice to come here as a visitor," Kennedy said. "And when you played here you felt like you were on vacation. Walking around the city ... it's nice. You miss the weather a little bit."
The Royals are hopeful Kennedy (0-6, 5.33 ERA) can start avoiding some bats.
"He's getting better," Kansas City manager Ned Yost said.
It just hasn't shown in the results, with Kennedy losing his last two starts and four of his last five outings. But Kennedy, who missed two starts with a leg injury, said he's fit again. He was upbeat about his performance on Monday, although he fell to the Houston Astros.
Kennedy allowed four runs on six hits in five innings.
"The last start for sure was better," Kennedy said. "I'm just feeling better and having the opportunity to get some work in off the mound without having the pain. Whereas the other three starts, in between, I was just hoping I could make it to Day 5. This week it has been really good.
"I was on the DL for 15 days. It's kind of hamstring/groin injury and it was tougher than I thought to come back and I created some bad habits. I was pitching really well before that, which kind of stinks.
"That is why the numbers are kind of askew. A couple of bad outings can really screw everything up. But I feel great now."
Yost said Kennedy's arrow is improving.
"His command was off a little bit but his stuff has been good," Yost said. "He's throwing the ball fine."
He usually does against the Padres, owning a 7-2 record and a 3.05 ERA. Kennedy has more career wins over only one other opponent, the San Francisco Giants (11).
It's a big test for the right-handed Diaz (1-1, 7.50), as he gets the nod after throwing 24 innings in 21 games. If Diaz, who has never seen the Royals, is nervous about his starting debut he's not letting on.
"Miguel is incredibly even-keeled for a young guy," Padres manager Andy Green said. "He's relaxed, composed."
Despite Diaz working out of the bullpen this season, Green isn't surprised the Rule 5 draft pick has moved to being a starter with his weapons.
"The way I see him is I've always seen him as a starter," Green said. "He's 95-98 mph, a really good feel for the changeup, a developing feel for the breaking pitch. But it's a three-pitch mix that looks like a starter.
"He does it with ease of operation. He's not stressed out there. He doesn't look like he's using everything he's got in the tank to throw the ball 97 mph."
The task for Diaz, as with every pitcher, is to get through the order multiple times. That's where Diaz has to make his biggest strides, which means he'll be watched closely as the game develops.
"He doesn't have quite the deception necessary to turn lineups over two and three and four times right now," Green said. "That's a challenge for him.
"But he is young, there's a lot to like in him and in the way he goes about his business on a baseball field."
---
---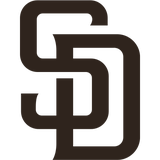 Get more from San Diego Padres
Follow your favorites to get information about games, news and more
---