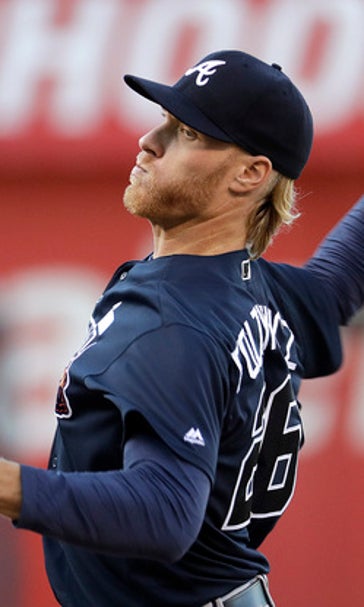 Royals' Gee outpitched in KC debut by Braves' Foltynewicz
May 15, 2016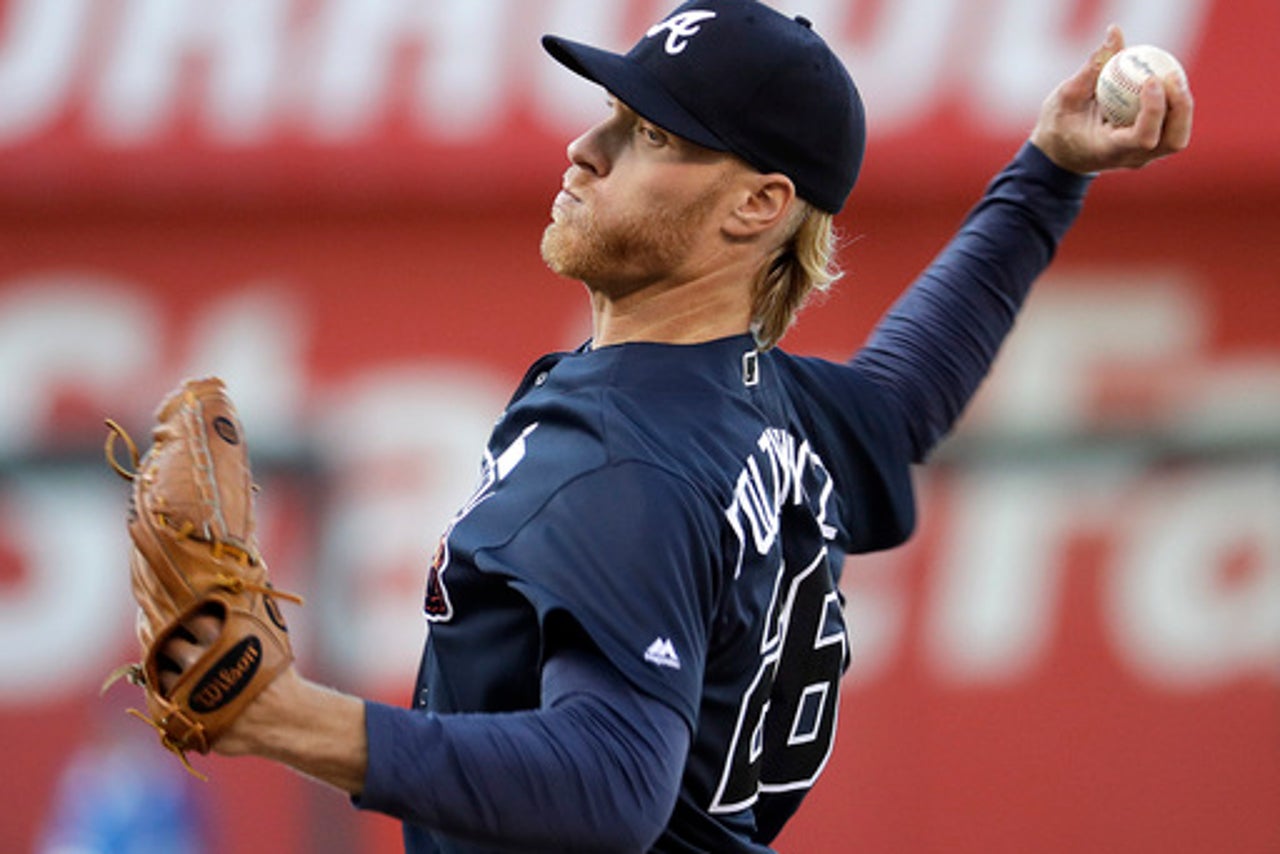 KANSAS CITY, Mo. (AP) Dillon Gee pitched well in his first Kansas City Royals start. Mike Foltynewicz, however, pitched better for Atlanta.
Foltynewicz threw a career-high eight scoreless innings, Kelly Johnson and A.J. Pierzynski each drove in two runs, and the Braves beat the Royals 5-0 Saturday night.
Gee, who was making his first start since June 14 while with the New York Mets, held the Braves scoreless the first five innings, while limiting them to three hits - two in the infield.
Gee, however, ran into trouble in a three-run sixth, which was highlighted by Johnson's two-run opposite-field double with two strikes.
''That was a decent pitch,'' Gee said. ''I threw four curveballs in a row. It needs to be a little bit better. It would have been better if it would have bounced. It stayed up just enough for him to serve it up into left field. It was a perfect spot for him to hit it. It's frustrating, too.''
Johnson's double finished Gee's night.
''Johnson with the bloop hit to left, but outside of that I just thought he threw the ball really, really well,'' Royals manager Ned Yost said.
Gee, who was primarily a starter with the Mets, had a 2.61 ERA in seven appearances as the Royals' long reliever. He started in the place of Chris Young, who is on the disabled list with a right forearm strain.
''I was (accustomed to starting), but I was earning a role down in the bullpen and doing good down there,'' Gee said. ''I got the opportunity to start and we'll just go from there.''
Foltynewicz (1-1) got his first victory since Aug. 8, holding the Royals to seven hits, while striking out four and walking none.
''He was that good,'' Yost said. ''He was throwing 94 to 96 mph two-seamers, a lot of run on it, mixed in timely sliders and curveballs.''
He has allowed two runs and 12 hits with no walks and 12 strikeouts in 15 innings in his past two starts.
''I attacked and let the defense do the work,'' Foltynewicz said. '' The defense played their butt off.''
The Braves (9-26) avoided matching the worst 35-game start in franchise history - 8-27, set by the 1911 Boston Braves.
Gee was charged with three runs and six hits, while striking out five and walking three in 5 1/3 innings.
''I just stopped locating the ball that last inning,'' Gee said. ''I left some pitches and they hit them, put good swings on them.''
The Royals, losers of 13 of 18, have not won consecutive games since April 21-22.
Foltynewicz came up with two big strikeouts in the first two innings to strand runners at third base. Kendrys Morales went down swinging in the first to leave Lorenzo Cain at third. Christian Colon struck out to end the second inning with Salvador Perez, who had doubled, at third base.
''We missed a couple of opportunities early,'' Yost said.
Johnson's opposite-field single with the bases loaded in the sixth scored Nick Markakis, who had walked, and Ender Inciarte, who doubled home Mallex Smith with the first run. Smith, who had three hits, led off the inning with a double.
Pierzynski's two-out double in the eighth off Chien-Ming Wang drove in Johnson and Jeff Francoeur.
Smith led off the ninth with the Braves' first triple of the season. They were the only the team in the majors without a three-base hit.
HOSMER STILL HOT
Eric Hosmer singled in the first and has hit safely in 30 of his past 32 games. He has a .350 average in that span.
TRAINER'S ROOM
Royals: RHP Kris Medlen said an MRI Friday revealed a Grade One right rotator cuff strain. ''I saw the MRI myself. I'm an expert now with MRIs,'' Medlen said. ''There was some fluid in there, some inflammation, a little tight. It's a best-case scenario. It wasn't like a progressive type thing. For the most part it was pretty mild compared to what it could have been.''
UP NEXT
Braves: RHP Matt Wisler, who held the Mets to one hit in eight scoreless innings in a May 3 victory, will start the series finale.
Royals: LHP Danny Duffy will make his first start after throwing 18 innings in 16 relief appearances. He will be on a 50-pitch limit.
---
---