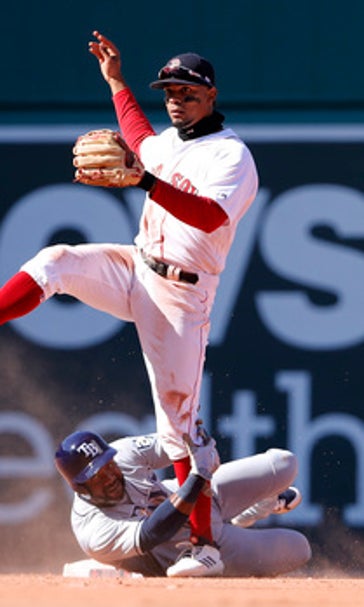 Red Sox beat Rays 10-3 for 7th straight win
April 8, 2018
BOSTON (AP) Xander Bogaerts hit the first grand slam for Boston since the end of the 2016 season and drove in a career-best six runs to carry the Red Sox to a 10-3 win over the Tampa Bay Rays on Saturday for their seventh straight victory.
J.D. Martinez and Rafael Devers homered for Boston, and Rick Porcello (2-0) pitched into the eighth inning.
This is just the second time in franchise history that the Red Sox have lost their season opener and won the next seven. The other came in 1904 when Boston captured the AL pennant.
The Rays have lost seven straight and are off to their worst start ever after rallying for a win at home over the Red Sox on opening day.
Bogaerts hit a two-run double in Boston's four-run first. In the second, his second career slam completely left Fenway Park over the Green Monster and came after Jake Faria (0-1) walked the bases full.
PHILADELPHIA (AP) - Maikel Franco and Aaron Altherr each hit a grand slam and Carlos Santana and Jorge Alfaro also went deep as Philadelphia routed Miami.
Vince Velasquez (1-1) allowed one run and four hits, striking out six in six innings.
Franco finished with six RBIs after just missing another homer when his two-run double hit high off the left-center field wall. He has driven in 10 runs in the past two games.
Santana's shot to deep right field was his 1,000th career hit.
Marlins left-hander Dillon Peters (1-1) gave up nine runs and nine hits in 2 2/3 innings. Miami catcher Bryan Holaday tossed a perfect eighth, fanning cleanup hitter Rhys Hoskins on a 62 mph pitch to end the inning and earn smiles from teammates in the dugout.
GIANTS 7, DODGERS 5, 14 INNINGS
SAN FRANCISCO (AP) - Andrew McCutchen hit a three-run homer in the 14th inning, lifting San Francisco to the victory and giving him a career-high six hits.
McCutchen fell behind Wilmer Font 1-2 before fouling off seven pitches. He then turned on a 2-2 pitch and drove it into the seats in left field, scoring Kelby Tomlinson and Joe Panik, who both singled off Font (0-2).
Buster Posey also homered for the Giants, and Roberto Gomez (1-0) got his first major league win.
Chase Utley homered for Los Angeles.
ASTROS 1, PADRES 0, 10 INNINGS
HOUSTON (AP) - Four-time Gold Glove first baseman Eric Hosmer overran a towering popup with two outs in the 10th inning, allowing the ball to fall without being touched and giving Houston a bizarre win.
A single by Brian McCann and a steal by pinch runner Derek Fisher - ruled safe after a video review flipped the call - set up the unusual ending.
Chris Devenski (1-0) pitched 1 1/3 innings for the win. Robbie Erlin (0-1) took the loss.
WASHINGTON (AP) - Asdrubal Cabrera hit an RBI double and scored the go-ahead run in the seventh inning, helping the Mets beat the Nationals for their fourth straight win despite Bryce Harper's fifth homer.
Dave Martinez was ejected for the first time as a manager as the NL East champions lost their fourth consecutive game to fall to 4-4. Washington's rookie skipper put on quite an old-school show, too, throwing his cap and kicking at the dirt near home plate when he was tossed by umpire Marty Foster in the third.
Harper gave Washington a 2-1 lead with a leadoff drive against Hansel Robles (1-0) in the sixth. But the Mets responded with two in the seventh against Brandon Kintzler (0-1).
Jeurys Familia, New York's sixth pitcher, recorded five outs for his fourth save.
CARDINALS 5, DIAMONDBACKS 3
ST. LOUIS (AP) - In the coldest home start in Cardinals history, Jose Martinez homered and drove in four runs as St. Louis stopped Arizona's four-game winning streak.
It was 37 degrees at game time with a wind chill of 29. The previous recorded low in St. Louis was 38 degrees for the first pitch on April 16, 1961, against Cincinnati.
Michael Wacha (1-1) outpitched Zack Greinke (1-1) despite matching a career high with five walks in the chilly weather. Four of Wacha's walks came in the first two innings.
Both starters went five innings. Bud Norris struck out the side to earn his first save of the season.
MILWAUKEE (AP) - Ian Happ hit a tiebreaking two-run single during Chicago's four-run ninth.
Happ struck out three more times, running his team-high total to a whopping 17 in seven games, before coming with a clutch swing in his final at-bat. With one out and the bases loaded, he dumped a 0-1 pitch from Jacob Barnes into left-center to give the Cubs a 4-2 lead.
Barnes (0-1), who was filling in for injured closer Corey Knebel, was charged with four runs, two earned. He was hurt by errors on shortstop Orlando Arcia and third baseman Travis Shaw.
Pedro Strop (2-0) got two outs for the win and Brandon Morrow worked the ninth for his first save since signing with the Cubs in the offseason.
PITTSBURGH (AP) - Eugenio Suarez hit a tiebreaking three-run homer in the eighth inning, powering the Reds to their second win of the season.
Suarez also hit a tying two-run single off Dovydas Neverauskas with two out in the sixth. He finished with three hits.
Wandy Peralta (1-0) pitched two scoreless innings for the win and Raisel Iglesias worked the ninth for his second save.
Pittsburgh's Chad Kuhl gave up two runs in five innings. George Kontos (0-1) got the loss.
NEW YORK (AP) - Sonny Gray pitched six effective innings and rookie Miguel Andujar hit a tiebreaking sacrifice fly, leading the Yankees to the win.
New York broke a 3-all tie in the sixth on Andujar's sacrifice fly, scoring Didi Gregorius with his first RBI of the season.
Austin Romine hit a soft pop to shallow right later in the inning that bounced out of first baseman Chris Davis' glove, allowing Tyler Austin to score and chasing Chris Tillman (0-2).
The day after the Yankees used eight pitchers in an extra-inning marathon, Gray (1-0) gave his team some much-needed length. He was charged with three runs and four hits.
ARLINGTON, Texas (AP) - Texas' Mike Minor pitched two-hit ball over six innings to win a start for the first time since 2014.
Minor (1-1) took a no-hitter into the fifth before allowing a one-out triple to Kevin Pillar. Steve Pearce homered an inning later for Toronto's final hit of the game. Minor had seven strikeouts and two walks.
Texas scored four two-out runs in the fifth inning, all charged to Toronto starter Marcus Stroman (0-1).
ROCKIES 3, BRAVES 2, 10 INNINGS
DENVER (AP) - Tony Wolters drew a bases-loaded walk off Arodys Vizcaino with two outs in the 10th inning, sending Colorado to the victory.
After Carlos Gonzalez doubled down the left field line with one out, Vizcaino (1-1) struck out Ian Desmond and intentionally walked Gerardo Parra. The runners advanced on a wild pitch before Vizcaino walked Trevor Story to load the bases.
Wolters looked at four straight pitches out of the strike zone, making a winner out of Adam Ottavino (2-0).
CLEVELAND (AP) - Lucas Duda homered off Trevor Bauer for the game's only run, and Ian Kennedy pitched six shutout innings for the Royals.
Duda's shot in the seventh off Bauer (0-1) was one of only three hits by Kansas City and a rare highlight as the teams survived nine innings with the temperature hovering around freezing.
Kennedy (1-0) allowed four hits, walked none and struck out eight. Kelvin Herrera worked a perfect ninth for his second save.
The temperature was 34 at game time, one degree above the coldest start to a game in the 25-year history of Progressive Field.
ANAHEIM, Calif. (AP) - Marcus Semien had an early two-run single for Oakland, and Andrew Triggs pitched four-hit ball into the sixth inning.
Shohei Ohtani didn't play for the Angels while resting for his home pitching debut Sunday. The two-way Japanese sensation homered in each of Los Angeles' last three games as a designated hitter, including a 449-foot shot Friday against Oakland.
Justin Upton and Luis Valbuena homered for the Angels, but their Ohtani-less lineup largely struggled against the Oakland bullpen and Triggs (1-0), who earned Oakland's second win by a starter all season.
J.C. Ramirez (0-2) lasted just two innings for Los Angeles.
MINNEAPOLIS (AP) - Playing in a Twins-record low of 27 degrees, the Mariners got homers from Kyle Seager and Guillermo Heredia in a runaway victory.
The first-pitch temperature at Target Field beat the Minnesota mark of 31 degrees for a game in 2014. Coors Field in Denver holds the major league low with a 23-degree day in April 2013 when Atlanta visited the Rockies.
Ryon Healy drove in three runs for Seattle, and Mike Leake (2-0) pitched five innings of three-hit ball.
Twins starter Jose Berrios (1-1) allowed five runs and six hits in 4 2/3 innings.
CHICAGO (AP) - Miguel Cabrera drove in three runs and Michael Fulmer pitched shutout ball into the sixth inning, leading Detroit to a chilly road win.
Cabrera hit a two-run single in the third and an RBI groundout in the fifth after leaving Thursday's game because of left hip flexor tightness. Dixon Machado had two hits and chased Lucas Giolito (0-1) with a two-run double in the sixth that made it 5-0, sending the Tigers to their second straight win after a 1-4 start.
Both starters struggled with their control on a day when the game-time temperature was 32 degrees. But Fulmer (1-1) pitched well enough, scattering six hits and walking three in 5 1/3 innings.
---
---