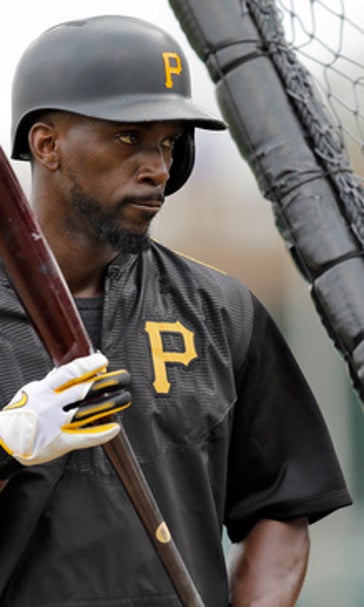 Pace of play, potential strike zone changes on baseball deck
February 17, 2017

LAKELAND, Fla. (AP) Commissioner Rob Manfred says he can't offer a prediction on how likely it is that baseball will be altering the strike zone this season.
Manfred discussed that and other potential rule changes Thursday at the Detroit Tigers' spring training complex, which was hosting a Grapefruit League media day. Manfred says there are ongoing discussions with the Major League Baseball Players Association, and it's not clear what changes might be made for 2017.
''You'd think given my career path that I would be a little better at predicting the outcome of negotiations with the MLBPA than I am. I just don't know at this point,'' Manfred said. ''It's been a long winter for both sides on labor, and fatigue can actually play a role in how many agreements you can reach, but at this point I just don't feel comfortable making a prediction.''
MLB has studied whether to lift the lower edge of the strike zone from just beneath the kneecap to the top of the kneecap. Any change for 2017 would require an agreement with the players' association.
Manfred has pushed for faster games since he became commissioner two years ago, although he said raising the bottom of the strike zone isn't really a pace-of-play issue.
''We're not suggesting that we change the strike zone to shorten the game. We're suggesting that we change the strike zone to get more action in the game,'' Manfred said. ''The theory is that the pitch below the knee is being called a strike more frequently, that that particular pitch is hard to hit, and that forcing pitchers up in the zone would produce more action.''
When it comes to the pace of play, Manfred sought to clarify that it's not the overall length of a game that's the issue.
''Pace of game is different than time of game. Pace relates to dead time caused by batters stepping out, pitchers not working quickly, trips to the mound,'' he said. ''We've never set a goal in terms of time of game. What we want is a well-paced game, with action, regardless of the actual time of the game.''
He mentioned the possibility of streamlining intentional walks and the replay process.
''Dead-time changes, there's probably not one that you can mention that I wouldn't be in favor of,'' he said. ''I see the intentional walk in that category. I know it's a small thing.''
Manfred also talked about a change for extra innings that has gotten some attention lately. In next month's World Baseball Classic, each inning from the 11th on would begin with runners on first and second base in an effort to prevent long games.
Manfred made the case that this policy could make sense at the low levels of the minors, even if it might never be implemented as high as the major league level.
''In rookie ball, where crowds are small, games are really developmental, starting the 10th inning with a runner on base makes sense, because there's really no developmental reason to play 18 innings and end with a shortstop pitching,'' he said. ''Who knows? If we remain open minded, we may learn something from this experiment that's helpful.''
---
Follow Noah Trister at www.Twitter.com/noahtrister
---
---