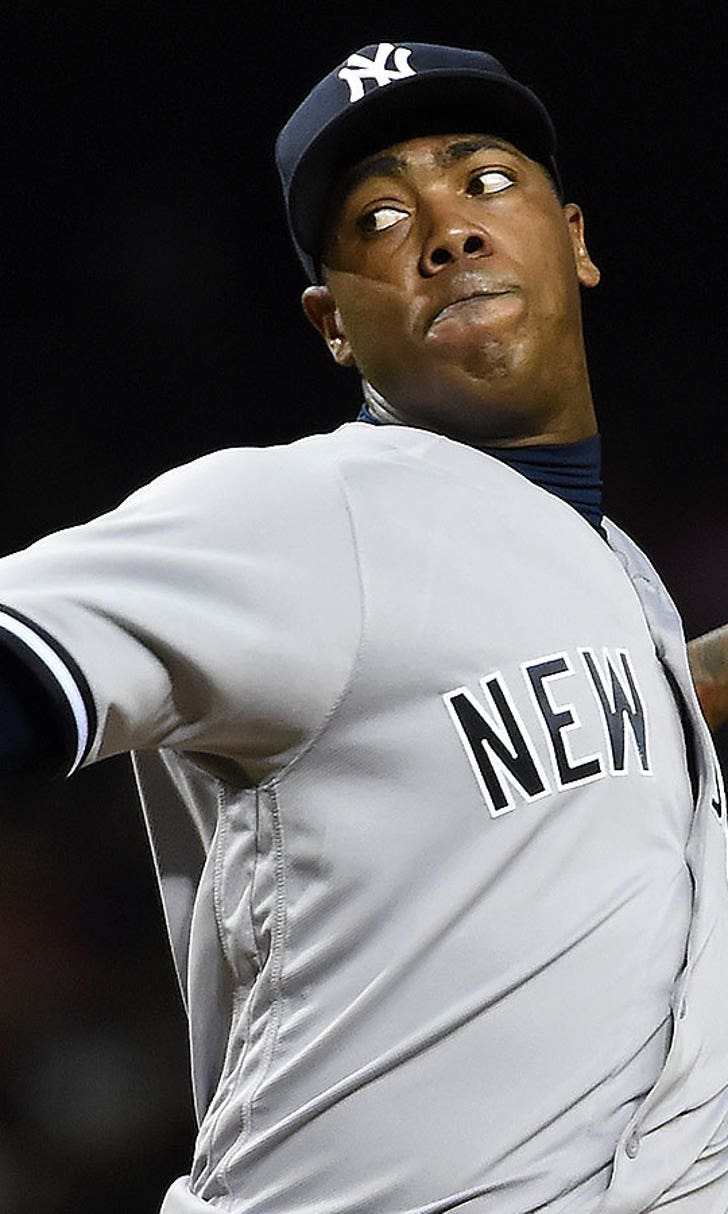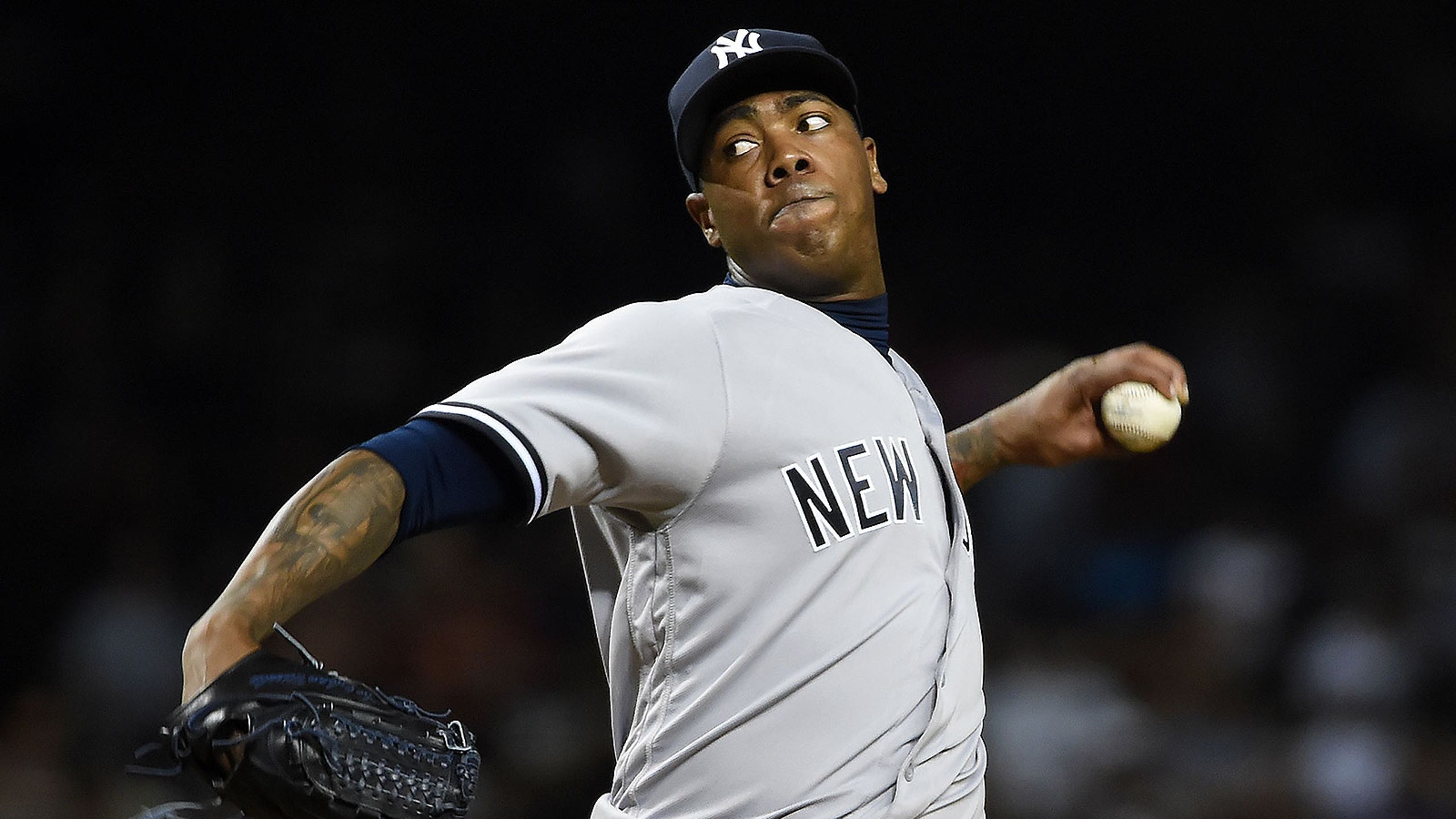 Notes: Will the Yankees really be sellers at the trade deadline?
BY foxsports • June 14, 2016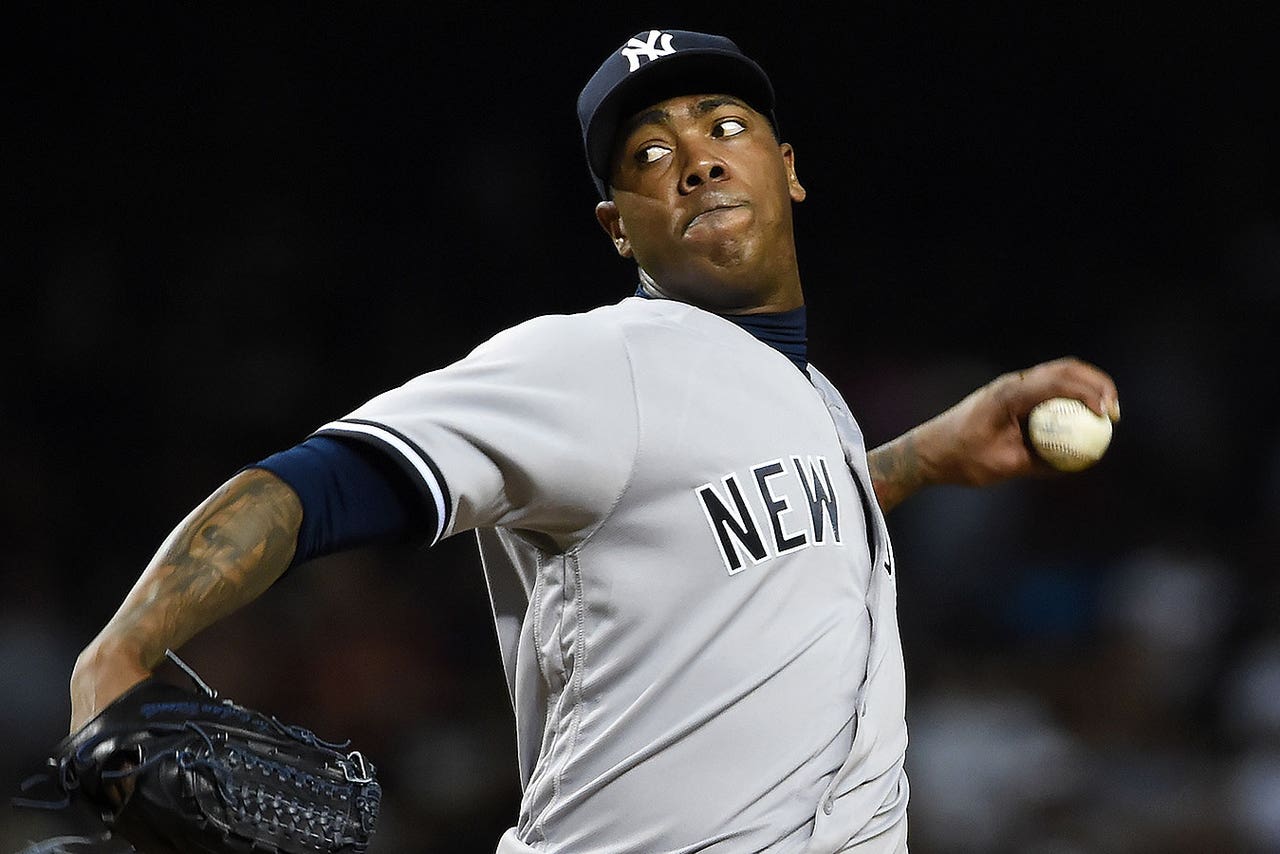 I'm among those who have speculated that the Yankees could become sellers, but at least for now, the players and club executives are thinking much differently.
General manager Brian Cashman acknowledges that the team's first 45 days were "hard to watch," but maintains that the Yankees are better on paper than they were last season with the additions of second baseman Starlin Castro, outfielder Aaron Hicks and closer Aroldis Chapman.
The players, meanwhile, believe that their worst baseball is behind them -- and that their 23-17 record during a span of 40 games in 41 days demonstrates their potential the rest of the way.
The Yankees' schedule is about to get easier -- their next 11 games are against the Rockies and Twins. But, as pointed out by Joel Sherman of the New York Post, the Yanks are the only team in the AL East with a negative run differential (negative-20). They've also fattened up against lesser pitching, lesser clubs.
Skepticism about the Yankees' chances is warranted; their roster is full of injury and performance risk, and even if their players remain healthy and productive, the team's upside probably is only a wild card.
Still, the non-waiver deadline is more than six weeks away, and the Yankees are 5.5 games back in the AL East, three games back in the race for the second wild card.
The problem with the Yankees trading Chapman and Andrew Miller is that righty Dellin Betances would be their only remaining dominant reliever -- and some in the industry fear that Betances eventually will wear down.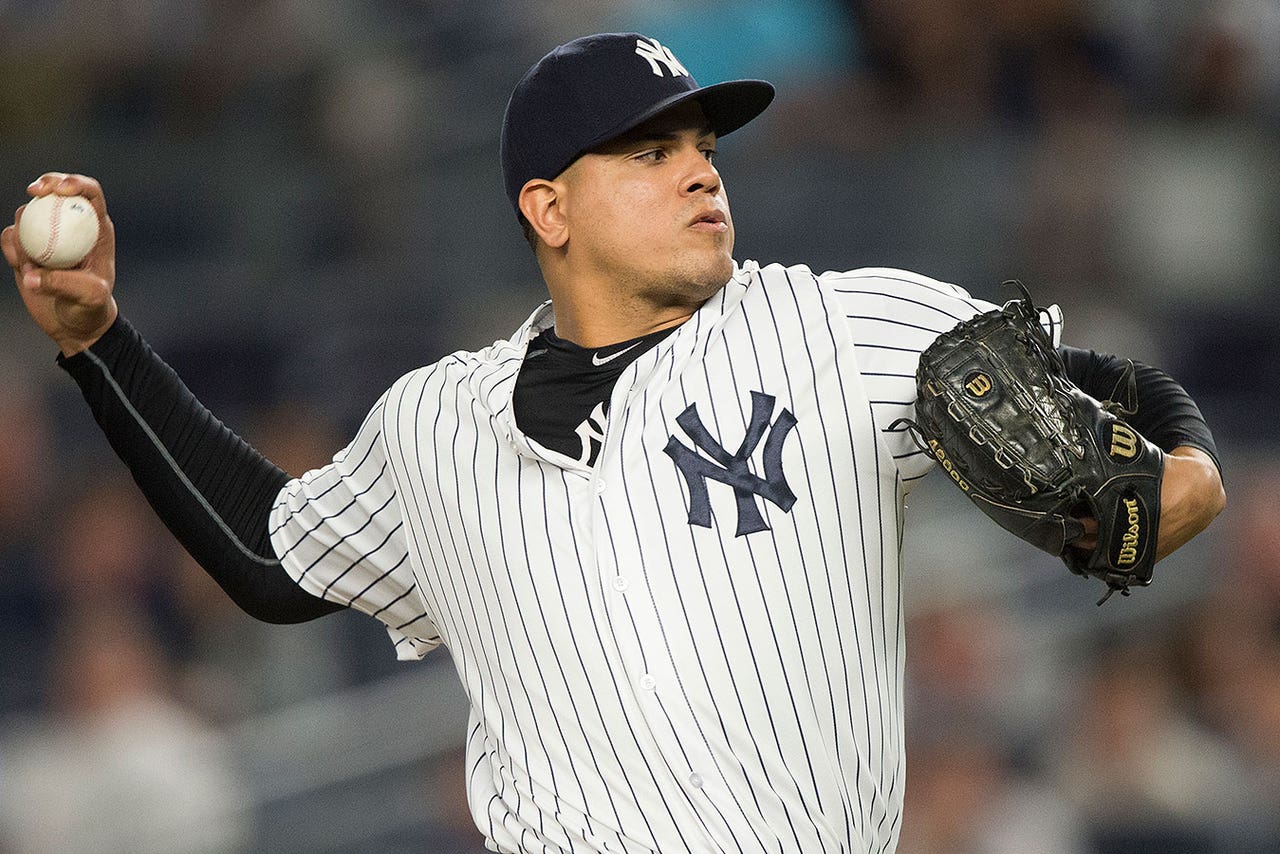 Dellin Betances
Betances, 28, has thrown 204 2/3 innings since the start of 2014, 19 more than the reliever with the next-highest total, the Mets' Jeurys Familia. Betances also ranks seventh in appearances during that span with 175, eight behind Familia.
If the Yankees are intent on competing year after year (hint: they are), it's difficult to envision how they could improve short-term by trading Chapman and long-term by trading Miller.
Different story if they fall out of contention and owner Hal Steinbrenner finally is willing to take a step back.
The Tigers' acquisition of left-hander Justin Wilson from the Yankees last Dec. 9 stemmed from their earlier pursuit of Miller, according to major-league sources. The Yankees had a surplus of left-handed relievers even before acquiring Chapman, and added to their rotation depth by obtaining right-handers Luis Cessa and Chad Green for Wilson.
The Tigers showed interest in every available big-name reliever last winter -- Miller, Chapman, Craig Kimbrel, Ken Giles. They actually spent weeks talking to the Yankees about Miller, but sources said they were unwilling to trade any of their top prospects -- pitchers Michael Fulmer and Daniel Norris and shortstop/outfielder JaCoby Jones.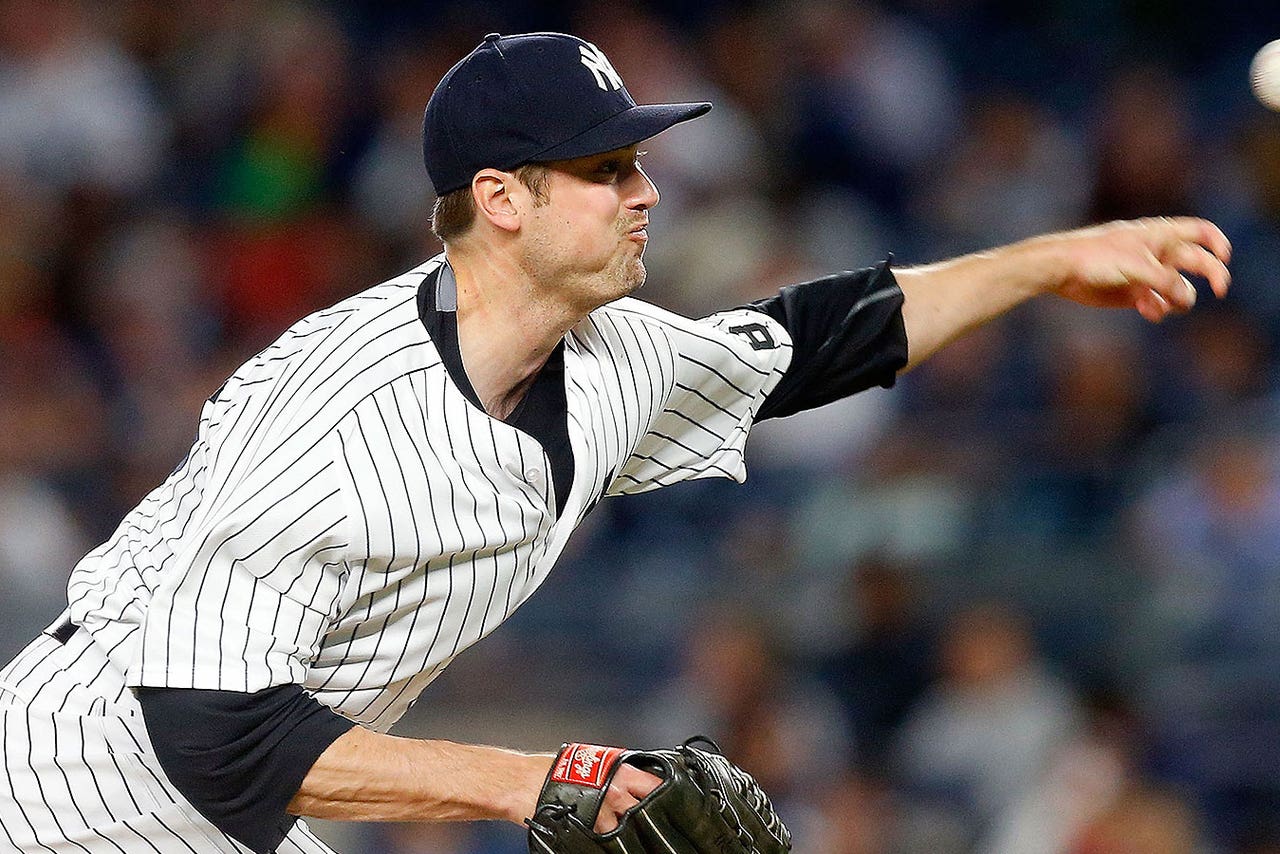 Andrew Miller
Wilson became a more realistic target, and general manager Al Avila later acquired closer Francisco Rodriguez for minor-league infielder Javier Betancourt. The Athletics and Twins were among the other teams to show interest in Wilson, who mostly has performed well for the Tigers, striking out 34 and walking only five in 25 1/3 innings.
Cuban infielder Yuliesky Gurriel is the best kind of deadline addition, at least for teams that can afford him. Gurriel became an unrestricted free agent on Monday; a team can sign him without sacrificing prospects or even international bonus money.
One top international scout described Gurriel, 32, as an "everyday third baseman," saying he would perform well over a four-year contract. Another scout, who last saw Gurriel in the 2015 Caribbean Series, also spoke highly of the player.
"He still has something in him," the scout said. "He stays in good shape. I think he can contribute to a big-league club. In what role? How many years could he play at that level? I don't know."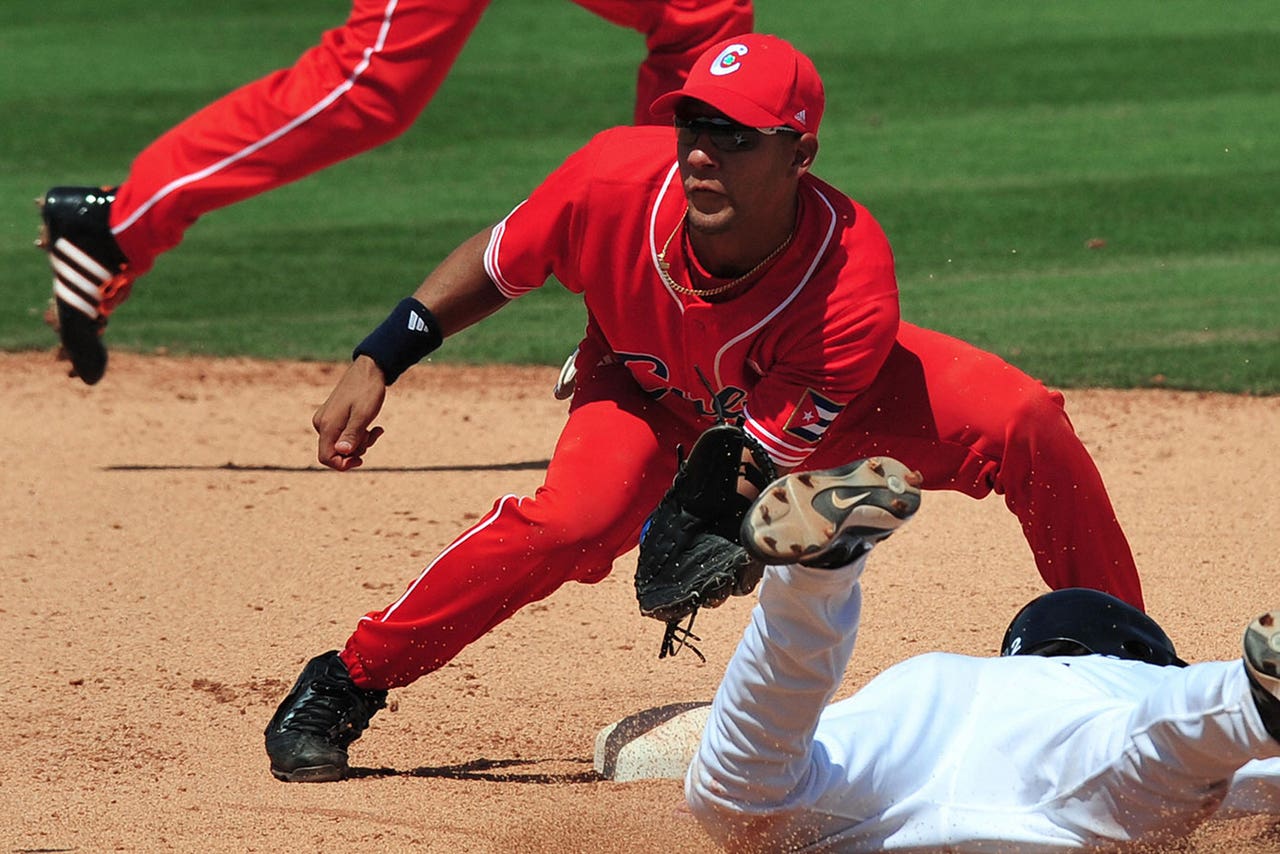 Yuliesky Gurriel, playing for Cuba in the 2008 Beijing Olympics.
"He's a good athlete. He keeps his body young. He can still hit with power -- not the power he had in the past, but enough to hit the gaps and take the ball out of the park. And he always has been able to play defense."
Gurriel, who can play either third base or second, likely will need 3 to 5 weeks after he signs to get assimilated and ready. If he reaches a deal by the end of the month, he will be in position to make an impact in the second half.
The Dodgers, who rank next-to-last in the majors in OPS at third base, loom as an obvious fit for Gurriel; Justin Turner has mostly struggled, and is a free agent at the end of the season.
The Mets also would make sense for Gurriel, who could step in for the injured David Wright, then replace potential free agent Neil Walker at second next season. The Yankees are another club in need of offense, but third baseman Chase Headley is under contract through 2018.
Considering the uncertainty surrounding Michael Brantley, the most obvious move for the Indians is to add an outfielder. But considering the struggles of Yan Gomes, wouldn't it make sense for the team to also ponder a trade for Brewers catcher Jonathan Lucroy?
True, Gomes is signed through 2019, but the Indians currently rank 28th in the majors in OPS at catcher. Lucroy, under contract for $4 million this season with a $5.25 million club option for next season, is affordable to even low-revenue clubs. And the Indians, if they gave up top prospects, perhaps could require the Brewers to take back Gomes in the deal.
I'm just thinking out loud, and my guess is that the Indians are not inclined to give up on Gomes, who had a breakout season in 2014 and was slowed by a knee injury in '15. The larger question is this: Will the Indians finally turn aggressive and make an impact trade?
Rival executives routinely cite the Indians as excessively cautious, overly protective of their young talent. Low-revenue teams, to some degree, need to operate with such restraint. But think about where the Indians might be if they had acquired third baseman Todd Frazier last offseason.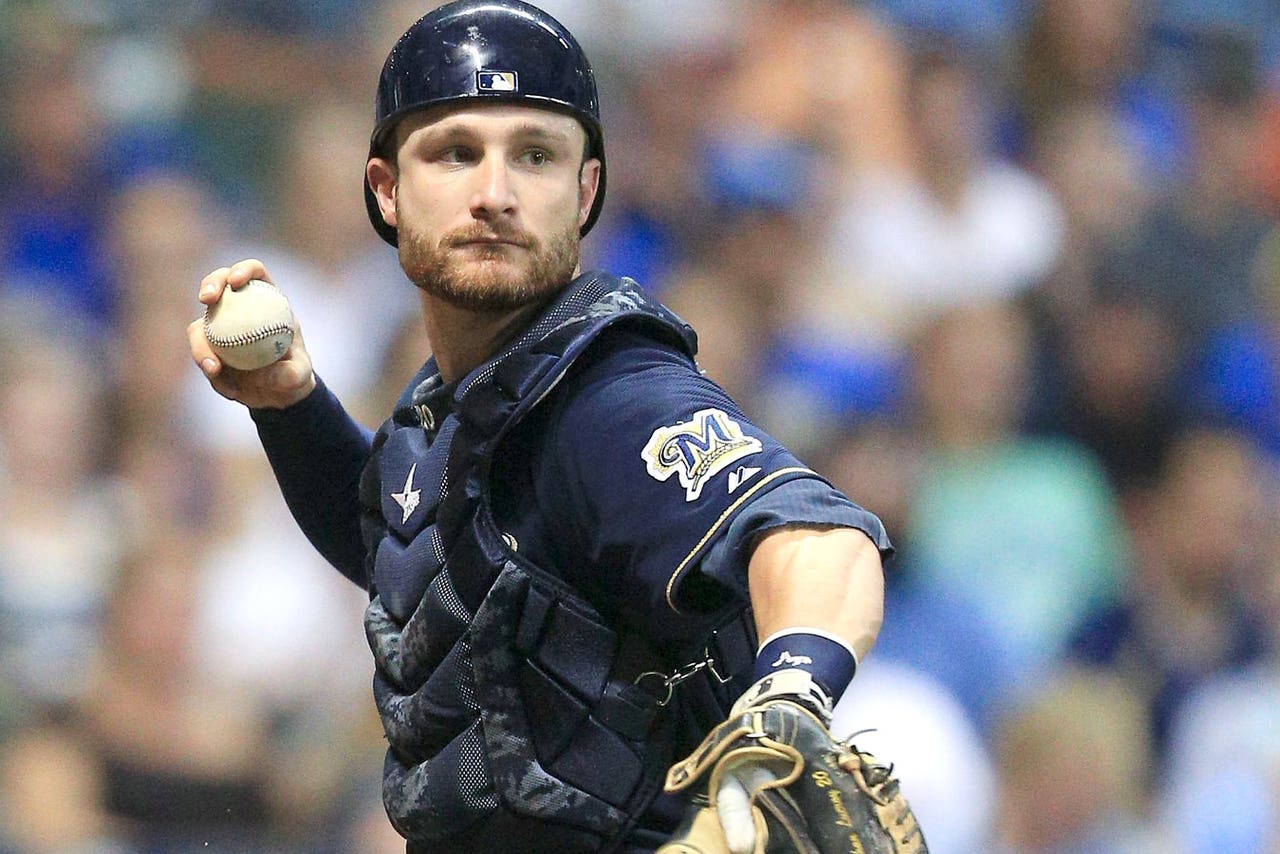 Jonathan Lucroy
The Reds, according to the Cleveland Plain-Dealer, wanted one of the Indians' top minor-league outfielders, Clint Frazier or Brad Zimmer, plus two other prospects in trade discussions involving Todd Frazier.
The White Sox instead landed Frazier by sending a significant package to the Dodgers -- outfielder Trayce Thompson, right-hander Frankie Montas and infielder Micah Johnson -- with the Dodgers then trading three other youngsters to the Reds.
Frazier is batting only .206, but thanks to his 19 homers the White Sox rank 16th in the majors in OPS at third base; the Dodgers are 29th, the Indians 30th.
There also is this: The White Sox, according to sources, have had a longstanding interest in Lucroy, though their farm system might not be strong enough for them to match up with the Brewers.
Third baseman Danny Valencia is probably the Athletics' most deserving All-Star, especially if left-hander Rich Hill lingers on the DL with a strained left groin. Problem is, the AL competition at third is intense -- the Orioles' Manny Machado leads comfortably in the fan voting, and the Blue Jays' Josh Donaldson also should be a lock at the position.
The Rays' Evan Longoria, Tigers' Nick Castellanos, Mariners' Kyle Seager and Rangers' Adrian Beltre also are worthy candidates. Valencia, while 22 plate appearances shy of qualifying for the league leaders, is second in OPS only to Machado, who actually has played shortstop for more than a month now.
Fielding is not Valencia's strength; he rates as a below-average defender according to several advanced metrics. But now that he is 31, suffice it to say that he has come a long way since his days at Spanish River H.S. in Boca Raton, Fl.
His first choice was to attend the nearby University of Miami, but when the Hurricanes passed on him, he spent a year at North Carolina-Greensboro, one of two schools to offer him a scholarship.
Valencia then transferred to Miami on a partial scholarship, and the Twins chose him in the 19th round of the 2006 draft. The Athletics are his sixth club in seven major-league seasons.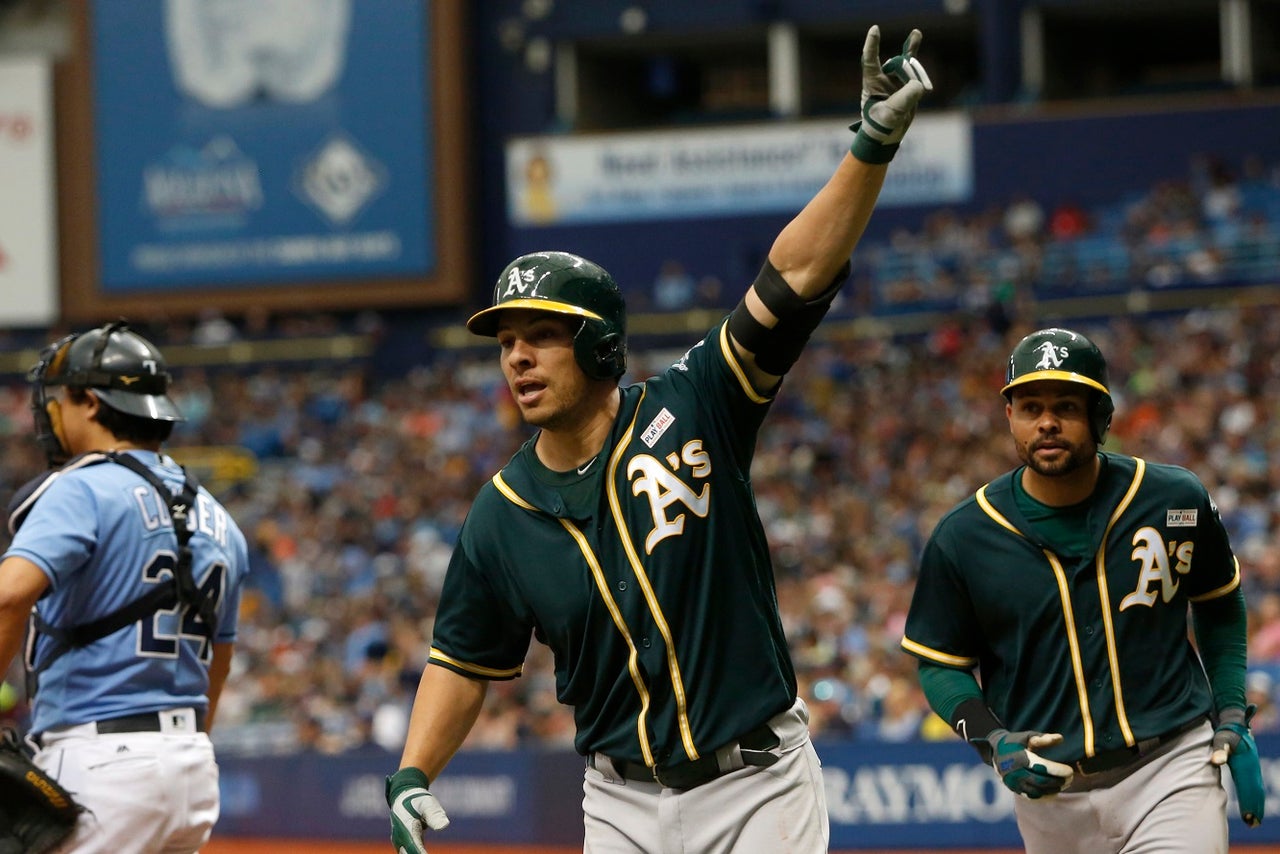 Danny Valencia
Justin Verlander no longer throws 100 mph, but you wouldn't know it from his results.
Tigers manager Brad Ausmus said he noticed during a game against Cleveland in late April that Verlander was getting an unusually high number of swings and misses on fastballs -- and Ausmus' perception was indeed correct.
Verlander's 25 percent swing-and-miss rate on his fastball is by far the highest of his career, and his strikeout rate of 9.42 per nine innings is the highest it has been since 2009, according to STATS LLC.
How is this happening if Verlander's average fastball velocity was 95.6 mph in '09 and is now 92.8? The answer might lie with his spin rate -- which, at 2,555 rotations per minute on his four-seam fastball, was the best in the majors entering Monday night's play.
Verlander's spin rate on his fastball last season, 2,495 rpm, was also among the league's elite. He missed more than two months at the start of that season with a strained right triceps, but in the final two months started to look like the pitcher that the Tigers are seeing now.
The Tigers acquired outfielder Cameron Maybin from the Braves on Nov. 20. The very next day, Maybin kept his commitment to be grand marshal of the holiday parade in his native Asheville, N.C. -- Braves country.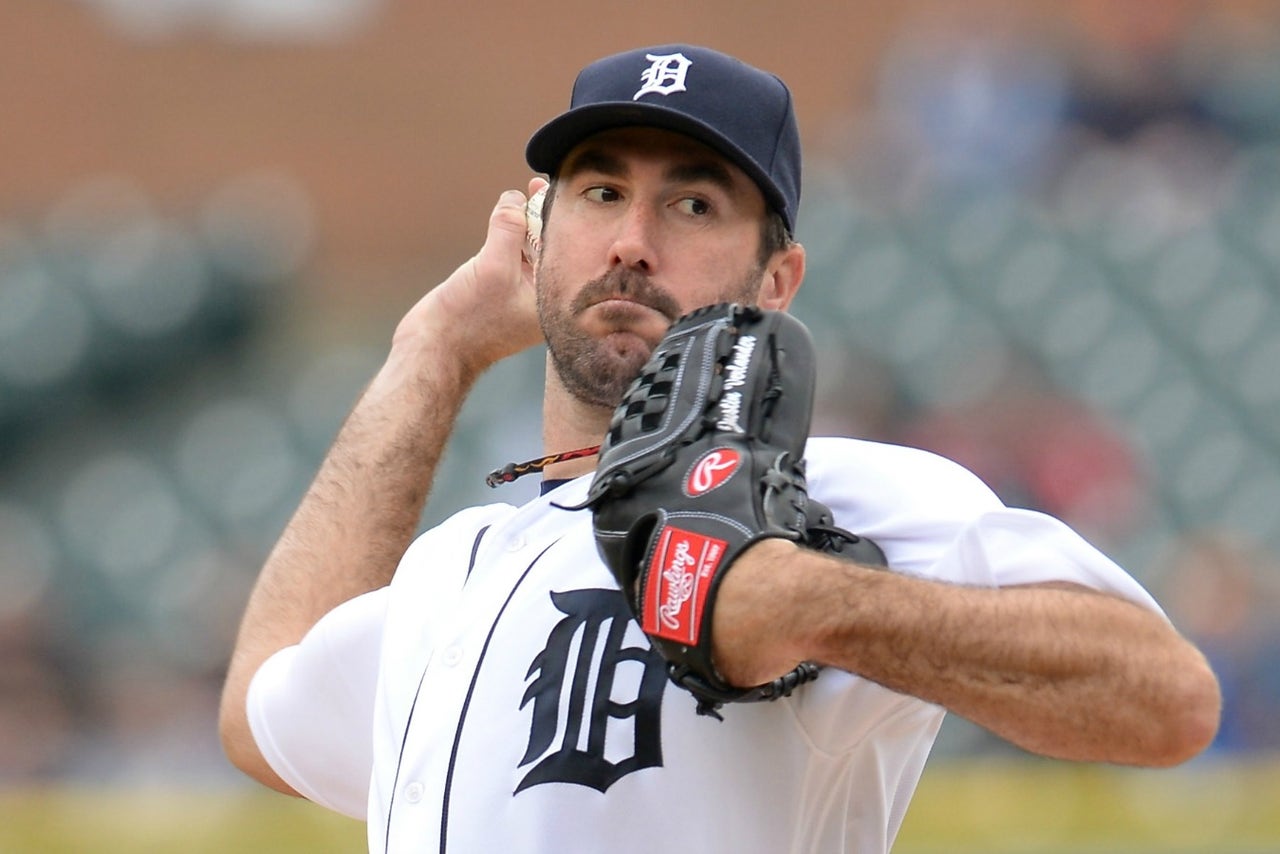 Justin Verlander
Maybin said that many of the attendees showed up wearing Braves gear, and that the city ordered foam Braves baseballs for him to throw into the crowd. The experience, he said, was "weird, really weird." But the fans still embraced him, and if anything, he said, the weirdness made it more fun.
This, of course, is Maybin's second stint with the Tigers -- he was only 20 when the team sent him and Andrew Miller to the Marlins for Miguel Cabrera and Dontrelle Willis in Dec. 2007.
Tigers GM Al Avila said Maybin has matured tremendously, while Maybin credits his success to Kevin Seitzer, his hitting coach with the Braves last season.
The two still talk; Maybin said he texts Seitzer regularly and occasionally sends him video of his swing. Seitzer offers him reminders of what he needs to do.
"We locked him in with a plan and approach every at-bat instead of him just, 'seeing it and swinging,'" Seitzer said. "We also made a couple of mechanical adjustments to shorten his swing to keep him inside the ball, and the approach helped with that."
"If he hadn't played banged up in the second half he would have had a really big year," Seitzer added (Maybin had a .774 OPS before the All-Star break, a .600 OPS after). "Great kid. Total pro."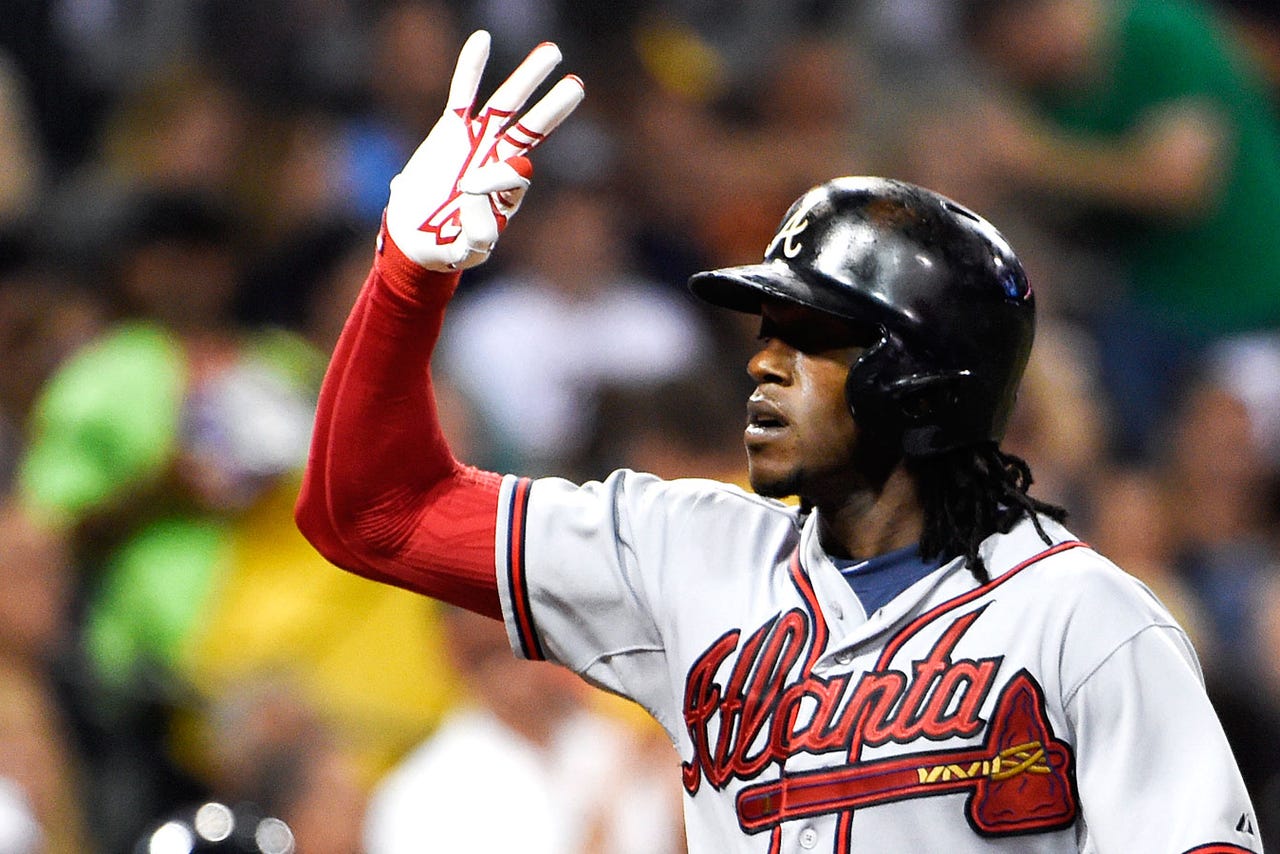 Cameron Maybin, last year with the Braves.
The rebuilding Reds and Braves both are deeper in pitching prospects than hitting prospects. But while the Reds sought to address their imbalance by taking hitters with their first three picks, the Braves effectively doubled down on their pitching surplus, choosing three high-school pitchers.
The selections of right-hander Ian Anderson at No. 3 and lefties Joey Wentz and Kyle Muller at Nos. 40 and 44, respectively, further position the Braves to trade for young hitters in the future, and they can find offensive players in the international market as well.
The Reds, on the other hand, went with University of Tennessee third baseman Nick Senzel at No. 2, Georgia high-school outfielder Taylor Trammell at No. 35 and Clemson catcher Chris Okey at No. 43.
As always with the draft, it will be years before the verdicts are known about each team's decisions. And as always, it will be fascinating to watch the process unfold.
The draft is a significant topic in the collective-bargaining negotiations, and here are two more issues for the players and owners to consider:
• Should a player who tests positive for performance-enhancing drugs remain eligible to be drafted?
The union, according to sources, agreed to pre-draft testing for the top 200 prospects only when management agreed that a player who tested positive for PEDs would remain eligible and not face discipline.
What kind of message does that send? Infielder Delvin Perez, who reportedly tested positive, went to the Cardinals at No. 23. He will receive less of a bonus than he would have in the top 10, where he originally was projected to be picked. But he still could earn millions, without penalty.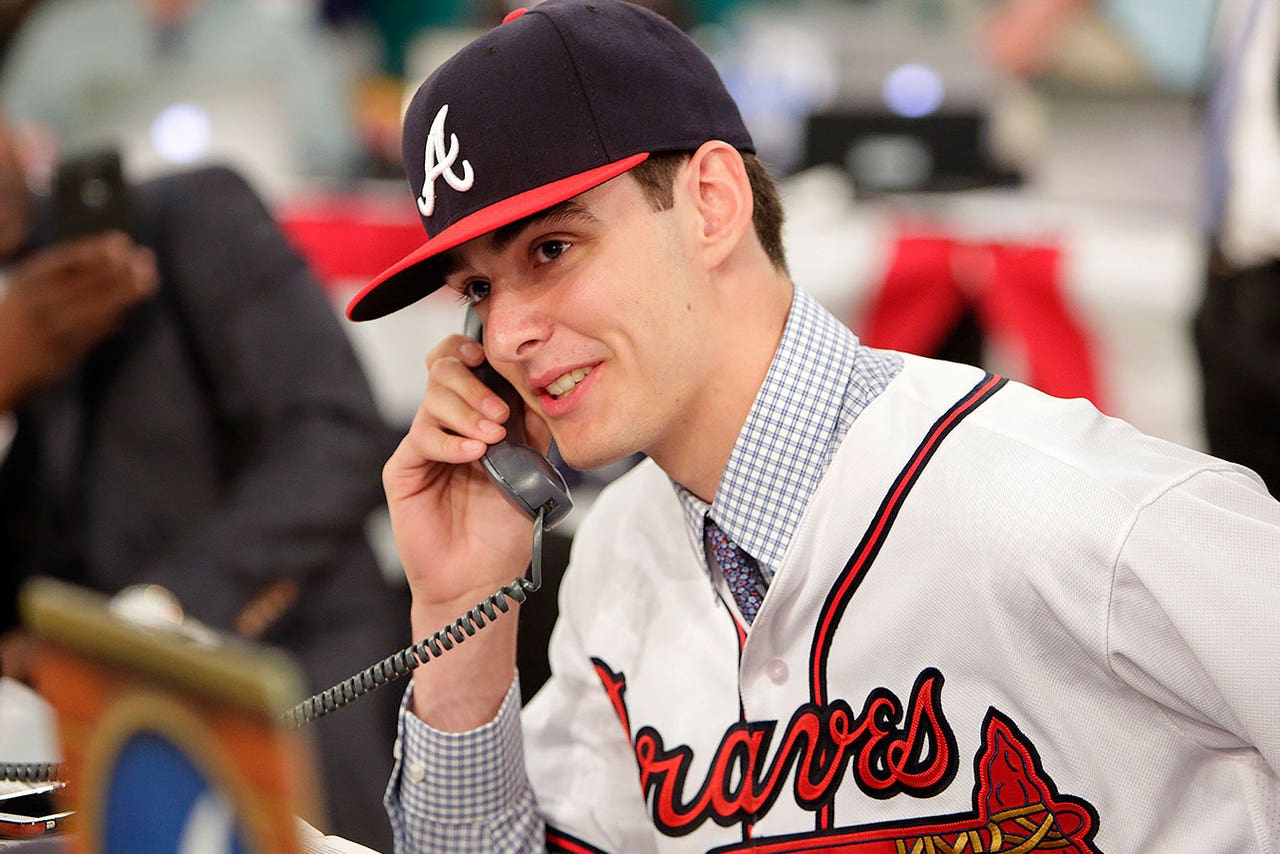 Ian Anderson
The owners would like to revisit this provision, sources say.
• Why does baseball require top prospects to pay their own expenses when traveling to private workouts with clubs?
At a time when baseball is trying to recruit top athletes from all economic classes, the sport should not allow players from wealthier families to hold such an obvious advantage.
The culture of amateur baseball already favors those with the money to allow their sons to play on traveling teams and attend showcases. Scouting directors occasionally have raised this issue.
"It probably is something we should look at," a management source said.
• Infielder Arismendy Alcantara once had decent trade value, but the Cubs parted with him last week for outfielder Chris Coghlan, who was batting only .146 with a .487 OPS.
What happened?
Alcantara struggled in the majors in 2014 and '15, and perhaps more important, will be out of options next season. The Cubs considered him expendable, figuring he would not make their roster in '17.
Coghlan performed well for the Cubs last season, but was traded to the A's on Feb. 25 to clear a spot for Dexter Fowler. He gives the Cubs another left-handed hitter while Tommy La Stella is on the disabled list recovering from a hamstring injury.
The Cubs, since losing Kyle Schwarber, have worried about getting too right-handed. Coghlan can be part of a left-field platoon once Jorge Soler comes off the DL, providing another left-handed complement to Fowler, Jason Heyward and Anthony Rizzo.
• The Dodgers reportedly offered Louisville right-hander Kyle Funkhouser between $1.7 million and $2 million after making him the 35th pick of last year's draft.
Funkhouser, who is advised by Scott Boras, rejected the Dodgers' proposal to remain at Louisville, perhaps thinking he could move up even higher in the first round this year.
It didn't happen that way -- the Tigers selected Funkhouser in the fourth round, 115th overall. He is expected to receive a bonus well above the projected $550,000 slot, but well below what he would have gotten from the Dodgers.
• The Romine brothers, Andrew and Austin, have been on the field in the majors as opponents only once -- on April 8 in Detroit, when Austin started for the Yankees at catcher and Andrew entered the game in the eighth inning as a pinch-runner, then played the ninth at third base.
Their parents did not attend the series between their respective teams last weekend -- their father, former major-league outfielder Kevin Romine, is trying to work as many days as possible so he can retire in August from his job as a detective for the Los Angeles Police Department.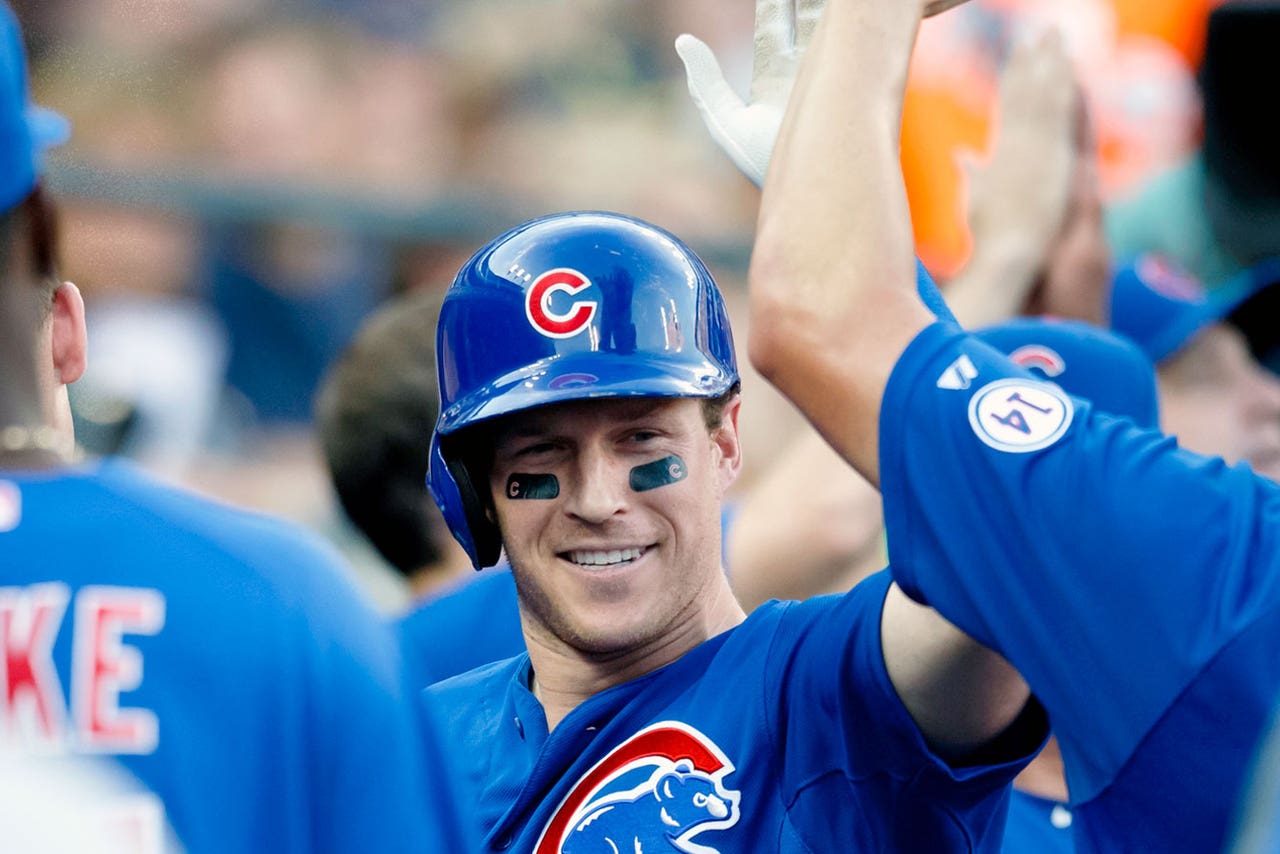 Chris Coghlan
• Yankees reliever Kirby Yates was traded twice for cash considerations during the offseason, first from the Rays to the Indians, then from the Indians to the Yankees (for a reported $78,000).
Yates, though, said he didn't get unsettled -- he was preoccupied with the planning for his wedding on Jan. 2. The first trade occurred a little over a month before the wedding, the second came during his honeymoon.
A native of Hawaii, Kirby married his fiancee Ashley on Kauai, then honeymooned in Maui.
---
---