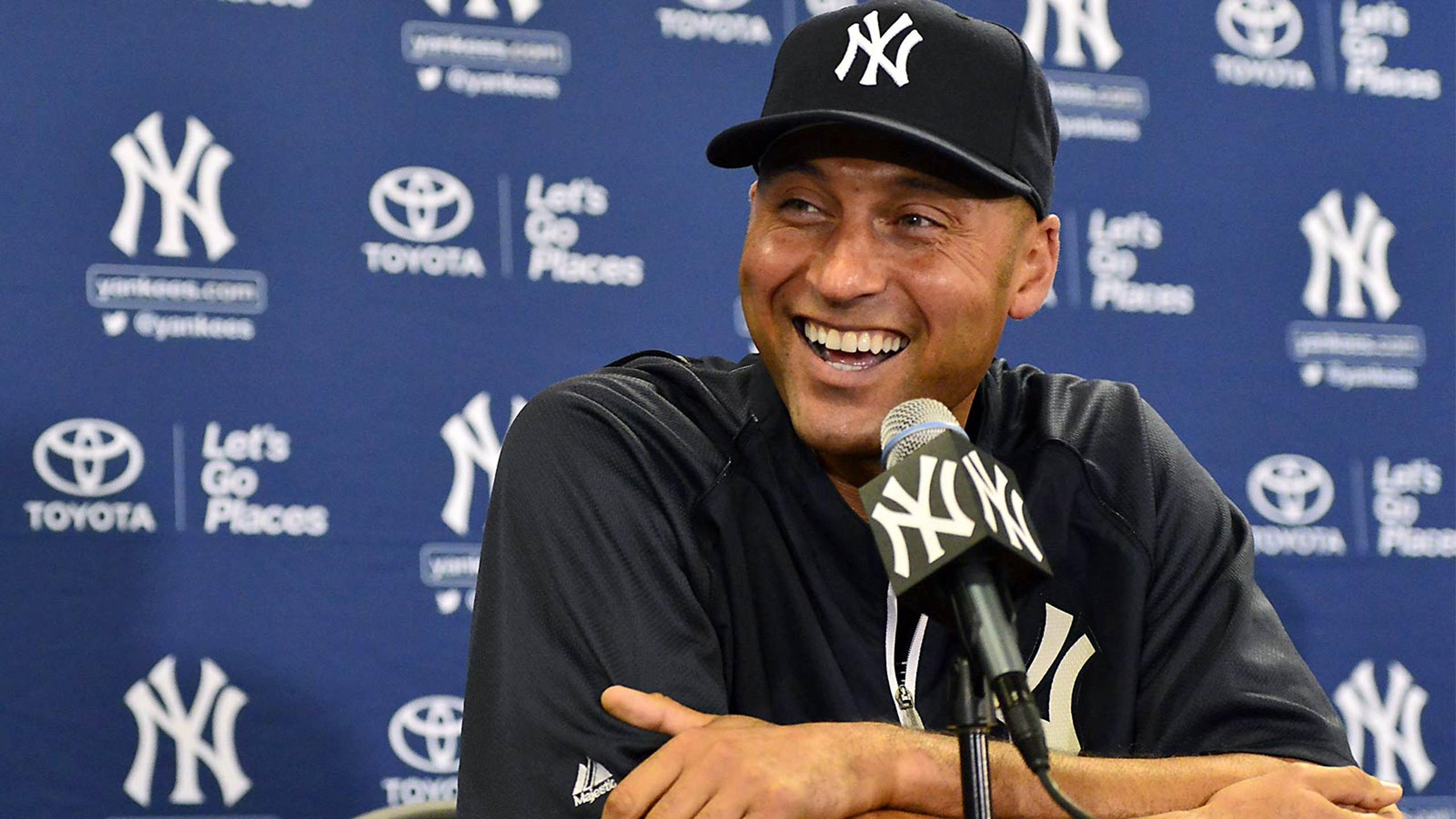 Jeter farewell tour will be wonderful ... if he plays well
BY Ken Rosenthal • February 19, 2014
I could think of only one thing Wednesday as Derek Jeter displayed the playful edge that he rarely shows publicly, but that his teammates adore:
Man, I hope he can still play.
If he can't, the Jeter farewell tour could get uncomfortable quickly.
The Yankees shortstop spoke with conviction and flashed a pointed sense of humor during his retirement news conference -- excuse me, "media availability," as he preferred to call it, seeing as how he is not retiring until the end of the season.
When one reporter asked Jeter to describe the "other things" he wanted to do after his career was over, Jeter cracked up his teammates by responding, "Did you read my letter?" referring to his statement on Facebook.
When another reporter asked Jeter if he was emotional, the Yankees in attendance again started laughing when Jeter, addressing the reporter by name, said, "Are you trying to make me cry?"
At one point, Jeter instructed manager Joe Girardi that he and the players could leave if they had to "go work," knowing full well the team's workout was complete and that everyone wanted to hear what he had to say.
"Work's over," Girardi replied, waving Jeter off.
This was a different Jeter than fans usually see, a humorous Jeter, yes, but a more human Jeter, too. He always has been so private about his personal life, even while dating one model and actress after another, the Derek Jeter All-Stars. But now Jeter is talking openly about starting a family, wondering aloud how his teammates function as parents when baseball takes so much of their time.
I'd love to hear more. I'd guess that most fans want to hear more, too.
Jeter acknowledged that he remained guarded "by design" over his 20-year career, explaining, "that's the way I felt I would be able to make it this long in New York."
His goal now is to savor every aspect of his final season, enjoy his career in a way he hasn't before. But while Jeter was typically bullish about his health, no one knows exactly how often he will play, or how well.
Recently retired Yankee Mariano Rivera's farewell tour was a smash in part because the future Hall of Fame closer continued performing at an elite level. If Jeter gets hurt, plays below his usual standards, or just in general look like a player who turns 40 on June 26, problems could arise.
Only three players have appeared in 100 or more games at short in the season they turned 40, or after -- Honus Wagner (1914, '€™15), Luke Appling (1947, '€™49) and Omar Vizquel (2007).
None of them faced the same challenge as Jeter, who played in only 17 games last season because of injuries stemming from the broken ankle that he suffered in Game 1 of the 2012 American League Championship Series.
Jeter said Wednesday that he worked harder this offseason than he ever had before. He spoke of being in the lineup as often as he was in 2012, when he appeared in 159 games.
Surely, that number is unrealistic.
Girardi will need to use him as a DH on certain days, sit him on others. And, yes, Jeter occasionally might benefit from yielding to defensive specialist Brendan Ryan and getting off his feet in the late innings.
How will Jeter react to all this? Chances are, not without a fight.
Almost all of the great ones are fiercely proud; it is part of their greatness. Jeter, in particular, always has displayed supreme confidence; it is perhaps his biggest strength. Alas, fading superstars rarely see themselves as others do. Even on Wednesday, Jeter was typically defiant as he talked about the end.
He did not say he was retiring because he was physically compromised, or because he believes that he is capable of playing only one more season. No, he simply referred to all of those things he wants to do when his career is over.
Good luck to Girardi managing such a delicate situation. Good luck to the Yankees if Jeter becomes Derek Deterioration.
Brian Roberts will be at second base for the Yankees, not Robinson Cano. Kelly Johnson will be at third, not Alex Rodriguez. And first baseman Mark Teixeira, battling a wrist injury, played in even fewer games than Jeter last season.
The Yankees should sign free-agent shortstop Stephen Drew as added infield protection, but even then they would have problems. Their rotation might be the third-best in the division, despite the addition of Japanese right-hander Masahiro Tanaka. Their bullpen, without Rivera, is another looming concern.
A sour season, a lesser Jeter, and suddenly the farewell tour will take on a different, forced look. Jeter will not want attention if he and/or his team are struggling. A joyous victory lap could turn into a sad limp home.
Man, I hope he can still play.
The alternatives are too troubling.
---
---