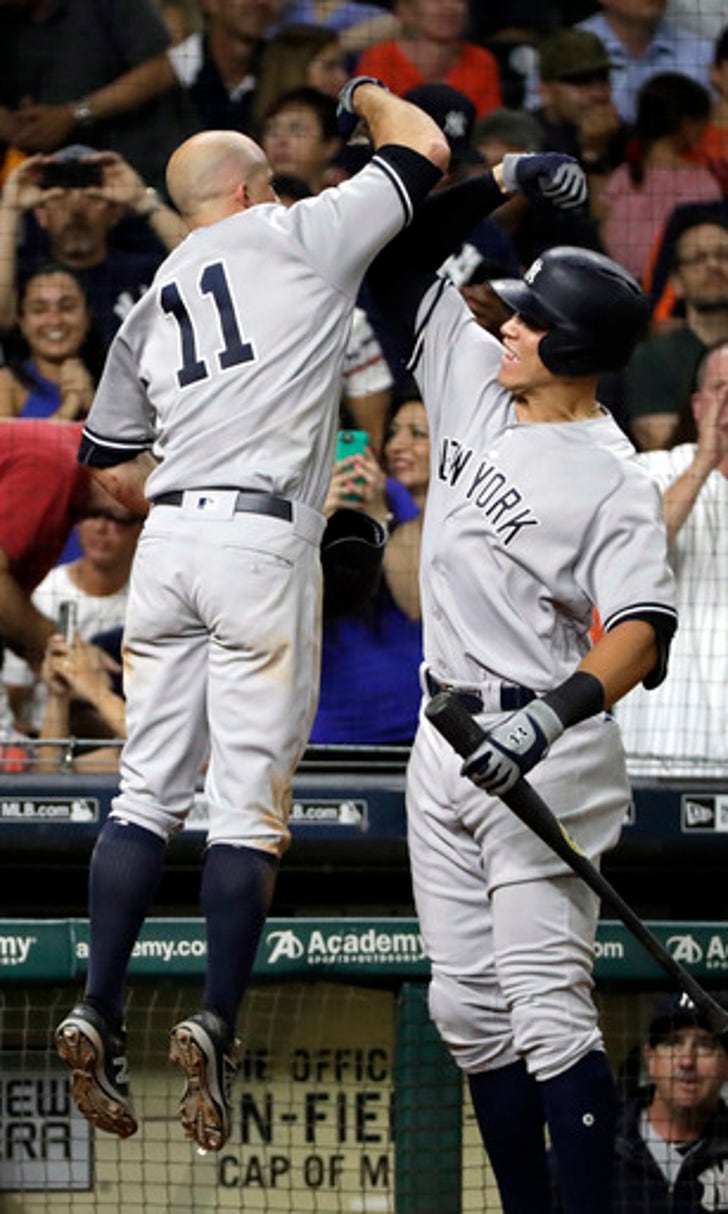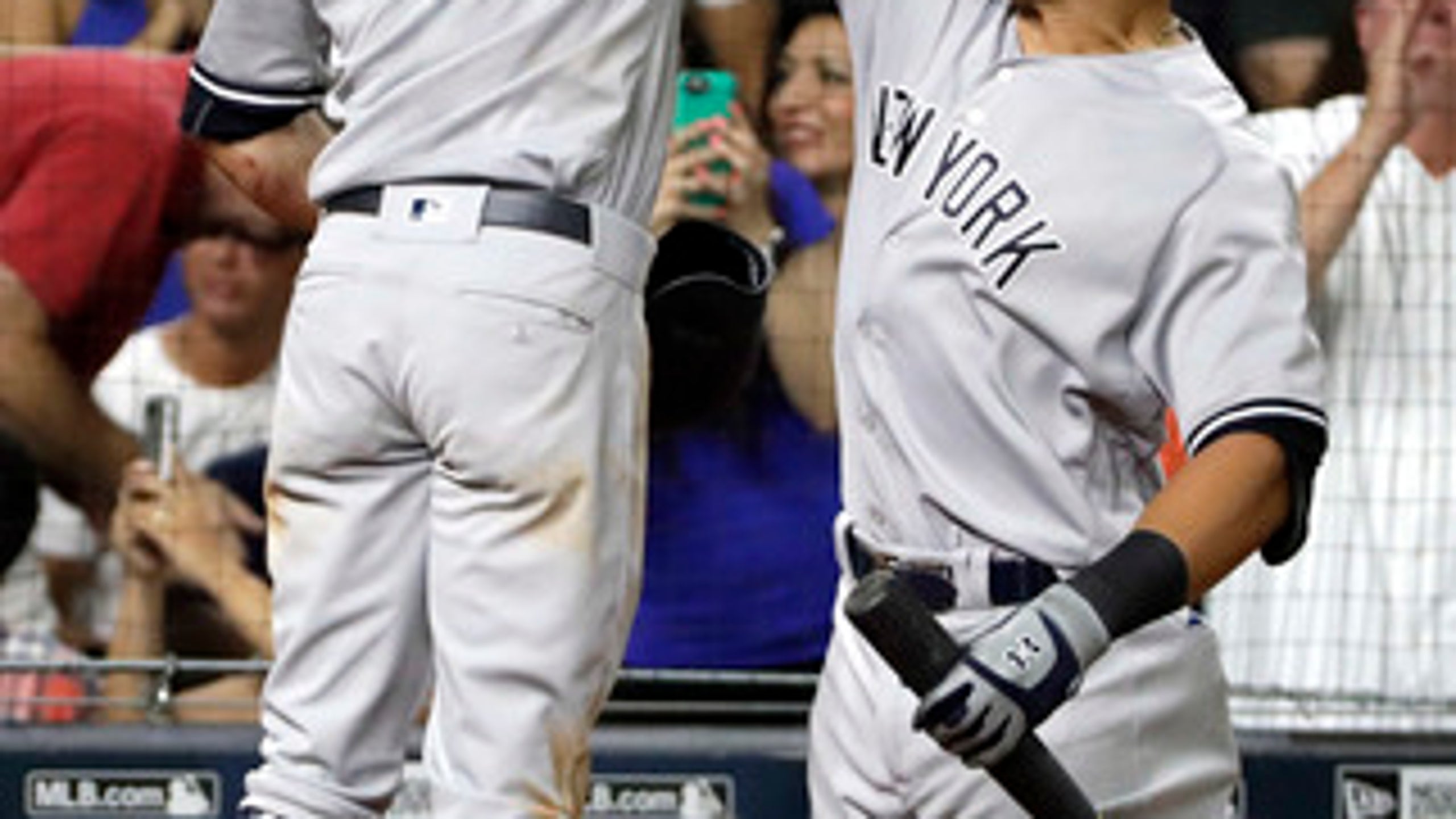 Gardner hits slam with 6 RBIs as Yankees down Astros 13-4 (Jun 30, 2017)
BY AP • July 1, 2017
HOUSTON (AP) The New York Yankees rebounded from a tough Thursday night with a huge game at the plate to down the best team in baseball on Friday night.
Brett Gardner tied a career-high with six RBIs and his seventh-inning grand slam helped the New York Yankees cruise to a 13-4 victory over the first-place Houston Astros.
The Yankees started off slow, and trailed by two entering the sixth inning, after arriving at their hotel in Houston about 6 a.m. following an almost three-hour rain delay before the start of their game against the White Sox on Thursday night. That was an emotional game after rookie Dustin Fowler suffered a knee injury which required surgery in the first inning of his major league debut.
They finally broke through in the sixth inning on Friday, collecting five hits - all singles - and sending 10 batters to the plate to take a 6-3 lead.
''We were under tough circumstances with everything last night and getting in early this morning, so it was a big win for us,'' Gardner said. ''Our team played really, really well, and guys were swinging the bat well, getting on base and keeping the line moving.''
Gardner, who finished a triple shy of the cycle, drove in the go-ahead run in that inning before connecting off James Hoyt an inning later on his two-out, two-strike shot to right field to make it 10-3.
Manager Joe Girardi was proud of the way his team responded on Friday night.
''With all that we've been through, the injuries that went through the last two weeks and what we all witnessed last night, it was pretty disturbing for all of us,'' Girardi said. ''The way they responded today is what they've done all year.''
Yankees starter Michael Pineda (8-4) yielded seven hits and three runs - two earned - in six innings for his first win since June 8. Bryan Mitchell allowed two hits and one run in three innings for his first save.
Houston starter Lance McCullers allowed six hits and three runs in 5 1/3 innings in his second start since coming off the disabled list. Michael Feliz (4-2) allowed four hits and three runs in 1/3 inning for the loss.
There was a runner on first with one out in the sixth when Austin Romine drew a walk to chase McCullers. He was replaced by Feliz, who was greeted by an RBI single from Ronald Torreyes, which cut the lead to one. Chris Carter, who was in his first game back since rejoining the team after being designated for assignment a week ago, hit an RBI single with two outs to tie it.
Another single, this one from Gardner, scored Torreyes to put the Yankees on top. Jacoby Ellsbury followed with yet another single to send another run home and push the lead to 5-3. Ellsbury took second and Gardner went to third on the play thanks to an error by outfielder George Springer.
Feliz walked Aaron Judge on a wild pitch which allowed another run to score and leave the Yankees up 6-3.
''They put together some really good at-bats and singled him to death and just found ways to put back-to-back-to-back good at-bats against him and control the game,'' manager A.J. Hinch said.
TRAINER'S ROOM
Yankees: Fowler was expected to leave the hospital on Friday, a day after undergoing surgery for a serious knee injury he suffered crashing into a low wall trying to catch a foul ball on Thursday night. The outfielder ruptured the patellar tendon in his right knee.
Astros: RHP Charlie Morton (strained back muscle) will make one more rehabilitation start in the minors before rejoining the team next week in Toronto. Morton has made two starts at Triple-A Fresno and his last rehabilitation start will be at Double-A Corpus Christi on Sunday.
AOKI ON THE MOUND
Veteran Astros OF Nori Aoki made his first career pitching appearance in the ninth inning on Friday night. The 35-year-old allowed one hit with two walks and three runs while throwing mostly in the high 70s.
Hinch didn't love sending Aoki out there, but needed to so he could save his bullpen.
''I'm probably the one guy in the building that didn't get entertainment out of it,'' he said. ''As a manager you hate putting a guy in those positions.''
Aoki, who said he pitched regularly in high school, wasn't bothered by it and said it was a ''lifelong dream'' to pitch in the majors.
He retired the 6-foot-7 Judge on a pop out to end the inning and was shocked by his size at the plate.
''I knew he was big, but he looked even bigger when I was on the mound,'' he said through an interpreter in Japanese. ''I felt like he was 9-feet, 10-feet tall.''
UP NEXT
Yankees: Jordan Montgomery (6-4, 3.53 ERA) will start for New York on Saturday. He won his fourth straight decision in his last start by allowing five hits and one run while fanning eight in seven innings of a win over the White Sox.
Astros: Rookie Francis Martes (2-0, 5.51) is scheduled to start for Houston on Saturday. Martes struggled in his last start, allowing two hits and two runs with four walks in two innings of an 8-2 win over Seattle.
---
More AP baseball: https://apnews.com/tag/MLBbaseball
---
---