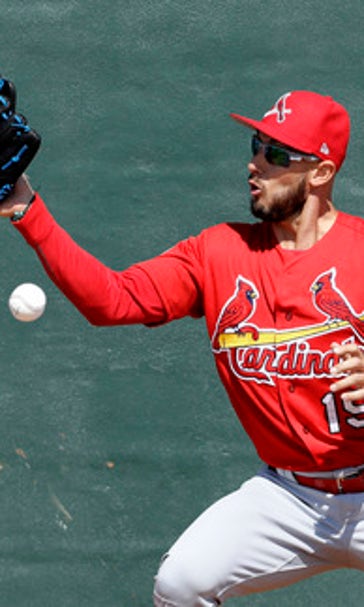 Cardinals' Schafer aims to be 2-way utility player
February 21, 2017

JUPITER, Fla. (AP) On any given spring day, Jordan Schafer double-checks the schedule to confirm whether live batting practice means he needs to bring a bat or heat up his arm.
For a St. Louis Cardinals team that values versatility, Schafer, a former outfielder-turned-pitcher, could become the ultimate utility player.
''I joke around and say it's almost like being back in high school where you do everything,'' he said.
Three times this camp, Schafer has taken his mid-90s fastball to the mound, twice for bullpen sessions and once for live batting practice. On days in between, Schafer has participated in pitchers' fielding practice and the normal side work expected of a reliever before heading to outfield drills and picking up a bat.
''I think the big question for him this spring, something that we've taken a hard look at, is where do you balance the pitching workload and the position player workload?'' St. Louis general manager John Mozeliak said. ''I would imagine you would see more of a 60-40 split, pitch versus worrying about hitting, but that could change as this evolves.''
Once considered one of the best outfield prospects in baseball while coming up with the Atlanta Braves, injuries or off-the-field incidents he termed ''self-inflicted wounds'' intervened every time Schafer thought he could get his major league career rolling. He was suspended for 50 games after testing positive for human growth hormone in 2008, needed wrist surgery in 2009 and broke a finger in 2011.
After injuries shortened his 2015 season - this time it was his knee - Schafer decided he wanted to become a pitcher as a means of extending his career.
Los Angeles took a chance on Schafer last year, signing him to a minor league contract. Though Schafer raced through the Dodgers' minor league system, ultimately reaching Class AAA Oklahoma City, it was the first pitch he threw in rookie ball that gave him the most satisfaction - a curve ball taken for a strike.
''I think a lot of the guys didn't expect that right off the bat,'' Schafer said. ''It was the first pitch I ever threw in professional baseball.''
Throwing a fastball that touches 94 mph and a changeup to go with that curve, Schafer made 40 minor league appearances, posting a 3.83 ERA while focusing almost exclusively on pitching.
''I feel like for the first year, picking up the ball and getting on the mound, it went really well,'' Schafer said.
During his first bullpen session of spring training, Schafer surprised the Cardinals by showing a slider, too.
''It looked good,'' manager Mike Matheny said. ''Sharp. It's going to be an effective pitch.''
Schafer signed a minor league contract with the Cardinals in the offseason and reported to camp last week like all St. Louis pitchers and catchers.
''Is that a really viable option?'' Mozeliak asked as camp opened. ''Can he pitch at the highest level? And if he could, there's no doubt you could stick him in the outfield as a defensive replacement. Really the 25th spot, if you would, could become the 25.5.''
That's a role Schafer would relish.
As only a career .228 hitter, Schafer may not intimidate opposing pitchers, but he swiped 103 bases over six major league seasons with Atlanta, Houston and Minnesota. So, as a pinch runner he becomes a possibility for the Cardinals as well.
''I think he's an exciting player,'' Matheny said. ''He brings an original skill set to us, especially from the left side. The fact that he hasn't been doing this that long, I know there's a higher upside for him than what we've probably seen - especially on the pitching side. A lot of positive things to build on.''
---
---