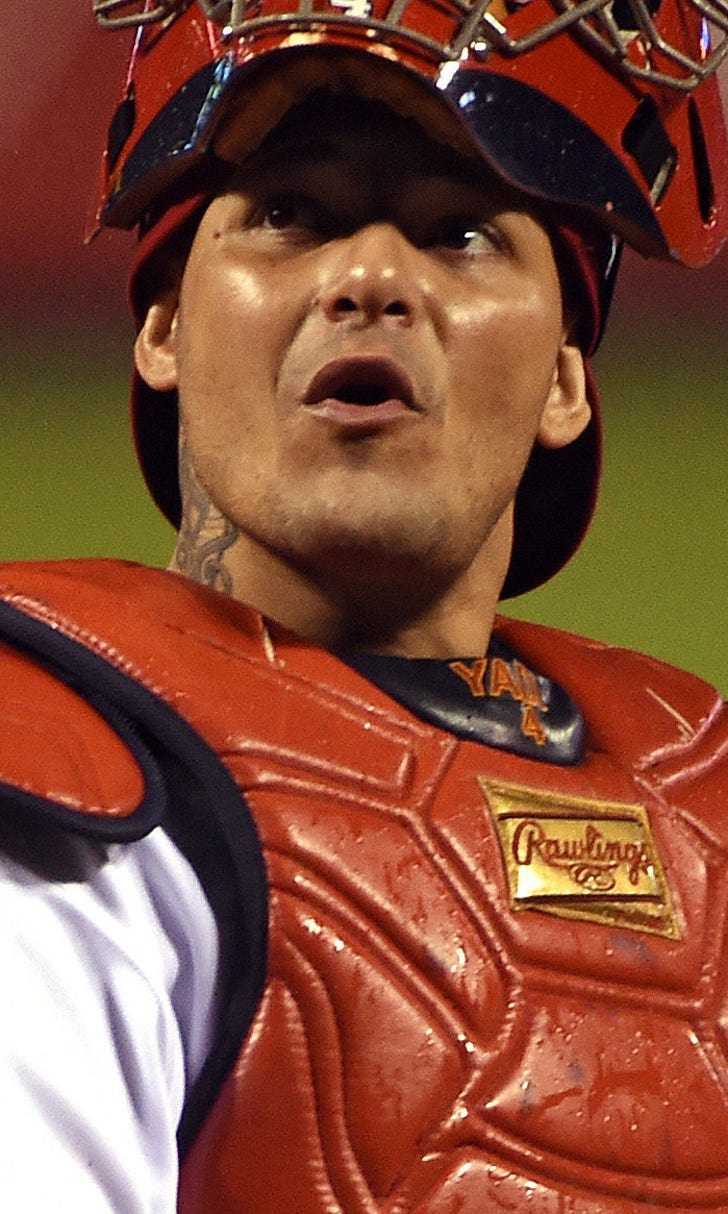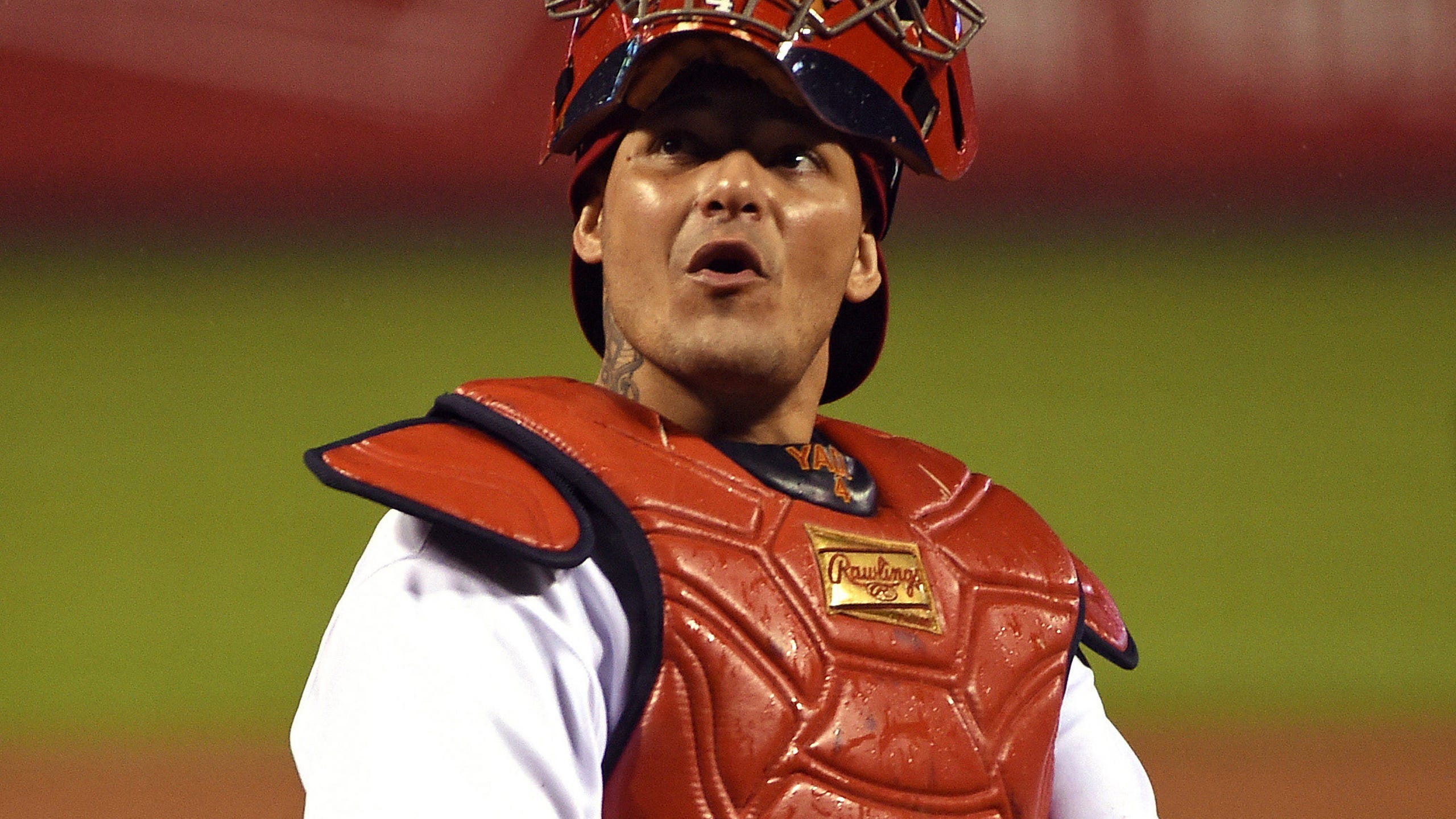 Cardinals face tricky negotiation with Yadier Molina
BY Ken Rosenthal • February 27, 2017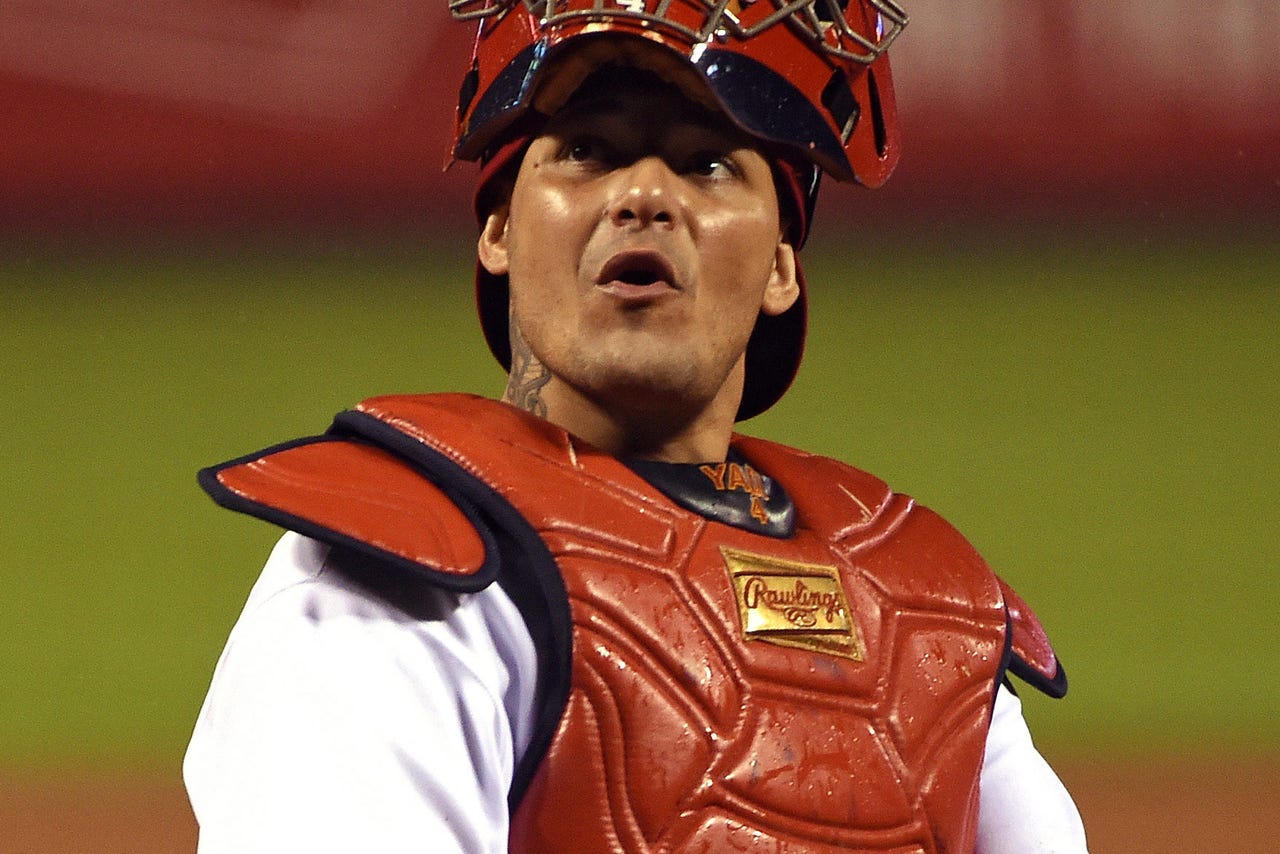 Jeff Curry-USA TODAY Sports
The normal process for clubs trying to extend a player entering his free-agent year is to ask, "What would he be worth on the open market?"

With the Cardinals' Yadier Molina, it's not quite that simple.

Molina, 34, is the pre-eminent catcher of his era, a likely Hall of Famer, a four-time World Series participant and two-time champion.

Ideally, Molina will retire a Cardinal. One day, the team might erect a statue of him outside Busch Stadium. So, he would not be your standard 35-year-old, free-agent catcher, the kind of player who recently has been treated rudely on the open market.

The Cardinals are talking about an extension with Molina, as first reported by Jon Heyman of FanRag Sports. Molina's agent, Melvin Roman, says, "Both sides are trying to work hard and see if we can make it happen." But to complete a deal, both sides must give.





Molina needs to recognize that his age works against him, even if (and perhaps partly because) he played in a career-high 147 games last season. He also needs to recognize that if he wishes to remain a Cardinal, he likely will not surpass Buster Posey's $18.56 million average salary, the highest of any current catcher.

The Cardinals, meanwhile, need to recognize that Molina isn't simply another aging veteran to whom they can bid farewell, the way they did with Albert Pujols and Matt Holliday. Molina's career accomplishments, intense conditioning and enduring importance to the team's pitching staff make him a special case.

Surely the Cardinals do recognize all of that, but other factors will complicate the negotiation.

Molina, who batted .307 with a .787 OPS last season, is coming off his best offensive performance since 2013, but his overall defensive metrics are in decline. At some point the Cardinals will want to mix in catcher Carson Kelly, their top position prospect. Yet, the club also would find it difficult to justify a reduction in Molina's $15 million salary.

So, back to the original question: What would Molina be worth on the open market?

Well, if Molina maintains typical production, all it would take is one team to decide that he could be their catching Svengali, helping transform their pitching staff. He almost certainly would not be like Holliday, commanding only a one-year deal.

A two-year extension would not be long enough; a four-year extension through age 39 would be excessive. The solution, then, is a three-year extension at an increased salary, plus an understanding -- informal or otherwise -- that the parties will do everything possible to ensure that Molina spends his entire career in a Cardinals uniform.

History is on the side of a deal; the Cardinals and Roman previously negotiated four- and five-year contracts for Molina. This time, $50 million over three years sounds about right. The Cardinals, in a strict valuation, might view Molina as worth less than that. But they also need to consider the cost of letting Molina get away.

That cost would be tangible and intangible, too high a price to pay.


Back with Team USA, this time by demand

Mark Reed, the Diamondbacks' bullpen catcher, assumed the same role for Team USA in the 2013 World Baseball Classic almost by accident. But the experience proved so unforgettable, he volunteered for the job again.

"I guess I didn't realize until I did it how much the players care about this thing," said Reed, the younger brother of Angels minor league hitting coordinator and former major-league outfielder Jeremy Reed. "You realize just how important it is."

Reed, 30, was a backup catcher at Triple A in 2012 when the D'backs summoned him midway through the season to replace longtime bullpen catcher Jeff Motuzas, who was experiencing elbow and knee problems.

The job was supposed to be only temporary; Reed re-signed with the D'backs as a player that offseason and was in camp the following spring. But Team USA, while training in Arizona, realized it was short a bullpen catcher. Kevin Towers and Kirk Gibson, then the D'backs' GM and manager, asked Reed if he would be interested.

Naturally, Reed answered yes, joining a staff that included Joe Torre as manager and Greg Maddux as a pitching coach.

Reed said his most indelible memories from the WBC were of Torre's first speech, stressing the significance of wearing the USA jersey, and of the glum scene in the clubhouse after the team lost to the Dominican Republic, 3-1, with a chance to advance to the championship round.

"I remember the locker room when we lost, how dead it was in there," Reed said. "It totally meant something to each one of those guys."

Reed returned to the D'backs after Team USA was eliminated, but little did he realize that his playing career was over. Motuzas, it turned out, was physically unable to resume his role as bullpen catcher, and Reed took over the job for good.

As the '17 WBC approached, Reed contacted former D'backs bench coach Alan Trammell, who will be a member of manager Jim Leyland's staff, and asked about joining the Team USA staff.

"Funny that you texted me," Trammell replied. "They brought your name up already."

New D'backs GM Mike Hazen and manager Torey Lovullo gave their blessing, and Reed will represent the team along with first baseman Paul Goldschmidt.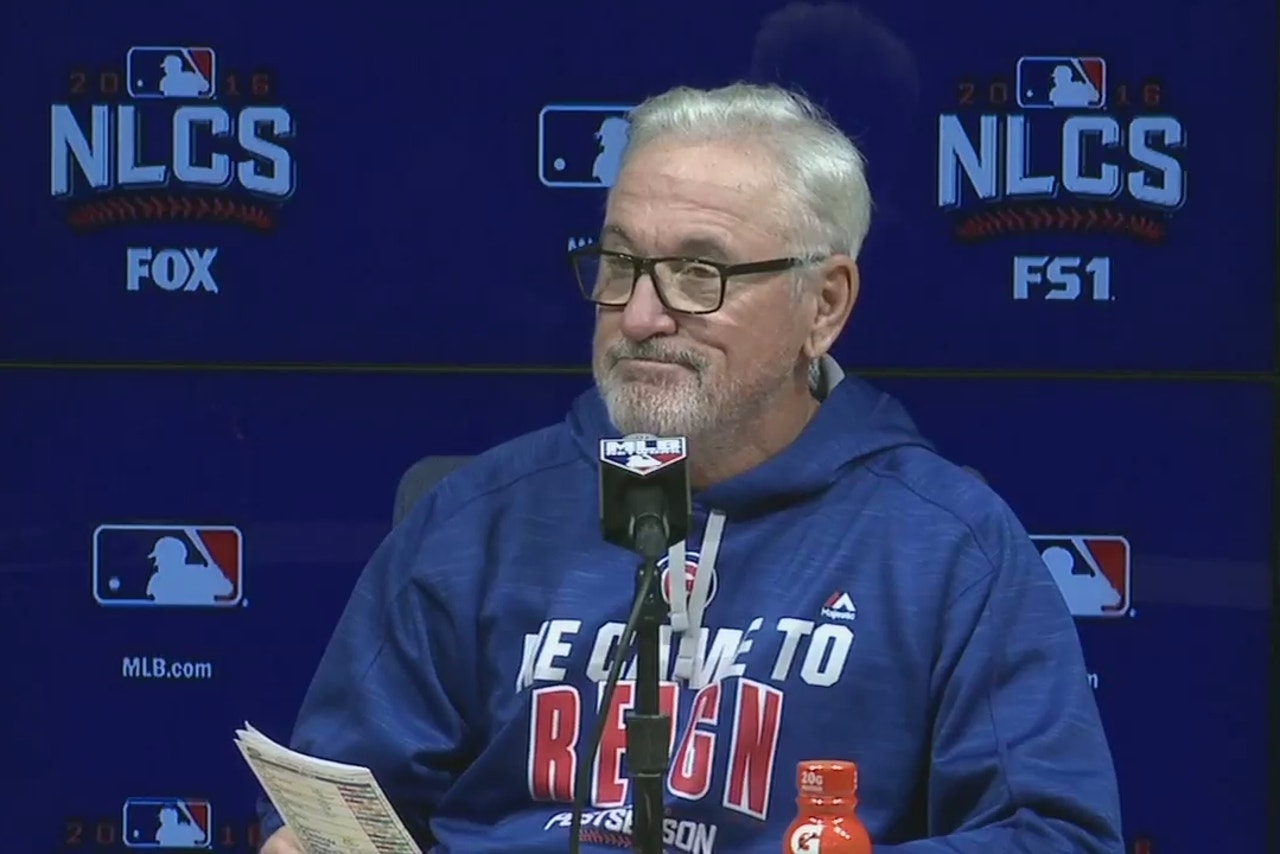 Young Cubs keep coming

It's a rite of spring for teams to talk up their young players, and it's typical for Cubs manager Joe Maddon to express enthusiasm over prospects who catch his eye.

Maddon, though, is particularly effusive about four Cubs youngsters -- four offensive players in an organization for which the hitting remains decidedly ahead of the pitching.

But oh, what hitting.

Outfielder Eloy Jimenez and second baseman/outfielder Ian Happ are obvious Maddon picks -- they're the Cubs' top two prospects, according to MLBPipeline.com. But the manager also is high on outfielder Mark Zagunis (No. 7) and infielder Chesny Young (No. 14.).

Oh, and don't forget third baseman Jeimer Candelario (No. 5), whom catcher Miguel Montero says is a switch-hitting version of Aramis Ramirez, but is hopelessly blocked in the Cubs' organization by Kris Bryant.

At the major-league level, the Cubs are not sure exactly how they will use Javier Baez, who could start at shortstop or second base for most clubs. A trade for pitching is inevitable – not right away and not necessarily involving Baez, but in time as other young players emerge.

Jimenez, 20, is perhaps two years away, but he's unusually mature and displays a more advanced hitting approach than former Cub Jorge Soler, a player with a similar frame. Happ, 22, is closing in on the majors, and eventually could play a role similar to Ben Zobrist, who has three years left on his contract.

Zagunis, meanwhile, reminds Maddon somewhat of Kevin Millar, while Young reminds him somewhat of Jeff Keppinger. Those might like sound modest comparisons, but Millar had a career .810 OPS and Keppinger had one of his best seasons for Maddon with the Rays in 2012.

The point is that the Cubs have more hitters coming -- and that they'll be well-positioned to address any pitching shortcomings at the non-waiver deadline or during the offseason, if necessary.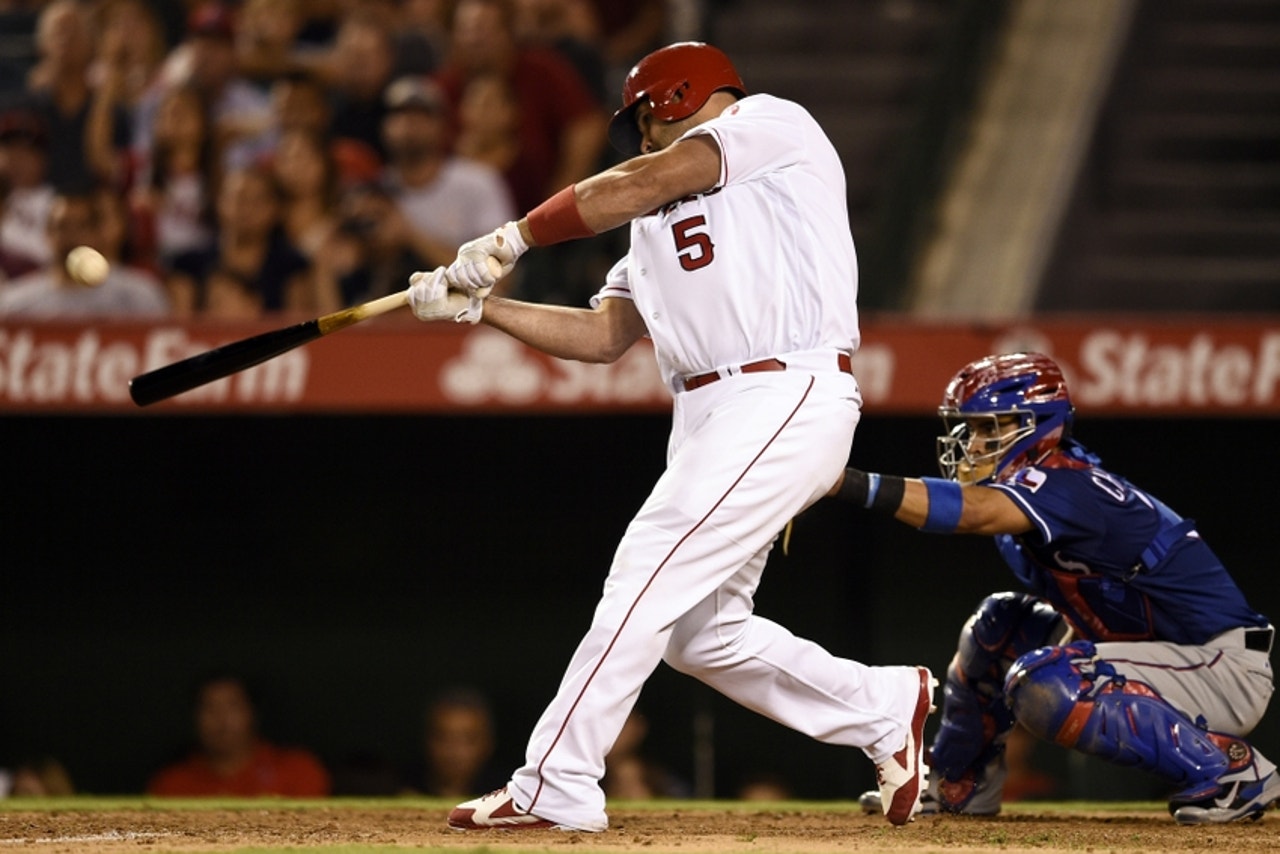 Around the horn

*Angels first baseman Albert Pujols is telling friends that his feet should be stronger than ever once he returns from the surgery that released the plantar fascia -- the ligament connecting the heel to his toes -- in his right foot.

Pujols, 37, partially tore the plantar fascia in his left foot in 2013, sidelining him for the final two months of that season. But his rehabilitation from that injury enabled him to play in 159 and 157 games the following two seasons, and the expectation is that his latest surgery should leave his right foot healed.

Some wonder why Pujols waited until early December to undergo a surgery that will sideline him four months, jeopardizing his availability for Opening Day. But the Angels first recommended conservative treatment, and Pujols resorted to surgery only after experiencing continued pain.

*Speaking of the Angels, some rival executives see them as a potential landing spot for Royals third baseman Mike Moustakas, who is eligible for free agency at the end of the season.

Angels third baseman Yunel Escobar also is a potential free agent, and the remaining $8.5 million on Luis Valbuena's contract after this season would not necessarily preclude a run at Moustakas, who is from Chatsworth, Calif., in the San Fernando Valley.

*While the Rockies could be a darkhorse for the postseason, they eventually will face a series of difficult decisions on some of their highly regarded position players.

Right fielder Carlos Gonzalez is eligible for free agency after this season, center fielder Charlie Blackmon and second baseman DJ LeMahieu after '18 and third baseman Nolan Arenado after '19.

To this point, the Rockies have resisted trading Gonzalez or Blackmon for pitching, but their position could be tested at the deadline, particularly on Gonzalez, depending upon how the team is performing.

*The Nationals are among the teams interested in signing free-agent outfielder Angel Pagan to a minor-league deal, according to major-league sources.

Pagan, 35, drew earlier interest from the Blue Jays and Royals, but lost potential opportunities when those teams signed Jose Bautista and Brandon Moss, respectively, sources said.

With the Nats, Pagan could back up Adam Eaton in center field, enabling Michael Taylor to open the season in Triple A. Pagan moved to left last season when the Giants signed Denard Span, but is more experienced in center than Chris Heisey, whom the Nats re-signed for one year, $1.4 million.

*Rival clubs see a surplus of veterans in the Athletics' bullpen -- Ryan Madson, John Axford, Sean Doolittle, Santiago Casilla, Liam Hendriks -- but the A's intend to start the season with the group intact, sources said.

Club officials view the 'pen not only as the strength of the club, but also as protection for the team's young starting pitchers. Injuries might compromise the A's depth – and of course, injuries to relievers on other clubs might increase the volume of calls to the Oakland front office.


---
---