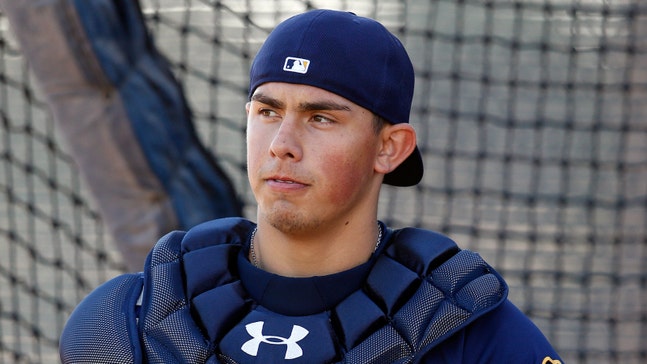 Brewers prospect accidentally shatters his own windshield with home run ball
Published
Mar. 14, 2016 12:47 a.m. ET

It's been a rough couple of weeks for car windshields at spring training facilities. But the latest victim of a window-shattering baseball isn't your average fan -- it's a player.
Milwaukee Brewers prospect Jacob Nottingham defied the odds this weekend when he hit a home run during batting practice that landed in the most unlikely place: his own car's rear windshield.
"What are the odds I hit my own Window during batting practice," Nottingham tweeted, along with a photo of the wreckage and the hash tag "#Lucky."
We've seen a number of windshield casualties so far this spring, stemming from balls hit by Nelson Cruz, Kyle Schwarber and Maikel Franco, but hitting your own car with a stray ball is a pretty rare occurrence. Not to mention, Nottingham's homer didn't just crack the glass on his BMW, it smashed all the way through it.
It's not the only damage Nottingham has done this spring. He smashed the windshield of a rental car belonging to a member of the Brewers' training staff earlier in camp, according to the Milwaukee Journal Sentinel.
Obviously, the kid has some serious pop. Nottingham hit 17 home runs in 119 games between Class-A Stockton and Class-A Lancaster last year. The 20-year-old catcher was acquired by Milwaukee in a trade with Oakland for outfielder Khris Davis this past offseason.
---
---