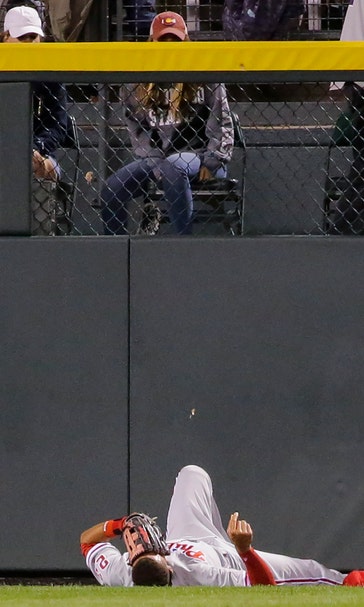 Altherr leaves after hitting fence trying to catch homer
September 24, 2018
DENVER (AP) — Philadelphia Phillies left fielder Aaron Altherr left the game after spraining his right big toe and bruising the knee while running full stride into the fence as he tried to catch a home run by Colorado's David Dahl.
Altherr was tracking the two-run homer in the fourth inning of Monday's game when the side of his face and his right leg rammed into the padded fence, his hat flying off. He stayed on the warning track for several moments as a trainer rushed out to check on him. Altherr limped to a cart and was taken away.
On the play, the fan trying to catch Dahl's homer was hit in the head by the ball, his hat flying off as well.
---
---