7 numbers that prove Sam Bradford isn't a franchise QB
The Philadelphia Eagles are headed in a new direction, as head coach Doug Pederson takes over what Chip Kelly left behind.
But does that include quarterback Sam Bradford?
Bradford is about to become an unrestricted free agent, and the Eagles are in an awkward position with the 13th pick in the 2016 NFL draft. They are not currently in position to snag one of the draft's top quarterback prospects, and they can't be convinced that Bradford is the man for the job.
If the Eagles don't feel comfortable signing Bradford to a long-term deal, they can keep him under contract with the franchise tag. However, after leading the Eagles to a 7-7 record in his first season as the team's starter (backup Mark Sanchez went 0-2 as a fill-in starter), Bradford might not be worth a top-rate paycheck — even if it's just for one year.
Here are seven stats that prove Bradford is not a franchise quarterback:
86.4: Bradford's first season with the Eagles produced an 86.4 passer rating. That is the exact same passer rating Brock Osweiler posted while trying to keep the Denver Broncos afloat during his seven starts in 2015. If Bradford isn't a more efficient passer than a backup quarterback with no previous experience as a starter, the Eagles can probably locate a better option at that position.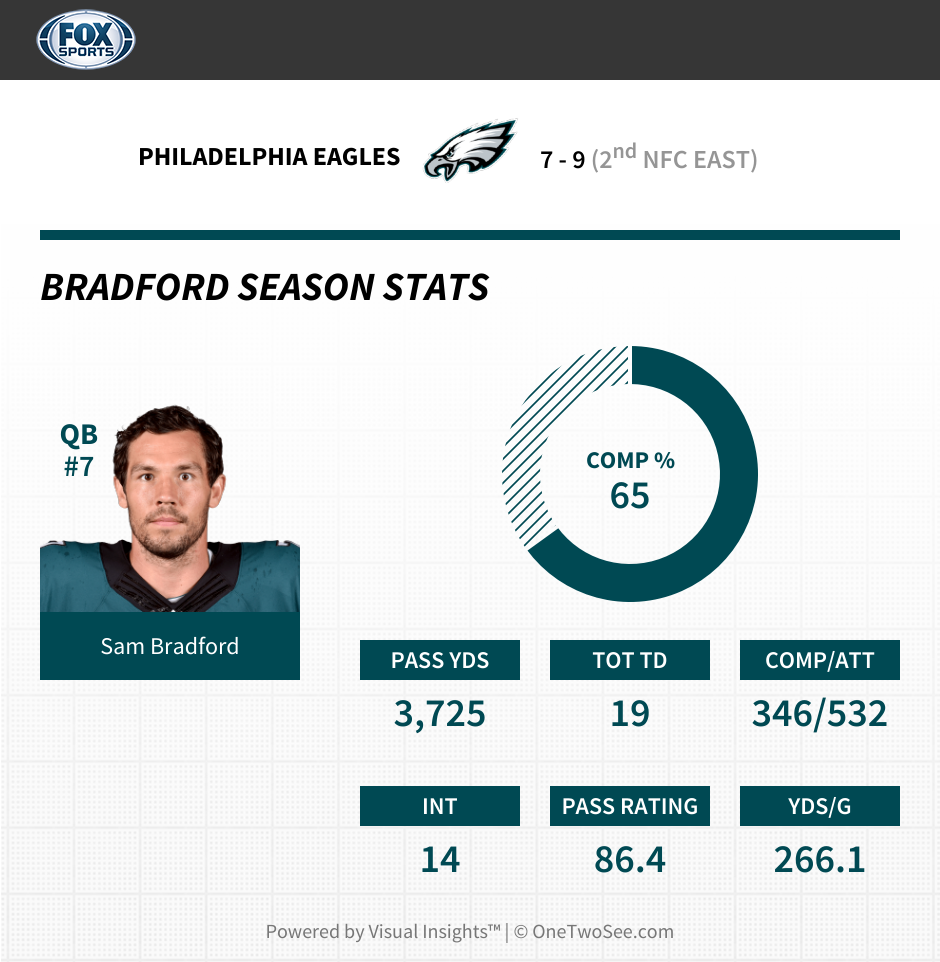 7.0: An average of 7.0 yards per pass attempt is not terrible, but it's also not striking fear in the opponent. Bradford ranked 25th in the NFL in this category, just ahead of Oakland Raiders quarterback Derek Carr. The Eagles might feel more comfortable making Bradford the franchise quarterback if his average was north of 7.5 yards per pass attempt, placing him among the league's elite passers.
3.6: Bradford threw a touchdown on 3.6 percent of his pass attempts. This figure ranked 26th in the NFL and was again identical to the one Osweiler posted. He also trailed losing quarterbacks such as Cleveland's Josh McCown and Miami's Ryan Tannehill in this category. Bradford was one of 15 quarterbacks to eclipse 500 pass attempts in 2015; he was the only one of those 15 to throw fewer than 20 touchdown strikes.
2.6: Bradford was intercepted on 2.6 percent of his pass attempts. He ranked 25th in this category, just behind embarrassingly subpar quarterbacks in Houston's/Baltimore's Ryan Mallett and San Francisco's Blaine Gabbert. Bradford also trailed historically sloppy passers Eli Manning and Jay Cutler when it came to interception percentage. Although he only lost three of them, throw in his 10 fumbles and the Eagles cannot afford to field a franchise quarterback who's such a risk to give away possession.
46.3: Although Bradford finished just outside the top 10 for overall completion percentage (65.0), that figure fell to 46.3 percent when throwing in the red zone. He was one of seven quarterbacks who threw at least three red-zone interceptions in 2015. Three of Bradford's seven losses as a starter this past season were decided by a field goal or less, so passing efficiency in the red zone could have been the difference between the Eagles making the playoffs and finishing 7-9.
33: There's a lengthy injury history that cannot be ignored when considering Bradford's potential as a franchise quarterback. Since entering the NFL in 2010, he has played all 16 games in a given season only twice (2010, 2012). A high ankle sprain cost him six games in 2011; back-to-back ACL tears cost him nine games in 2013 and the entire 2014 season. Bradford was limited by a shoulder injury during the second half of the 2015 season and missed two games with a concussion.
28: Bradford is 28 years old, and we're still debating his potential. He was 22 when the St. Louis Rams selected him first overall in the 2010 NFL draft. The first quarterbacks selected in the two draft classes before and after his — Atlanta's Matt Ryan (2008), Detroit's Matthew Stafford (2009), Carolina's Cam Newton (2011) and Indianapolis' Andrew Luck (2012) — are all entrenched as the franchise player for their respective teams. If we're still asking this question about Bradford at this point in his career, then he probably isn't a franchise quarterback.
Follow Kevin Boilard on Twitter:
@KevinBoilard