King of the Hill: Can Taysom Hill overtake Steve Young as BYU's best dual-threat QB?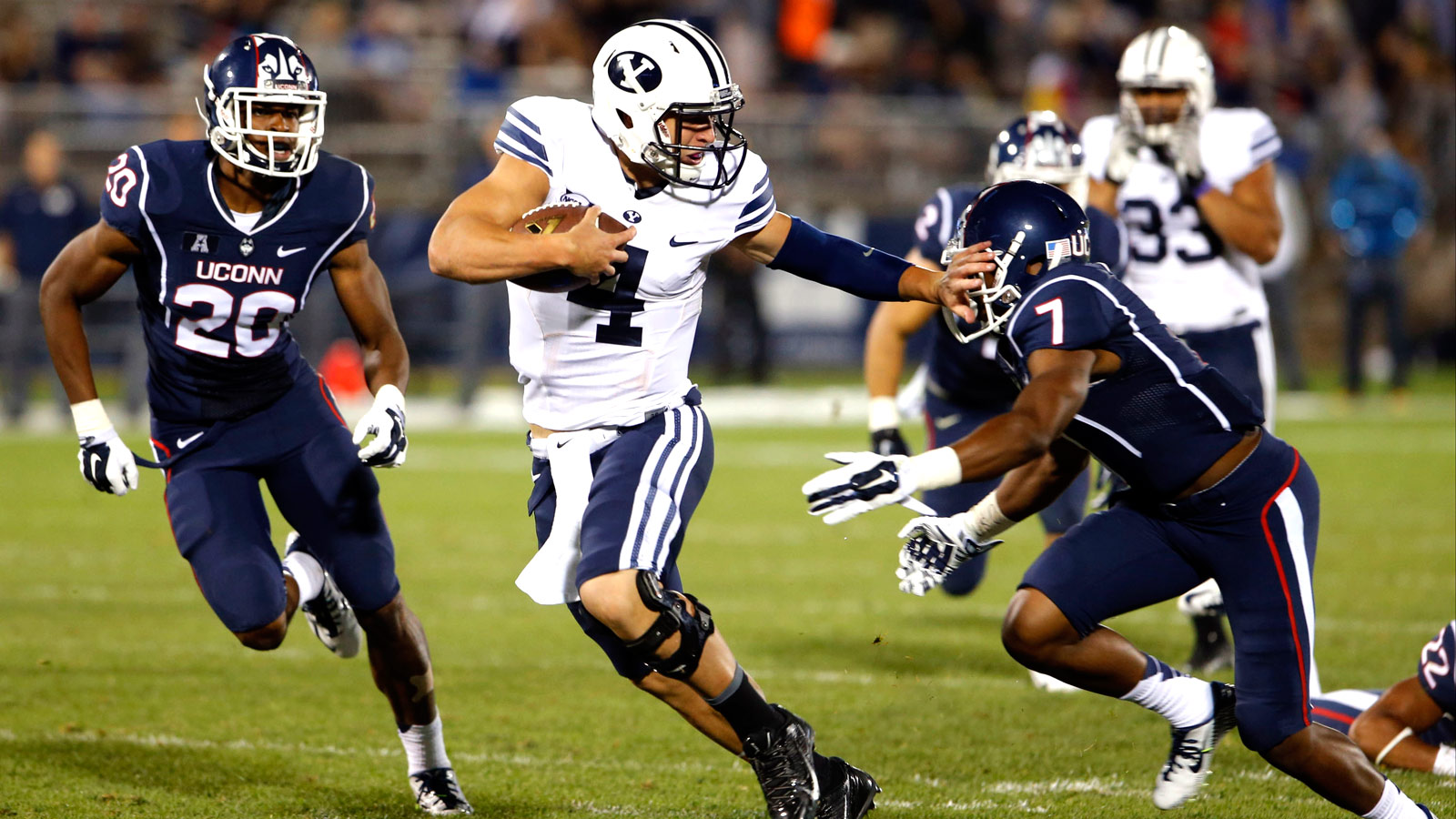 BYU quarterback Taysom Hill has made some electrifying plays with both his arm and feet during his three years playing quarterback for the Cougars, but is he the best dual-threat QB in the program's history?
Certainly, that is a title currently held by NFL Hall of Famer Steve Young, but Hill could give Young a run for his money this season if he can stay healthy.
Though he only started his final two years at BYU, Young was sensational. In 1982, the lefty threw for 3,100 yards and 18 TDs, while rushing for 407 yards and four scores.
As a senior, Young aired it out for 3,902 yards and 33 touchdowns, while galloping for 444 yards and eight touchdowns.
Young's heroics led BYU to an 11-1 record and a No. 7 ranking that year.
That's going to be extremely tough for Hill to match, but the potential is there. In 2012, Hill got his feet wet and completed 42 of his 71 attempts for 425 yards and four TDs, while rushing for 334 yards and four TDs.
Hill had his breakout season the following year, as he completed 53.9 percent of his passes for 2,938 yards and 19 touchdowns. He also averaged 5.5 yards per rushing attempt for 1,344 yards and 10 touchdowns.
In 2014, Hill played in four games before suffering a knee injury against Utah State in the fifth game of the season. Hill still managed to post 975 passing yards and seven TDS, along with 460 rushing yards and eight scores.
Can Hill overtake Steve Young as the Cougars top dual-threat QB of all time? That's a lot to ask, but the best way to get into that conversation is to try to match Young's wins as well as his stats.
(h/t KSL.com)