Wisconsin Badgers: Weekly outlook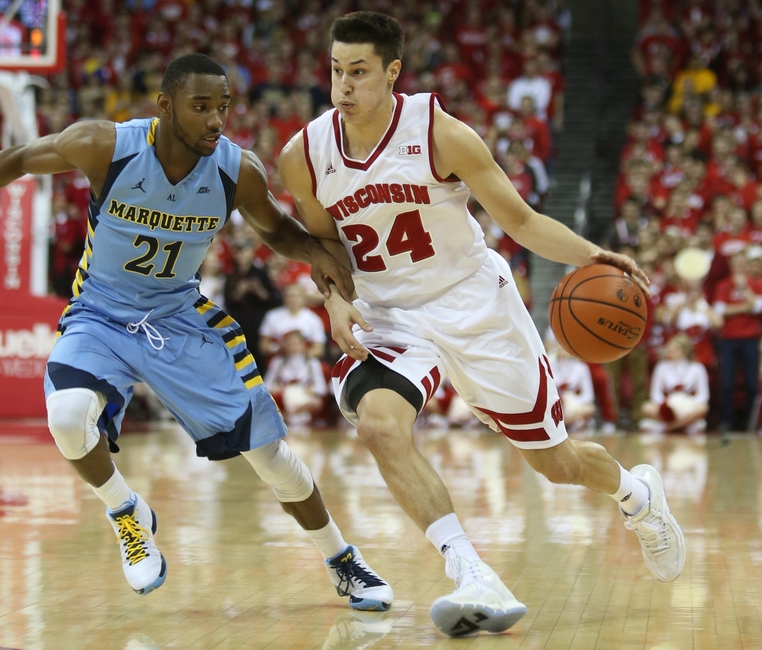 Despite the Big Ten season officially concluding this past weekend, the Wisconsin Badgers still have a busy week ahead of them in athletics.
Still upset about the Badgers' blown Big Ten Championship? That is OK. It is hard pill to swallow. If you are looking for something to take your mind off and be excited about, there is still more Badgers games this week to look forward to, as a busy athletics schedule will be sure to take your mind off of football until the January 2nd Cotton Bowl versus Western Michigan.
Although the football conference season did not end how we wanted it to, the Badgers' basketball team is currently entering this week having notched up two big wins in a row. The women's volleyball team is in the midst of an NCAA Tournament run, and both the men's and women's hockey teams are providing must-see action every weekend.
Here's your look at the Badgers' week ahead in sports.
Basketball:
Wisconsin basketball is fresh off their 77-60 ACC/Big Ten Challenge victory over a ranked Syracuse Orange team, followed by a strong second half push that propelled the Badgers to a 90-70 win over the Oklahoma Sooners, gaining revenge from last year's defeat.
With less than a month until conference play starts, the Badgers still have a major game looming on their schedule that a good chunk of the state circles on their calendars every year.
On Wednesday, the Badgers will welcome in the Idaho State Bengals to the Kohl Center. Wisconsin is 5-0 this year at home and although heavily favored, the Badgers have learned in recent years they should not take buy-games lightly. The Bengals come in at just 1-7, having played over half of their games on the road.
Then comes the big one on Saturday.
Wisconsin will hop on Interstate 94 and head east about 70 miles to Milwaukee to take on their in-state rival- Marquette Golden Eagles.
The series has been pretty even of late, with the teams splitting their last 14 games at seven wins a piece. The Golden Eagles won last year's matchup in Madison, led by freshman phenom Henry Ellenson, defeating Bo Ryan and the Badgers 57-55. Wisconsin leads the overall series 66-56.
Marquette currently sits at 6-2 on the season. Wisconsin will be their first ranked opponent of the year and the only one of their non-conference slate.
The Wisconsin women's basketball team will also take on Idaho State and Mississippi Valley State before hosting Marquette on Sunday.
Hockey:
Despite scoring 11 goals in their last three games, the Wisconsin men's hockey team has gone winless during that span, losing 6-5, tying 3-3, and losing 7-4 again.
In their final games before an almost month-long break, the Badgers will look to remain above .500 this weekend when they take on Big Ten for Michigan in Ann Arbor.  It will be Wisconsin's (7-6-1) first conference matchups of the season as the team has been performing well under new head coach Tony Granato after the abysmal 8-win season a year ago. The Badgers are currently 3-1 on the road this season.
The Wisconsin women's hockey team is coming off just their second loss of the season on Friday, when they were taken down by rival Minnesota in a battle between the No.1 Badgers and No. 2 Gophers. Wisconsin got the best of them on Saturday though, scoring eight goals and cruising to a six-point win, which could be just enough to help them retain that number one ranking.
This week, the lady Badgers will travel to Columbus to take on Ohio State in a weekend series.
Women's Volleyball
Twelve of the top 16 seeds advanced to the Sweet 16 in the NCAA Tournament up to this point, including the No. 3 Badgers who coasted to victories over Howard and Washington State in the first and second round.
This Friday, the Badgers will look to continue their run against another Big Ten foe in Ohio State. The Big Ten has six teams currently still alive in the 16 reaming teams. If Wisconsin can prevail against the Buckeyes, the Badgers will then take on the winner of Florida State/Stanford on Saturday in Madison with a trip to the Final Four on the line.
https://twitter.com/NCAAVolleyball/status/805275348673957888
This article originally appeared on