Michigan State Basketball: 5 storylines to follow during 2016-17 season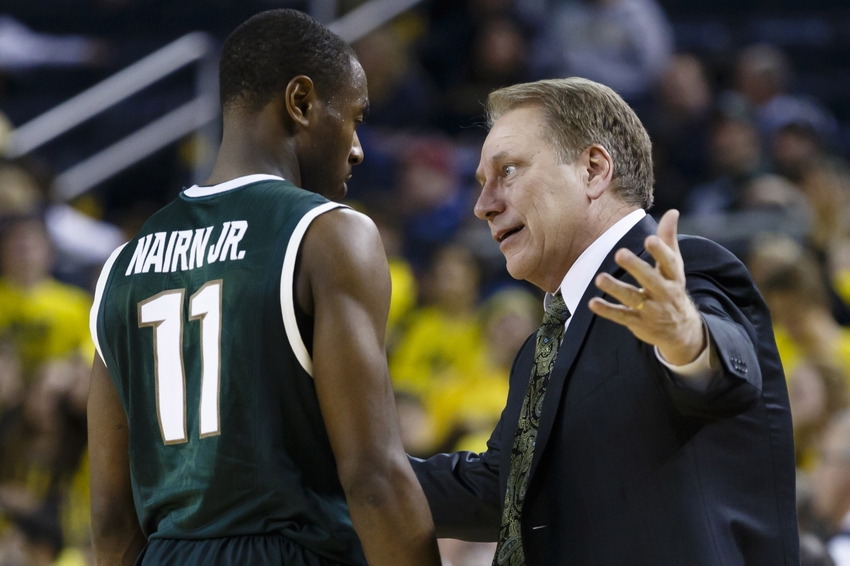 Here are the top five storylines to follow during Michigan State basketball's 2016-17 season.
For Spartan fans, the Michigan State basketball season has caused a release of frustrations over the course of the past couple of decades built up from football season. Sure, the past decade with Mark Dantonio at the helm has been different seeing as the football program has been considered "elite" but not so much in 2016.
Michigan State is just 2-7 on the gridiron and Tom Izzo is hoping for better results on the hardwood this winter and spring. It all starts on Friday night with a critical matchup against Arizona in Hawaii for the Armed Forces Classic.
The first month of the basketball season is going to come with some tough matchups against teams like Arizona, Duke, Kentucky and potentially Louisville. The schedule will surely prepare this young team for the home stretch in March.
With that, let's take a look at five storylines we should be keeping an eye on as the season wears on.
5. Improving defense?
Through the first two exhibition games versus Northwood and Saginaw Valley State, it has been clear that the defense is the major area of concern. The Spartans allowed 69 points to a mediocre Northwood team and 77 to SVSU who happens to boast one of the best teams in Division II. Still, that's not something Izzo is proud of.
Defending the perimeter was a major issue and it seemed like Lourawls Nairn and Eron Harris were lacking intensity since it was just preseason basketball. Not having Josh Langford also hurts seeing as he might be the team's top defender before the year is over.
Also, the post was not as lock-down as it's been in years past for obvious reasons. With injuries and an early departure in the post, the Spartans will have to make do with who they currently have.
Will the defense continue to improve as these young guys get more reps and Gavin Schilling potentially comes back from an injury?
4. Eron Harris' growing leadership
In his first season with Michigan State, Eron Harris looked like an above-average bench player who provided much-needed depth down the stretch. He played well all season long and showed flashes of the kid who averaged over 17 points per game two years before with West Virginia.
With Denzel Valentine making the jump to the NBA along with Bryn Forbes, the guard positions will need to be filled by guys who can score. Sure, you can throw Tum Tum in there, but is he really going to improve much on offense? That's where Harris comes in.
A self-proclaimed late-bloomer, Harris went from an undervalued recruit out of high school to one of the top scorers in the Big 12 in just a couple years time. He also became a deadly three-point shooter and improved in every category from his freshman to sophomore year.
Transferring to Michigan State, he knew that he'd likely have to take a back seat for a season while the players ahead of him finished out their careers and paved the way for him to be a star. Now that Valentine is gone, along with Matt Costello, the senior leadership needs to come from him.
The young guys are going to look up to Harris as not only a scorer and All-Big Ten candidate, but also a leader. How will he respond to his new role?
3. Lourawls Nairn improving offensively?
He's improving his jump shot. He has been been working hard all summer to fix his shooting issues. He'll have a larger impact on the offense this year. All three of those statements were muttered before the 2015-16 season and none of them came to fruition during the year for Tum Tum Nairn.
Albeit he did suffer a foot injury, so he gets the benefit of the doubt. I'm sure he did work hard to improve his jump shot and to become a bigger factor on the offensive side of things, but Nairn has to prove it on the court and not just in the preseason headlines.
We get that he's a great leader and Izzo raves about his junior point guard constantly, even going as far as to say he will find a spot on his staff for him when he graduates. Nairn is probably the best leader since Draymond Green or Mateen Cleaves, but he's a fraction of the offensive player they both were.
Through two seasons, Nairn has a total of 164 points and 196 assists. This proves a couple of things. First, he looks to pass first and second, he is afraid to finish at the basket.
Too many times he gets to the rack easily and dishes it out for a low-percentage shot when he has a wide open layup. Will he finally take that next step on offense this year or is it going to be yet another 2.8 points per game season?
2. How will post players perform?
I know what you're thinking, "What post players?" The concern is warranted. Michigan State doesn't have much going for it in the way of big men and there will be some stretched minutes from smaller guys who will be forced into the four spot. Miles Bridges may stand 6-foot-7 but he will play power forward for most of the start of the season.
Bridges played the four for most of the two exhibition games and was out-matched down low on defense, at times, but made up for it on offense. Kenny Goins didn't look fully healthy just yet and his knee issues might continue to linger, but he will be forced into that spot as well.
Nick Ward, also a freshman, will play more minutes than he imagined when he committed. Likely acting as the Spartans' center, the 6-foot-8 first-year player happens to be the Spartans' tallest post player who is currently healthy.
For what it's worth, Izzo has stated that he hopes to get Schilling back by conference play, but that's not for another month and a half. There is an entire non-conference slate with tough opponents that will take advantage of a weak Spartans' post.
Ben Carter is likely out for the season, so his transfer is all for naught. Man, Deyonta Davis' presence would be huge in this circumstance. How will the post players perform before the injured Spartans return?
1. Freshman class takes over
This is the most intriguing group of freshmen that Izzo has brought in since the 2007 class that boasted Kalin Lucas, Durrell Summers and Chris Allen. Heck, this group is arguably more exciting and has more hype surrounding it.
Must Read: MSU Basketball: Game-by-game predictions for November
Starting off with Bridges, the former five-star prospect from Flint has already been named to preseason All-Big Ten and even Sporting News' All-American teams. He has earned the respect of just about everyone, and it's easy to see why as he averaged 26.5 points in his first two exhibition games.
Josh Langford was the other five-star who committed to Michigan State and he missed both of the preseason contests with a hamstring injury. He has been cleared to go on Friday night against Arizona and some people have dubbed him the best player in the class.
Cassius Winston has great court vision and can score from the point guard position. He's an impressive young talent and Izzo has even claimed he could be the best passer he's had.
Lastly, Ward is going to see some major playing time in the post, as mentioned earlier. The big man from Ohio could be an All-Big Ten performer by the end of the season and he might just wind up being the surprise of the class.
How immense will this freshman class takeover be?
This article originally appeared on