Michigan Basketball: Wolverines show flashes of brilliance on offense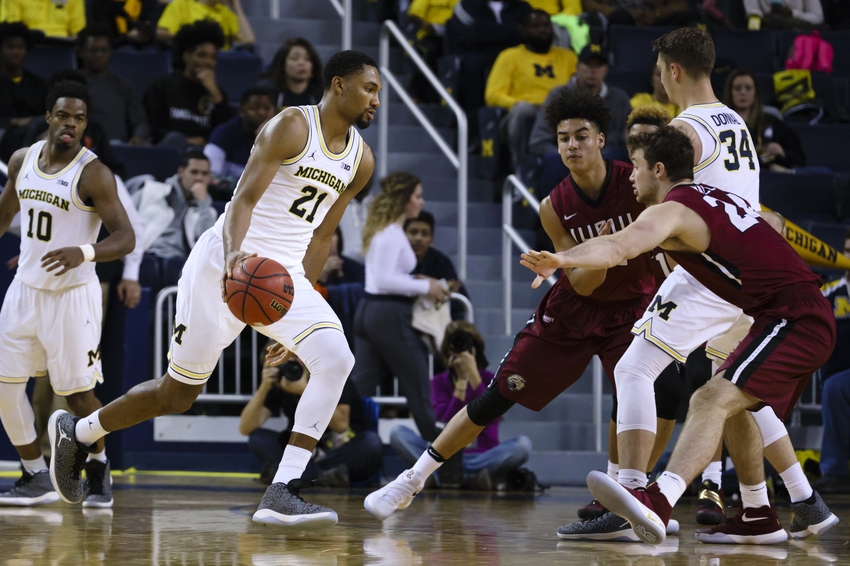 Michigan basketball dropped 50 points in the first half and rolled past Marquette at Madison Square Garden.

79

61
Year after year, the Michigan Wolverines are always potent on the offensive end of the floor. With a mastermind in John Beilein running the show in Ann Arbor, the Wolverines run crisp offensive sets and possess the players to consistently maintain their status as one of the top scoring teams in the Big Ten.
While it wasn't a perfect display (they had 16 turnovers), the Wolverines showed flashes of brilliance on offense in their 79-61 win over Marquette in the 2K Sports Classic.
The Wolverines had five players score in double figures, including Zak Irvin (16 points), Mark Donnal (15 points), Muhammad Ali Abdur-Rahkman (15 points), D.J. Wilson (10 points) and Duncan Robinson (10 points). The Wolverines shot 50 percent from the field overall, drilled 41 percent of their threes (nine overall) and had 16 assists on 27 field goals.
In the first half in particular, Michigan dropped 50 points, shot 59 percent from the field overall and hit six threes. They went to the free throw line 15 times, hitting 80 percent of their free-bees, and had 10 assists on 16 field goals. Surprisingly, the Wolverines did all this without their starting point guard Derrick Walton Jr., who played just seven minutes in the opening frame due to foul trouble and did not score.
Michigan Basketball vs Marquette: Wolverines Face Season's First Test
"We have a next man up mentality," Irvin said after the game.
While Michigan only scored 29 points in the second frame, the Wolverines were up 24 at the break and likely took their foot off the gas with such a large advantage.
But regardless of what they didn't do in the second half, the Wolverines have shown a different dimension because of the development of their bigs.
Whether it's Donnal, Moritz Wagner and Wilson, they all have shown vast improvements in terms of their versatility. Wagner and Wilson, in particular, have been especially impressive. The German big man has already made as many threes as he hit all of last season (two) and Wilson has shown the ability to handle, shoot and pass at 6'10".
This obviously helps the Wolverines' spacing, giving Abdur-Rahkman, Walton, Irvin and others more opportunities to attack off the bounce.
Beyond the versatility, Michigan is also experienced and has excellent chemistry. With the exception of Wilson, every Wolverine starter played more than 10 minutes per game in 2015-16, and four of their five starters are upperclassmen. Add in role players Duncan Robinson and Donnal who come off the bench, and the Wolverines have multiple options that have already been through the gauntlet that is college basketball.
Meanwhile, Marquette did not play well at all in the first half. They lacked energy, turned the basketball over consistently and struggled to make easy shots at the rim. The Golden Eagles' shaky defense certainly contributed to some of the Wolverines' open looks, but even when they started to turn the corner on that end of the court in the second half, Michigan still found ways to score out of the pick-and-roll.
Marquette is deep and has some talent, however, they are still inexperienced and have to figure out who is going to lead them at the point guard position.
"It's tough," Marquette head coach Steve Wojciechowski said regarding his team's fluidity at the lead guard position. "There's not much separation, so I think we have to figure that out somehow. It's a really tough position to figure out on the fly."
It's just one game (Friday's battle against SMU will tell us more), but Michigan certainly looks like they are headed for yet another terrific season on offense. If their defense continues to play well and their rebounding remains strong against taller/bigger teams, then the veteran-laden Wolverines could find themselves making a lot of noise in the Big Ten.
More from Busting Brackets
This article originally appeared on