Louisville Basketball: 5 toughest games on the Cards' 2016-2017 schedule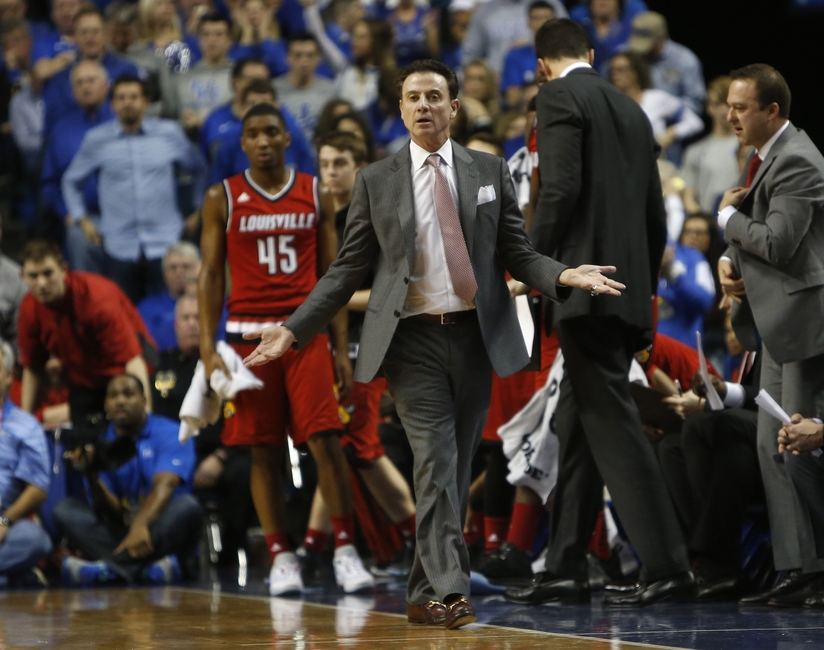 Take a look at Louisville basketball's five toughest games on their 2016-2017 schedule and a preview of those teams they will face.
This is going to be an important bounce-back season for the Louisville basketball team, as they had to sit out the NCAA Tournament last year because of a self-imposed ban. Now that the sanctions seem to be in the past, every Cardinals fan can look forward to seeing their team in the postseason come March.
With that being said, the Cards have a brutal schedule in 2016-2017. There isn't more than five or so games on their slate that will not challenge them to some extent. While I know they can survive, one had to wonder what kind of effect it will have on the team by the end of the season.
Chip Patterson from CBS Sports had this quote from Rick Pitino a few months ago:
"Our schedule as planned is one of the toughest any team could encounter," Pitino said. "The league travel is a bit unfair with a 9 p.m. home game on Thursday [Jan. 19 vs. Clemson], followed by a 2 p.m. game at Florida State on Saturday [Jan. 21]. There's also a road game on Saturday afternoon [Feb. 4] at Boston College, then next up traveling to Virginia on Monday [Feb. 6]."

But Pitino wasn't done.

"That's not mentioning our league opening game at home against Virginia [Dec. 28] sandwiched between Kentucky [Dec. 21] and Indiana [Dec. 31], all followed with a game at Notre Dame [Jan. 4]. But that's the ACC. The Battle 4 Atlantis [Nov. 23 vs. Old Dominion], Purdue [Nov. 30] and at Grand Canyon [Dec. 3] — pass the Pepto Bismol.
Pitino is correct, Louisville has one of the toughest stretch of games in the entire country. We can only hope that it toughens this team up and makes them better. Just by knowing the history of Pitino's teams, I trust that this will come as nothing but a normal challenge every week.
Here are the five toughest games that Louisville basketball will play this season.
5. Indiana Hoosiers
Where: Indianapolis, Indiana
Time: December 31st at 12:30pm
TV: CBS
The Hoosiers are coming off a solid season where they went all the way to the Sweet Sixteen in the NCAA Tournament. They already have the best win of anyone this year, as they beat #3 Kansas in overtime the first week of the season.
There is no doubt about it, Indiana can shoot the basketball. It will test the Cardinals' ability to score, but defense always tends to shut down great offensive basketball teams. Even in a game away from the Yum center, I still expect the Cardinals to win this game.
Here is what Athlon Sports had to say about Indiana in their season preview:
"The pieces are here for the Hoosiers to challenge in the Big Ten. Bryant is a mature sophomore whose love of college basketball and the chance to play in another NCAA Tournament helped bring him back to IU. Blackmon could lead the Big Ten in scoring. Anunoby and Morgan are large, versatile players who helped drive Indiana's defensive improvement last season.

Replacing Ferrell and the unpredictable Troy Williams will require adjustments. The Hoosiers must continue to embrace the commitment to defense they showed during conference play while also reducing turnovers."
Again, this is going to be a tough game for Louisville to go and win. Cardinal fans need to be sure and make their trip to the Hoosier state whenever these two teams face off against each other.
4. Virginia Cavaliers
Where: Charlottesville, Virginia
Time: February 6th at 7:00pm
TV: ESPN
The Cavaliers are always going to give Louisville trouble with the way they play defense. They have been able to shut down Louisville ever since the Cards joined the conference. It also won't help that the Cardinals have to go play the Cavaliers down in Virginia in February.
Louisville, no matter the sport, somehow always struggles going to Virginia and playing well. It wouldn't surprise me if this is a game that the Cardinals come back to the Ville' without a victory.
Here is what Athlon Sports had to about about the Cavaliers in their season preview:
With 89 wins and two NCAA Tournament No. 1 seeds in the last three years, Virginia is the ACC's new model of consistency. It says a lot about how far the program has come under Bennett that an Elite Eight appearance can feel like a disappointment.

This season feels like a continuation of something sustainable. There's an intriguing combination of old and new — a core of upperclassmen and a wave of young talent.
With that being said, Virginia did lose so major pieces from last year's squad, but I know that Tony Bennett will have his new players defending the playing their usual high-level basketball.
Again, we never know how these Cardinals will respond on the road, but this is easily one of their four toughest games of the 2016-2017 season.
3. North Carolina Tar Heels
Where: Chapel Hill, North Carolina
Time: February 22nd at 9:00pm
TV: ESPN
The Tar Heels are easily the second best team in the ACC this season. Just like Virginia, they did lose some key peices from last year's Final Four team, but the talent they have on the roster is still very, very good. If it wasn't for Duke, the Tar Heels would be favorites to bring home thier second ACC Championship in-a-row.
This will be a tough enviroment for the Cards to go play in at the end of February. The good news is that these types of games will prepare them for the NCAA tournament. However, I am still not sure they will be good enough to upset the Tar Heels in their own building.
Here is what Athlon Sports said about UNC in their season preview:
"After losing Johnson and Paige, the Tar Heels won't start the season as anyone's favorite to win the NCAA championship. However, an upper-tier finish in the stacked ACC and a return to the Final Four could be within reach. The lack of obvious star power is an issue, but having six upperclassmen with significant experience provides continuity that many other national contenders lack.

UNC needs Berry to carry over the consistency he established a year ago and Jackson to emerge as a more efficient scorer. If those things happen and Bradley is ready to be a force in his first college season, the Tar Heels could be poised for another extended postseason run."
I do diagree with Athlon Sports in their assessment of the Tar Heels, I do not think they are a Final Four team this season. However, every Louisville fan knows that great coaches make the biggest difference when it comes to the tournament. This could be another great season for UNC fans.
2. Duke Blue Devils
Where: Louisville, Kentucky
Time: January 14th at 12:00pm
TV: ESPN or ESPN2
The Blue Devils are currently the number one basketball team in the entire country, but the good news is that Louisville gets to play them at home this year. However, that doesn't mean that everything is going to be easy for the Cards because Duke is highly-talented on every aspect of their team.
Here is what Athlon Sports had to say about Duke in their season preview:
"The stars are aligned for Duke to once again do something special. The Blue Devils have size, shooting and experience. They're deep enough to weather injuries and have enough high-end talent to match up well with any team in the country. It's a long way until the first Monday night in April. But it's hard to envision the Blue Devils not getting there."
Not only is Duke the favorite to win the ACC, but they are clearly the favorite to win the National Championship as well. Coach K has been recruiting at a high-level, rivaling coach Calipari and looking to take his Blue Devils to another level this season.
1. Kentucky Wildcats
Where: Louisville, Kentucky
Time: December 21st at 7:00pm
TV: ESPN
Yes, this is going to be Louisville's toughest game of the season for many, many reasons. Pitino hasn't been able to beat Calipari, Kentucky is much better than Louisville, and one has to wonder if the Cards have the shooting ability to keep up with Kentucky's tough defense.
Coach Calipari thinks that this is going to be his best defensive team that he's had at UK. If that's true, then the Cardinals are going to, again, struggle to score against a stiff Kentucky defense. The only good news is that Louisville gets to play at home in front of their fans.
However, rivalry games always get weird. If the Cardinals can hang around until the end, then they could have a shot of beating Kentucky for the first time in years.
With that being said, if UK goes up big early, then it will be a long December night for the Cardinal faithful.
This article originally appeared on