KU Basketball: Did the Jayhawks Answer Pressing Questions?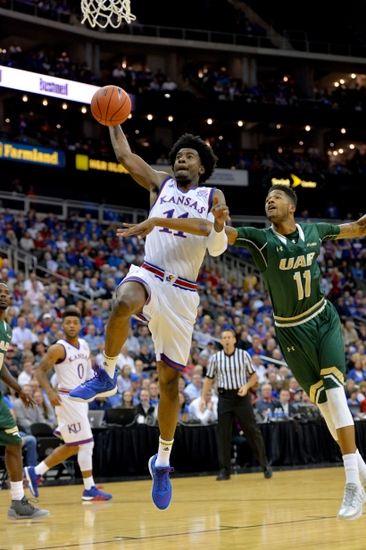 In an inconsistent performance, KU basketball defeated UAB 83-63. Did we get any answers to our questions about the Jayhawks?
Did the Jayhawks play like 19 point favorites?
At times, yes. The Jayhawks started out on a 17-0 run, fueled by terrific shooting and even better defense. The KU basketball defense ended up holding the Blazers to 36% shooting from the floor, their best defensive performance to date, and one head coach Bill Self will like. The Jayhawks' post defense was especially good. They held the Blazers' starting frontcourt, Chris Cokley and William Lee, to 3-17 shooting and just eight points. Kansas forced 19 turnovers, a sign that the defense can be very good and more disruptive. Mason, Graham, and Jackson each came away with three steals. Without an elite post defender or rim protector, KU should look to force more turnovers this year.
At times, KU played down to UAB's level. They were still sloppy, and turned it over 16 times. The Jayhawks committed several dumb fouls as well. Self agreed in his post-game remarks, "We're putting people on the line too much, giving them free points." Self said. "We have to correct those things." I couldn't agree more. With only eight rotation players, the Jayhawks can't afford to have many of them in foul trouble. Landen Lucas and Udoka Azubuike each committed four fouls, in just 15 and 16 minutes respectively.
Will the Jayhawks' shooting woes continue?
As it turns out, KU had their best shooting night of the season. The Jayhawks shot 51% on the night, including 12-27 (44%) from three-point land. The 12 makes matches their season total to this point. Hopefully it's what they needed to get out of their shooting slump. The shooting star of the night was undoubtedly Svi Mykhailiuk, who hit 4-5 three-point attempts. Mason and Graham each found their stroke as well, hitting 7-15 combined. Lagerald Vick continued his struggles shooting, missing all three of his attempts, falling to 1-11 on the year.
The Jayhawks continue to struggle at the free throw line as well. Tonight, they were under 50% from the line again, hitting only 9-19. Josh Jackson is emblematic of the problem. Jackson should live at the free throw line this season, but won't be nearly as effective if he only makes 5-9, like he did tonight. I think the Jayhawks will find their stroke from the charity stripe, but they need to spend some more time in the gym to get it right.
Can KU develop some depth?
If anything, the rotation took a step back tonight. The core is set: Mason, Graham, Jackson, Bragg, Lucas, Svi, Vick, and Azubuike. The guards played very well tonight, other than Vick. Backcourt players scored 73 of KU's 83 points tonight, including 22 by Josh Jackson. Jackson also ended up the team's leading rebounder with seven. Self had high praise for Jackson after the game, "I don't know if we've had anyone that size that's that good with the ball." After Jackson's several great dunks tonight after driving downhill, it's hard to disagree.
The frontcourt is still a concern. The only player I thought had a good game was Lucas. Other than his four fouls and abbreviated playing time, he was tough and a very good rebounder. His six rebounds in 15 minutes was a rare bright spot for the KU frontcourt. Udoka showed flashes of brilliance, but is still very foul-prone and doesn't have great skills in the post. Carlton Bragg still seems out of sorts on the floor. His final line wasn't bad: five points, five rebounds, and two blocks in 22 minutes. However, he was oftentimes out of position and unable to finish easy looks in the post. Bragg and one of Udoka and Lucas need to improve for KU to have a credible post game.
Bottom line.
This was a good win. The Blazers are a pretty good team, and KU showed signs of being able to run anyone out of the building. However, they need to become much more consistent in order to go far in March.
More from Through the Phog
This article originally appeared on