Iowa Basketball: Takeaways From Loss to Seton Hall Pirates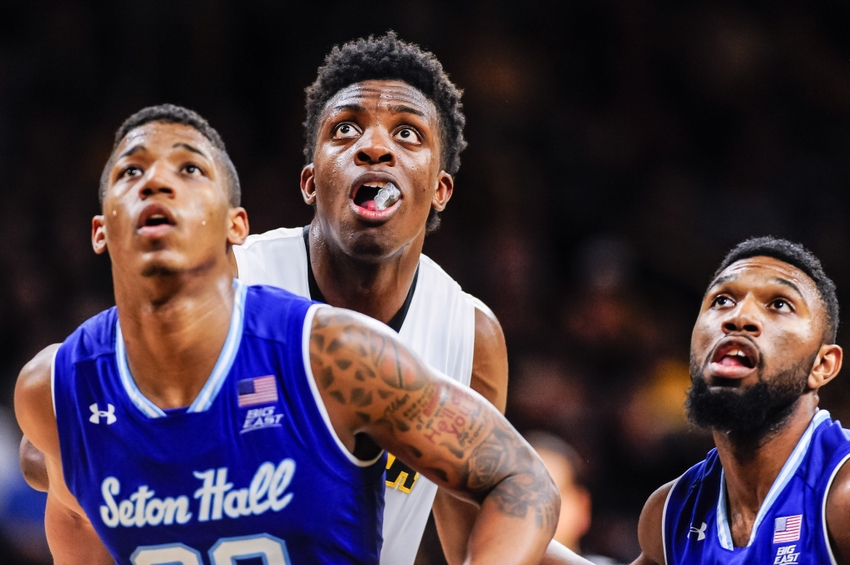 Things we learned from the Iowa Hawkeyes first loss of the 2016-17 season
After a 2-0 start to the 2016-17 season, Iowa basketball had their first hiccup with a 91-83 loss to Seton Hall. It was Iowa's first formidable opponent, and they couldn't cut into a small deficit in the second half to mount a comeback.
Despite the Hawkeyes losing their first game of the season, which is just the second time they have failed to start 3-0 under Fran McCaffery, it did gives us a better idea of who Iowa is this year, or at least for now. Of course, after losing four starters from a 22 win team that won a game in the NCAA Tournament, a lot of questions had to be answered.
There are obviously concerns surrounding Iowa, but there are some positive signs that came out of their loss over Seton Hall. While Peter Jok didn't want to use youth as an excuse for their first loss of the year, their young age definitely showed late in the game and through their inability to mount a comeback in the second half.
It's only one game, though, but it is Iowa's only respectable opponent through the first couple weeks of the season. Therefore, before taking on the highly ranked Virginia Cavaliers on Friday, this is everyone's best chance to gauge how good the Hawkeyes are in the early season.
Here are some takeaways from the Hawkeyes first true test of the 2016-17 season.
Iowa Has to Play Better Defense to Win
The Hawkeyes gave up 91 points, including 49 in the second half. Plus, Seton Hall had three players, including freshman Myles Powell off the bench, score at least 20 points. It's hard to blame Fran McCaffery for the Hawkeyes defensive struggles, though.
Iowa started the game playing man-to-man, but McCaffery eventually started having his team full-court press and then play a 3-2 zone. The result stayed the same, though. Seton Hall penetrated the defense with ease and got to the basket, or they kicked it out to a wide open Powell in the corner, who made 5-of-7 threes.
Iowa's poor defensive effort is telling by their eight point loss, despite winning the rebounding battle 46-38 and shooting a respectable 46 percent from the field. Iowa didn't have a lot of problems on offense, but their inability to string together stops cost them.
Seton Hall scored 14 points in the last five minutes to put the game away. Iowa had small runs of their own and kept within five points for most of the second half, and even took a 47-46 lead at one point, however they could never keep a lead because they couldn't stop the Pirates from matching their scores.
Of course, allowing a team to make eight threes and shoot 55 percent from deep, with a lot of open looks, isn't ideal, although the Hawkeyes biggest concern on defense is in the paint.
Iowa relied on 6-9 Tyler Cook and 6-7 Ahmad Wagner most of the game to be their inside presence on defense. It's a small last line, although their timid play didn't help either. Iowa only blocked two shots and allowed 50 points in the paint. In fact, neither block came from Cook or Wagner, rather Nicholas Baer recorded both.
Even though he didn't block a lot of shots, Adam Woodbury's mere presence in the paint is something Iowa could use this year. It was more than just not blocking shots, though. Iowa didn't contest shots in the paint. Part of it was the guards inability to stop a driving Powell or Khadeen Carrington, but the big men also got pushed around.
The Hawkeyes are small, which makes playing aggressive and contesting every shot even more important.
Iowa Needs a Third Option on Offense
Peter Jok and Tyler Cook looked like men among boys against Seton Hall. Despite Jok shooting 2-of-8 from deep, he finished with 30 points. Cook chipped in 24 points, even though he shot a brutal 5-of-12 at the line. Still, Jok and Cook proved to be Iowa's only offensive weapons, as they scored 54 of Iowa's 83 points. In fact, no bench player had more than three points.
Tyler Cook could not be stopped in the paint all game. He was too strong, quick and had great post moves to get by Seton Hall defenders. He simply dominated the game from the get-go, and the only way the Pirates stopped him was by fouling him in a double-team. Even though Cook had a breakout game, the Hawkeyes lack of a third option cost them in the end.
Game Awards: Iowa Hawkeyes 83, Seton Hall Pirates 91
Sure, Cook and Jok took 36 of Iowa's 61 shots, but Iowa tried to get other players involved early. Jok didn't start to heat up until the end of the first half. Although, the fact that Brady Ellingson, who made his only shot, is the only other player outside of Cook and Jok to shoot above 50 percent is telling of the poor offensive output from role players.
Jok and Cook had to start forcing shots as the game went on because other players couldn't create open looks for themselves.
A risky move occurred in the second half when McCaffery took both Cook and Jok out of the game. Jok hit his funny bone and lost feeling in his arm for a little, which made it surprising that McCaffery didn't leave Cook in. It didn't last long, and it didn't cost Iowa the game, but having at least one of Cook or Jok in the game at all times is a reality that McCaffery might have to face.
Iowa doesn't need another 20-point scorer, but their offense ran smoothly through the first two games because someone new stepped up. In the first game, Cordell Pemsl and Ahmad Wagner each had nice offensive games, and Brady Ellingson went off for 23 points in Iowa's second game.
The Cook – Jok duo will work against bad teams, and Iowa might even get lucky against good teams like Seton Hall. Although, even if Cook and Jok were to combine for 54 points every night, Iowa needs their role players to shoot better than 32 percent from the field if they want to win.
McCaffery Must Trust His Bench
In a big game, playing Tyler Cook 32 minutes and Peter Jok 36 minutes isn't crazy. In fact, having all the starters play at least 24 minutes isn't crazy, either. That being said, with the poor defense and lack of a third option all game, it is surprising that McCaffery didn't turn to his bench more often.
Jordan Bohannon and Ahmad Wagner are the only players to see double-digit minutes. In fact, after playing 11 players early in the game, McCaffery sharply cut his rotation down to seven the rest of the way, with four players seeing six minutes or less.
Want your voice heard? Join the Dear Old Gold team!
Even though it came against sub-par competition, Iowa's bench thrived in their first two games and offered a spark plug and change of pace from the starters. It's especially true for Cordell Pemsl, who only saw six minutes against Seton Hall.
The freshman recorded 18 points and nine rebounds against Savannah State and looked like a legitimate possibility to add to the starting lineup if Dom Uhl continued to struggle. It's not to say that both he and Wagner should see 20 minutes every night, but considering the offensive and defensive play Pemsl has given Iowa so far this year, he should have seen more significant minutes in the second half against Seton Hall.
Besides, it's not like the starters outside of Cook and Jok were lighting it up. They combined to shoot 37.5 percent from the field, 57.1 percent from deep and 66.7 percent from the line. Not to mention each had three fouls, as well.
McCaffery shouldn't have an 11-man rotation, but a seven-man rotation is also not smart, as it takes away key bench players like Ellingson and Pemsl. It's one game, but it'd be surprising if McCaffery doesn't use his bench more in the future. Iowa has two stars, but other than that there shouldn't be any guaranteed minutes.
This article originally appeared on