Illinois Basketball: A Sleeping Giant Is About to Be Awake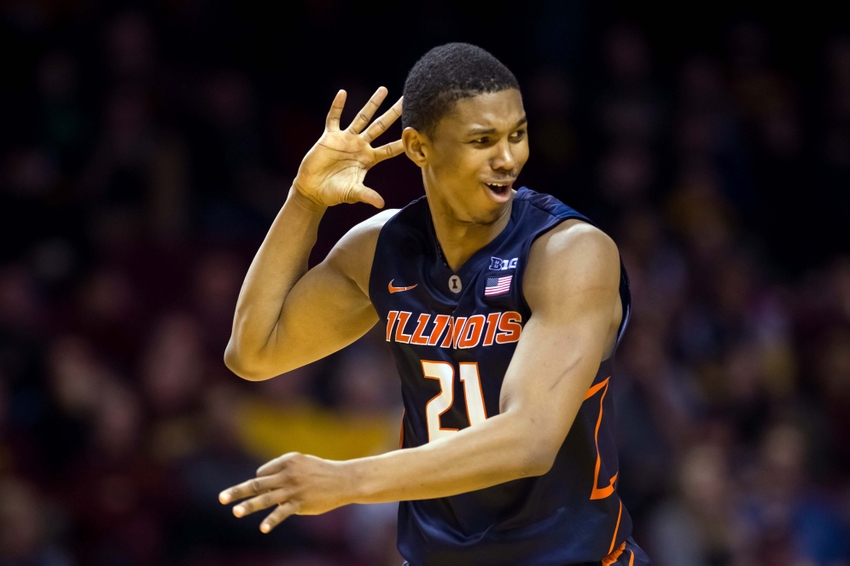 The bandwagon for an Illinois basketball coaching change was overbooked after last season.
This bandwagon included me, because after falling short of a third straight NCAA Tournament and a handful of off-court issues, there seemed a need for change.
Getting a new regime into Champaign wasn't change for the sake of change.  It seemed necessary because things seemed to be derailing.
But, thanks to a new athletic director, John Groce received another life in the coaching game.  He is still the leader of this great basketball program.
After I realized that Groce was going to be around for at least another season, I gave him three ways to get me to jump off that bandwagon.
Illinois Basketball: Illini Non-Conference Predictions
The first step was to just finish the season out strong.  He managed to accomplish that goal by winning two games in the Big Ten Tournament, which included a victory over No. 20 Iowa.
Step two was to go 'deep sea fishing' and catch some big-time recruits.  He signed three great players, and as of right now, he has Jeremiah Tilmon still verbally committed.
So, Groce has accomplished two of the first three steps.
The third and final step was to win in 2016-17.  This is a goal that will have to wait to be accomplished, but all things considered, I think Groce has done a great job in the last eight or nine months.
I am going to jump off the 'fire Groce' bandwagon a little early and just support him this season.  Unless the wheels fall off early this year, which I don't see happening, I will be off that bandwagon until at least April.
And furthermore, as I continue to look at last season's schedule I keep thinking to myself; are the people that said the injuries are the cause of the bad season last year really right?
I can admit when I am in the middle on something and this is one of those issues.  I have been back and forth with trying to determine if I can make the injury bug an excuse for losing the last few seasons.
While I can't blame everything on the injuries, I have decided to take a side on this issue.  Logically thinking, injuries had to have played a huge role in the Illini shortcomings.
As I look at the 2015-16 schedule I see a few blowouts that were embarrassing, but I also see some games that could have gone either way.
Did you know there were seven games that Illinois lost that were within five points at the end of regulation?
In all but one of those seven games, the Illini were missing Tracy Abrams and Mike Thorne Jr.  The point guard and center positions are arguably the two most important positions on the court.
So, just logically thinking, wouldn't just one more healthy player have made up a five-point or less difference in these games?
I think it would have because that is slim margin and having our starting point guard or center back would have made up that deficit.
If Illinois was healthy and would have won those seven games, the season would have been completely different and today we might be looking at Groce completely different as well.
The regular season record would have gone from 13-18 overall, with a 5-13 conference record, to 20-11 overall, with a 9-9 conference record.
Having 20 wins with a .500 Big Ten Conference record would likely have put Illinois into the NCAA Tournament as somewhere between a seven and ten seed.
But, then you get to add in the fact that Illinois would have finished No. 8 in the Big Ten and would have played No. 9 Northwestern for their first game.
This win would have boosted the Illini up to 21 wins on the season and there is no doubt in my mind they would have made the NCAA Tournament.
While the Illinois basketball team had more than just one player absent from the squad last season due to injury, I think they were only one player away from making the postseason.
The 2016-17 season should be a different story.  Not only do the Illini have an easier non-conference slate, but they also have their team back healthy with a few additions.
A lot of people are sleeping on this Illinois basketball team.  But, they need to be prepared because this sleeping giant is about to be awake.
This article originally appeared on