Georgia Basketball: Best and worst case scenarios for the 2016-17 season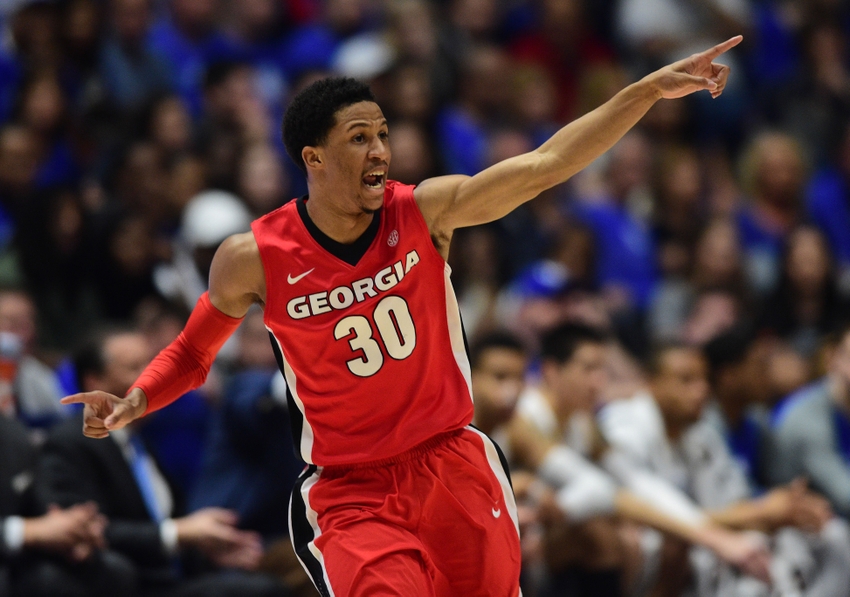 Georgia Basketball tips-off the 2016-17 season in just five days against Clemson.
Georgia Basketball is coming off its third straight post-season appearance under Mark Fox, and the fourth in his seven years in Athens. Through those three post-season appearances was Charles Mann and Kenny Gaines, but both players graduated after the 2015-16 season and Georgia will need to move on.
But the Bulldogs still have J.J. Frazier and Yante Maten who should step up to fill the leadership void. Osahen Iduwe and Derek Ogbeide are expected to have break out seasons. Tyree Crump and Jordan Harris could make an impact as true freshmen.
This team has the talent and coaching to make the group of 68 for the NCAA Tournament, at the very least they should make the NIT field of 32. But without an on-court leader, the team could fail to live up to expectations.
Here are the best and worst case scenarios for the 2016-17 season, and a prediction for the season based on those.
Worst Case: 10-21
Georgia struggles immediately with a road trip to Clemson. A tough game and possibly a loss to Furman before the CBE Hall of Fame Classic leads to losses to George Washington in the first round and UAB in the consolation game.
The Bulldogs return home to play Gardner-Webb and Marquette two games later, then Louisiana Lafayette. Georgia could stumble on all three of those games. Then they end non-conference play with trips to Georgia Tech and Oakland, probably the two toughest games of Georgia's schedule before conference play, unless Georgia beats George Washington and has to play Kansas.
Conference play is even tougher for Georgia. They start by going to Auburn who has become a pretty good basketball team lately. Four games against Florida and Kentucky can be forgotten about. Georgia also hosts Texas for the SEC/Big 12 Challenge, that one would also likely be loss.
If a leader can't step up and Georgia can only play consistently, a tough SEC will be too much for the Bulldogs to handle. Georgia's streak of post-season appearances will end unless they make another miracle run through the SEC Tournament.
Best Case: 22-9
Iduwe and Ogdeibe surpass expectations, Frazier and Maten take control of the team on the court as effective leaders and the young players around them respond accordingly.
Georgia plows through non-conference play the only losses coming to Oakland, Kansas in the Hall of Fame Classic and one other team. They enter conference play and blow past everyone until their trip to Gainesville. But the Bulldogs get revenge in Athens over the Gators.
Georgia also upsets Texas with an electric crowd since the game would be the biggest non-conference or non-rival game played in Stegman Coliseum in recent memory.
They stumble a few more times down the stretch of the season with tough trips to Texas A&M, South Carolina and Ole Miss. But they stay focused and bring in the first single-digit loss regular season in Fox's time in Athens.
They gain a high seed in the SEC Tournament and then get a good mid-seed in the NCAA Tournament. From there, who knows what Georgia basketball can accomplish in March?
Prediction: 19-11
Realistically Georgia can probably have the beginning to the season that was talked about in the best case scenario. None of the teams on that part of the schedule are ranked besides Kansas and Georgia might not actually have to play them depending on how the CBE Hall of Fame Classic goes.
Most of the Bulldogs slip ups will probably happen in the conference schedule. The games against Florida and Kentucky will no doubt be the toughest, but Georgia could realistically win at least one of those games.
South Carolina will also be improved after last year, they shocked the SEC with how well they played last year but near the end of the season they begin to wear down. This year they'll be looking to build on that success, but Georgia should still overcome the Gamecocks at least once.
Then there is of course the game with Texas that will surely draw a large crowd to Stegman Coliseum, if Georgia does live up to expectations. But the Longhorns will no doubt be favored to win.
Other than that, there isn't a game that Georgia is supposed to lose. They'll be favored a lot and the rest will be even match-ups.
19-11 should be good enough to endure that Georgia gets a post-season birth in at least the NIT, but if a spot is open in the NCAA Tournament, Georgia will likely fill it with a 19-win regular season.
More from Dawn of the Dawg
This article originally appeared on