Florida Gators Basketball Should Benefit From Duke Game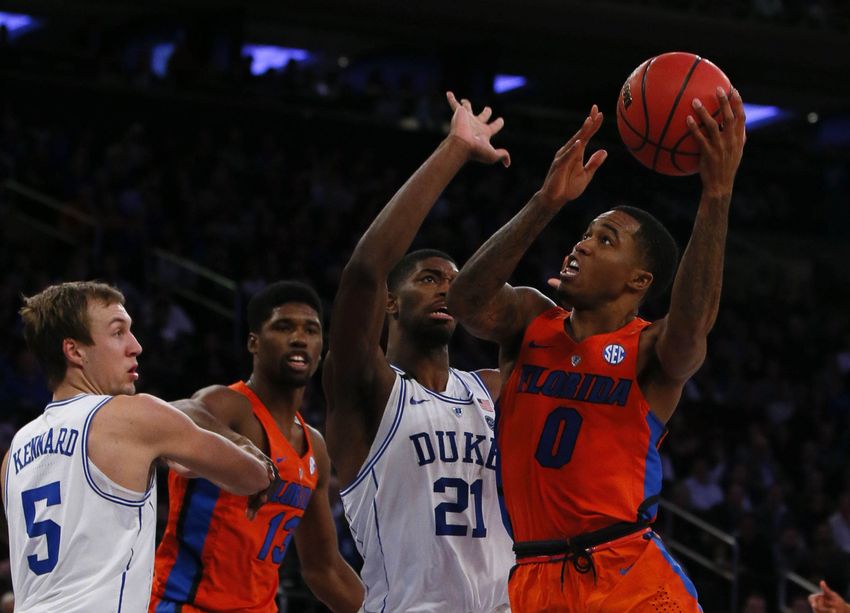 The Florida Gators men's basketball team may have lost 84-74 to the Duke Blue Devils, but Mike White's crew proved how real a threat they truly are.
---
The Florida Gators suffered a potential setback on Tuesday, December 6. With an opportunity to achieve a signature victory over the Duke Blue Devils, the Gators fell short and lost 84-74 in a neutral site game at the Jimmy V Classic..
Though wins and losses may be the focus for most, this loss was actually a positive experience for Mike White and the Gators.
KeVaughn Allen stepped up with a team-high 21 points and Kasey Hill posted 13 points, seven rebounds, and six assists. Florida left seven points on the board at the free throw line, however, and committed 13 turnovers.
Coupled with an uncharacteristically poor showing by the second unit, Florida let a winnable game get away from it.
Florida trailed by as few as seven points with less than two minutes remaining on the game clock. Duke eventually pulled away for a 10-point win, but that's why this was such an important performance.
Not only should Florida grow from this experience, but the NCAA Tournament committee should evaluate this as a postseason-caliber performance by the Gators.
Simply put: Florida competed and made Duke work for this victory. Against the No. 5 team in the country, Florida proved that it can give any caliber of opponent the fight of its life.
If that isn't enough to send a message in an early-season game, then priorities should be reevaluated.
Florida is now 7-2 with wins over three teams that made the 2016 NCAA Tournament: Florida Gulf Coast, Miami (Fl.), and Seton Hall. It lost by just five points to the Gonzaga Bulldogs and kept it close against Duke.
If Florida can complete this exceptional run with strong showings against Florida State and Charlotte, then its out-of-conference performances should be a strength come March.
The Gators still needs to perform well the rest of the way, but this is a 7-2 team with impressive basketball behind and ahead of it. Duke may not have had Harry Giles, but Florida hasn't yet found its identity as a team.
The Gators should only improve from here, which is reason to believe the Duke game was the start of something special.
If Florida continues to compete and improve, it could meet Duke again in the NCAA Tournament.
More from Hail Florida Hail
This article originally appeared on