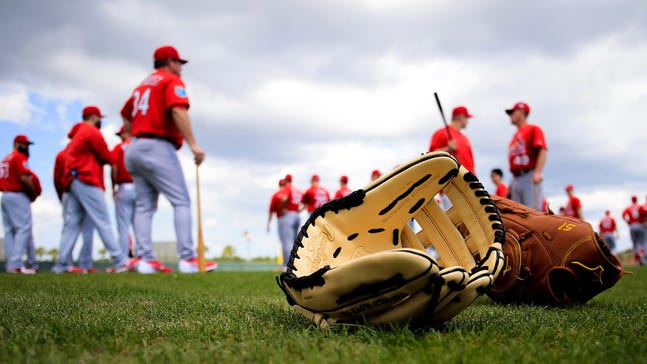 Mozeliak: Cardinals taking gay ex-player's allegation 'very seriously'
Updated
Mar. 4, 2020 8:34 p.m. ET

ST. LOUIS -- The St. Louis Cardinals said they're taking allegations that a gay minor league pitcher abandoned baseball because of homophobia "very seriously."
Tyler Dunnington, whom the Cardinals selected in the 2014 draft, told Outsports.com in a report published Wednesday that he heard derogatory comments from college coaches and later identified teammates in the pros. He said that "each comment felt like a knife to my heart."
General manager John Mozeliak told The Associated Press in a statement Thursday that he's "very disappointed" to learn about the 24-year-old's experiences, adding that "our hope is that every player, staff member and employee feels they are treated equally and fairly.
"Given the nature of these allegations I will certainly look into this further as well as speak with Billy Bean of the commissioner's office for further assistance on this matter. ... We will take this very seriously."
Dunnington spent most of the summer after he was drafted with the Cardinals' rookie-level affiliate in the Gulf Coast League, a team based in Jupiter, Florida. He said he felt uncomfortable revealing his sexual orientation to the Cardinals and retired a year ago before spring training for "my own sanity."
Dunnington, who was 3-2 with a 3.41 ERA in 18 games as a reliever, told the website that he should have worked to "help change the game" and that quitting "isn't the way to handle adversity." Dunnington didn't immediately respond to an email from the AP.
In 2013, Major League Baseball established a policy prohibiting players from harassing or discriminating against other players based on sexual orientation. Bean, baseball's Ambassador for Inclusion, told the St. Louis Post-Dispatch that he has sought out Dunnington to discuss and understand his experience, though Bean said there was "no precedent" for an investigation of this nature.
Dunnington told the website that in one conversation, a Cardinals teammate mentioned he had a gay brother. Dunnington said that after "some supportive talk," two other teammates questioned how someone could be friends with a gay person and "even mentioned ways to kill gay people."
"This is something that reminds me I have a lot of work to do, and it's a challenge," said Bean, a former big leaguer who publicly revealed in 1999 that he is gay and joined the commissioner's office a year later.
Cardinals manager Mike Matheny said he had been told about the allegations and that the team would "try to figure out ways so they can have an atmosphere where they can be as good as they can be."
---
---