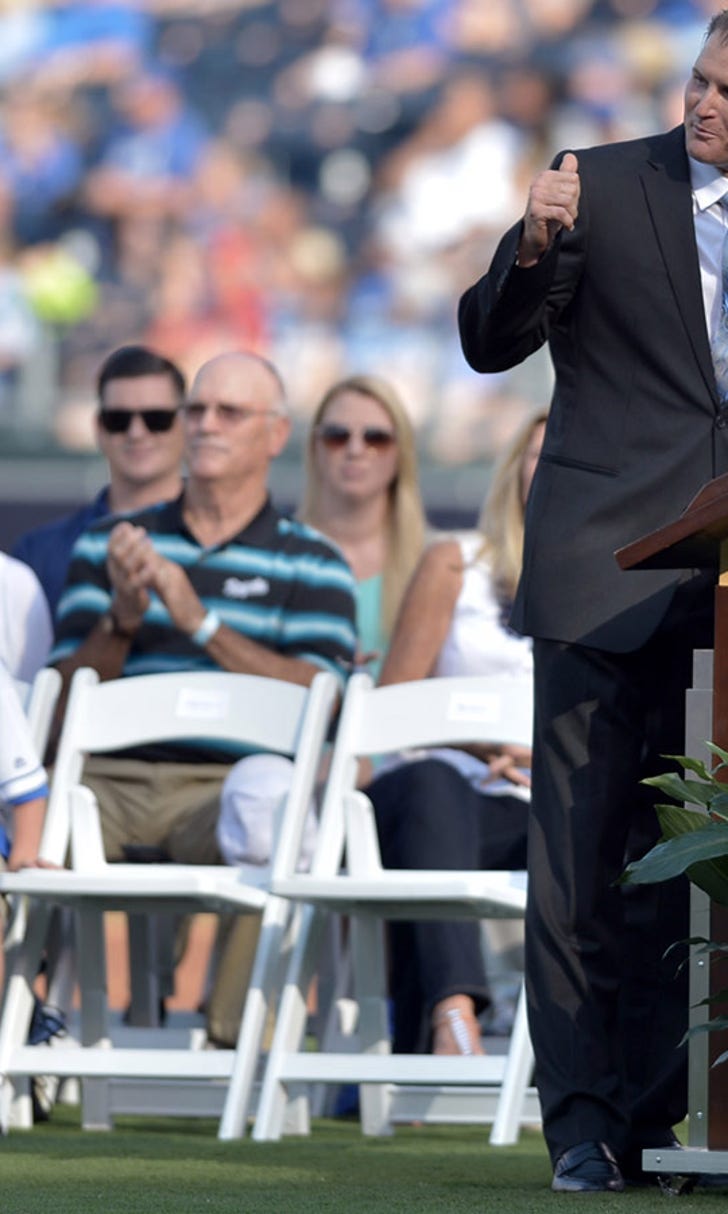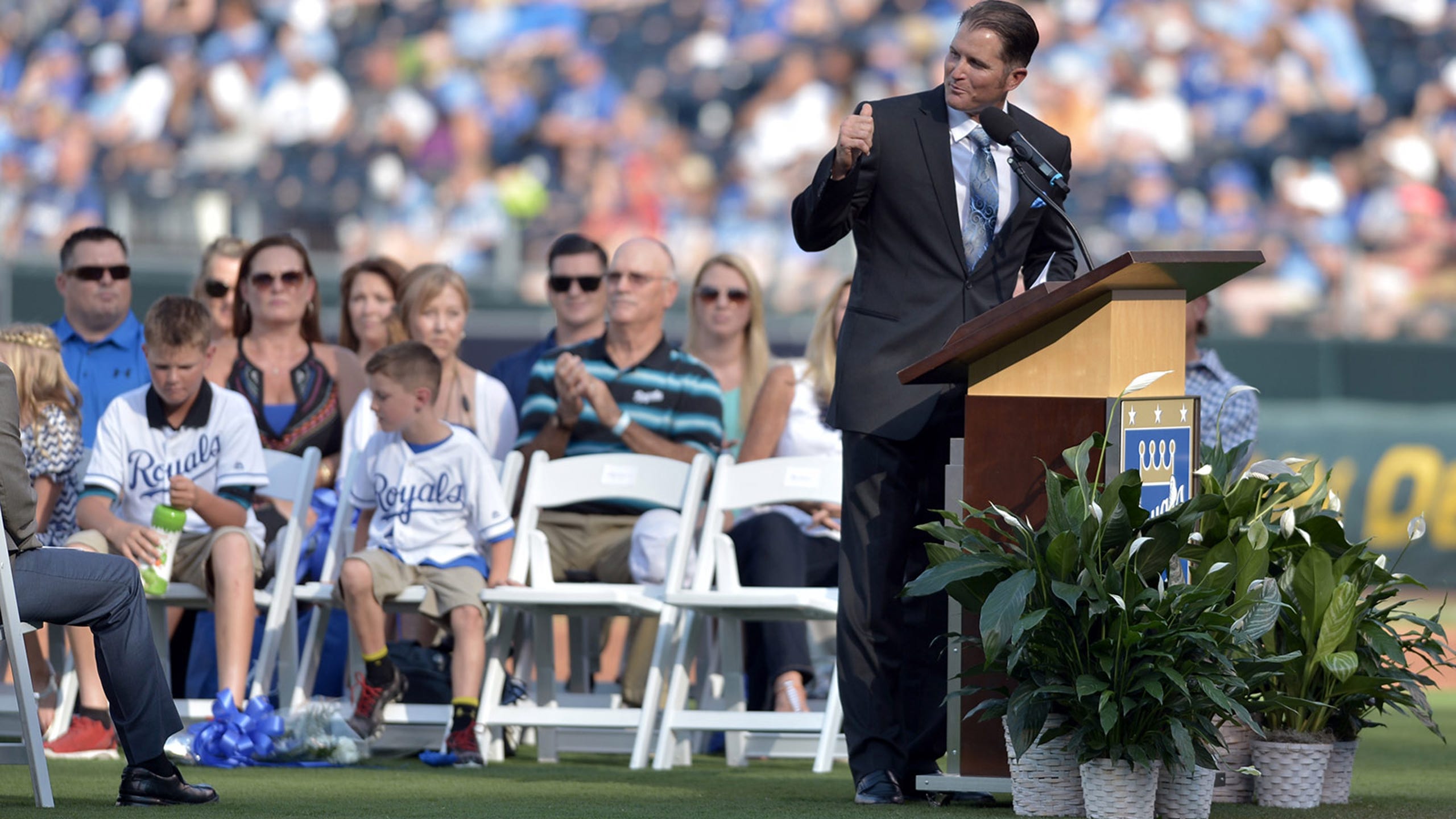 Mike Sweeney becomes 26th member of Royals Hall of Fame
BY foxsports • August 15, 2015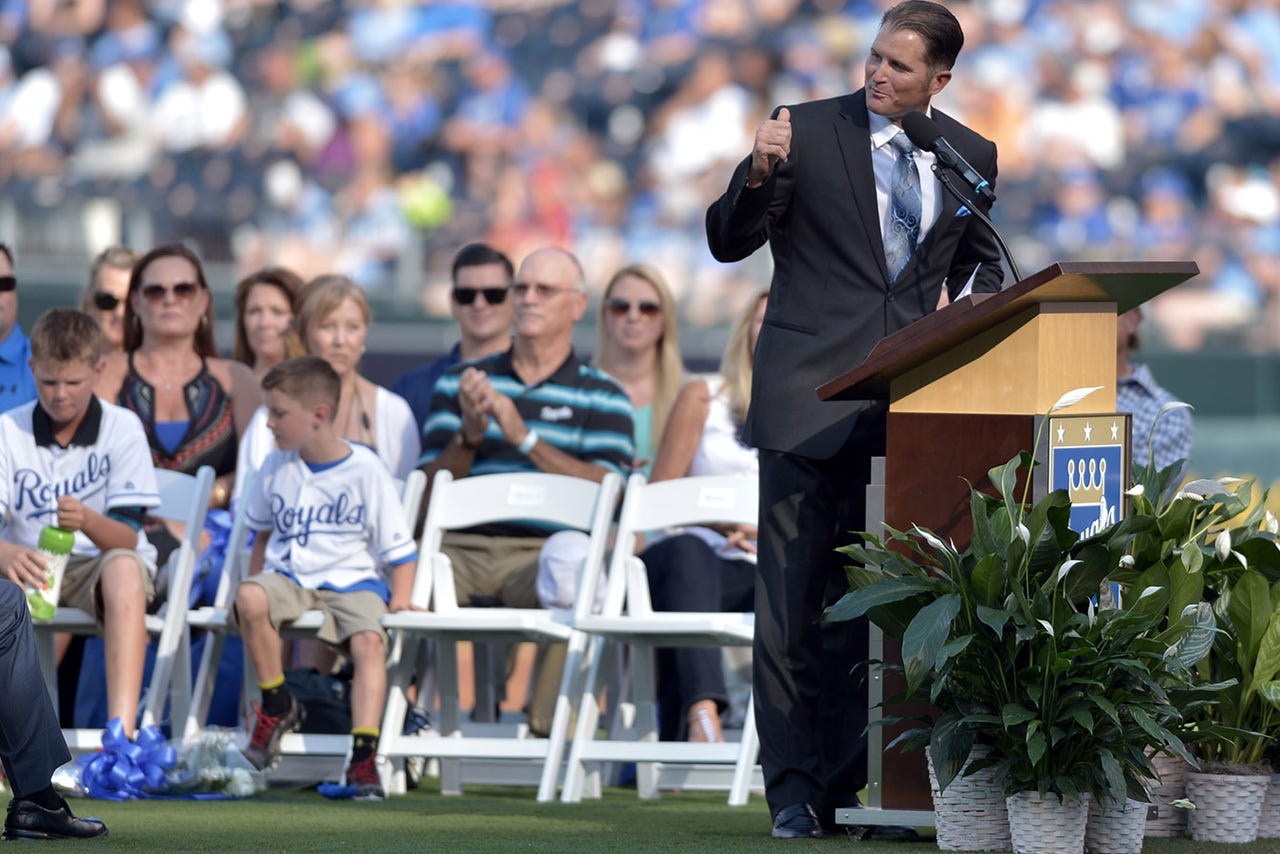 KANSAS CITY, Mo. -- Mike Sweeney was once told by one of his own coaches he had "zero percent" chance of making the Kansas City Royals out of spring training and to make sure he packed lightly if he showed up in Florida.
"I'm so glad," Sweeney said, "that zero percent chance turned into a 100 percent chance."
Not only did Sweeney make the team in 1999, when things were looking dire, he went on to have one of the finest careers in franchise history. And on Saturday night, the five-time All-Star was rewarded, becoming the 26th player inducted into the Royals' Hall of Fame.
Despite injuries that hampered him throughout his career, Sweeney still hit .297 with 215 homers and more than 900 RBIs over his 16-year career. He spent the first 13 years with Kansas City, the club that drafted him in the 10th round in 1991 as a high school catcher from California.
Sweeney later played for Oakland, Seattle and Philadelphia before retiring after the 2010 season. He spent time in television and doing charitable work before returning to the Royals last year as a special assistant to baseball operations and a guest instructor at spring training.
In an often-tearful news conference before his induction, Sweeney relayed several stories from his playing career, many of which had never been told to the public.
Like the way Sweeney got his first big break.
He had made the team as a backup in '99, and then found himself trying to talk first baseman Jeff King out of an abrupt retirement in May. But King had made up his mind, so Sweeney and Jeremy Giambi were expected to take over -- until a bizarre turn of events on pitcher Kevin Appier's farm.
Sweeney and Giambi visited to go fishing before a road trip, and Giambi decided to take a spin on a four-wheeler he found on the property. He tore off, then took a jump too fast and rolled the vehicle. Giambi required staples to close the wounds on his head, and Sweeney and Giambi rushed from the hospital to the airport to make the team flight.
Giambi was in no shape to play -- he told then-manager Tony Muser that a toolbox had fallen on his head. Sweeney got the starting job as a result and never gave it up.
"If Jeff King had not retired and Jeremy Giambi had not been racing motorcycles, I wouldn't be here today," Sweeney said with a broad smile.
Sweeney chose to play the majority of his career during lean years in Kansas City despite overtures from big-market teams.
"My agents are in New York and they said the Yankees had me as their No. 1 priority," Sweeney said. "My intent was to stay here. I would have played for the minimum to spend my entire career in Kansas City. It just didn't work out that way."
Among those on hand for his induction was his father, Mike Sweeney Sr., who was diagnosed with esophageal cancer on New Year's Eve. The elder Sweeney went through radiation and chemotherapy earlier this year and then needed surgery in May as he continued to fight the disease.
"The doctor at first came out and said surgery was a success," Sweeney said. "Then they came back out and said things were going wrong, that he had a heart attack, a collapsed lung, his blood pressure was down to nothing. They were doing everything they could to save him.
"To this day, doctors say it's a miracle my father is here on Aug. 15," Sweeney added. "When I saw him on the operation table, he said, 'Son, I promise you, I'll be at Kauffman Stadium.'"
Along with his work with the Royals, Sweeney has remained active with the Catholic Church and numerous charities in Kansas City. He is often seen at Kauffman Stadium, either dressed in a suit as a front-office executive or chatting up young players in the clubhouse.
"When I was in Atlanta, when Sweeney was a player here, when you watched TV or checked out the news, you always heard what a great hitter he was. But he's a phenomenal human being, too," Royals manager Ned Yost said. "He likes to hug. Better be ready to hug if you see Mike."
---
---