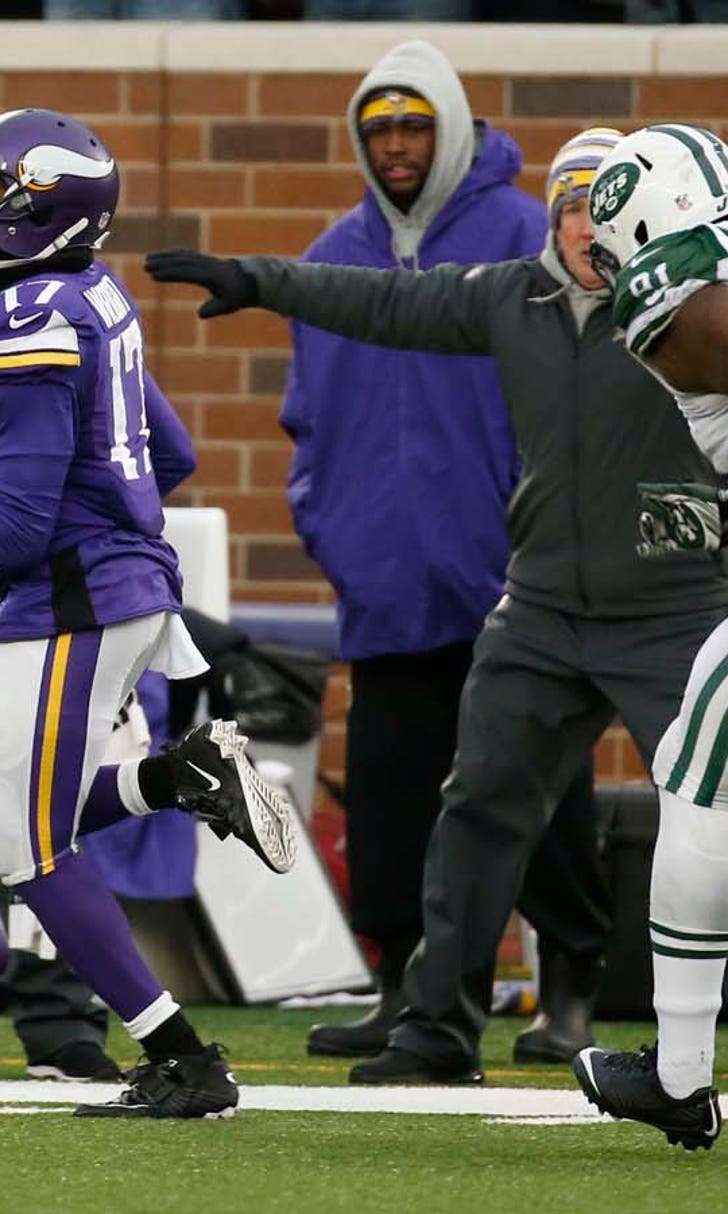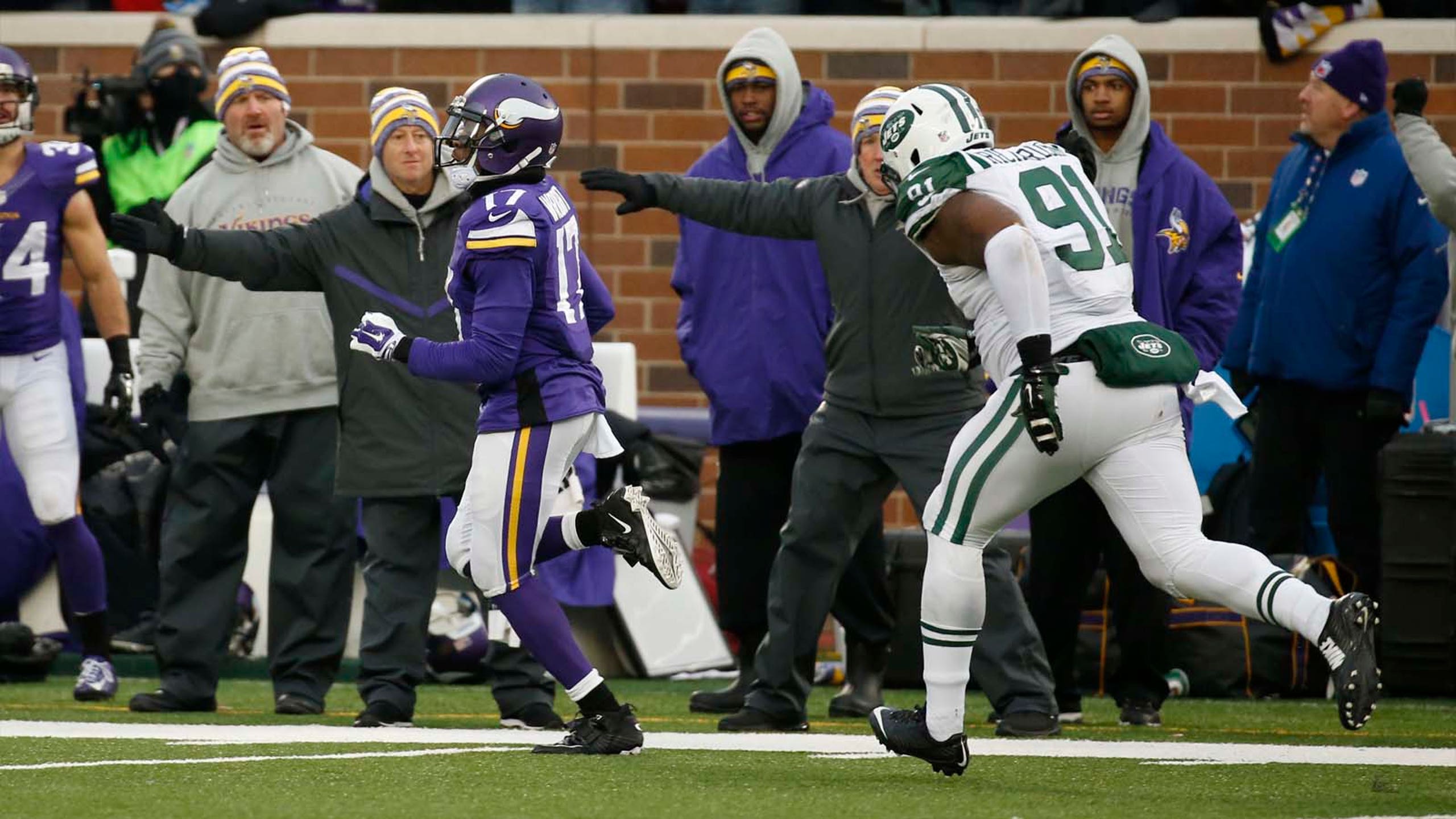 Bridgewater audible leads to Wright's game-winner in OT
BY foxsports • December 7, 2014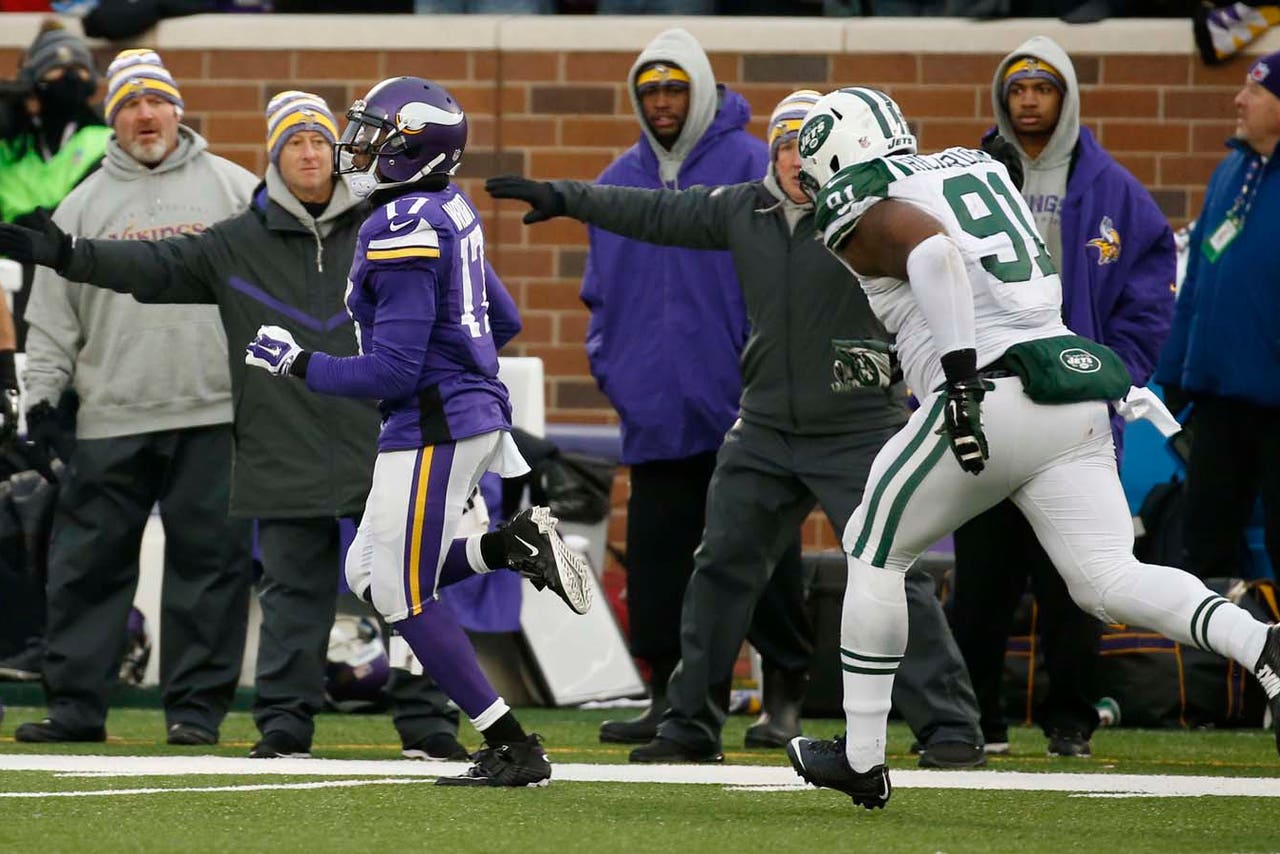 MINNEAPOLIS -- At first, Jarius Wright just needed some water. Later he needed to pause his postgame scrum with reporters briefly and went straight to a trashcan and appeared to be throwing up.
Then the Minnesota Vikings' overtime hero needed a seat. He would later leave the open locker room and be attended to by athletic trainers. Wright gave everything he had to finish off Minnesota's second straight win at home.
Wright said he was just tired after the game. He had just enough juice to end Sunday's 30-24 Vikings' win against the New York Jets with an 87-yard touchdown reception in overtime on a receiver screen.
"Straight ahead," Wright said when asked if he looked at the big TCF Bank Stadium video board he was running towards on the play. "Eyes were on the end zone and I wasn't stopping until I got there."
Wright's play salvaged what Minnesota coach Mike Zimmer called a "sloppy game." Yet, Wright and receiver Charles Johnson were big-play threats and rookie quarterback Teddy Bridgewater again displayed his evolution as the focal point of the Vikings' offense.
Wright had four catches for 123 yards and Johnson added four catches for 103 yards and a touchdown becoming the first pair of Vikings' players with 100 yards receiving in the same game since Randy Moss and Nate Burleson in 2004.
Bridgewater was 19 of 27 for 309 yards -- his highest total since his throwing for 317 yards in his first start -- for two touchdowns, one interception and a 117.7 quarterback rating.
"He made a lot of great decisions with the ball and then he made some great throws," Zimmer said. "You people finally get a chance to see the kind of things I see in practice every single day. His composure and his competitiveness. You know, he's really a tough guy. He really is a tough guy. He's quiet, but he's tough."
Wright's overtime touchdown is the second-longest touchdown reception in overtime in NFL history and the third-longest catch ever in franchise history, but Bridgewater's pass didn't travel beyond the line of scrimmage.
On third-and-5 -- after New York punted on the opening possession of overtime - Bridgewater was in the shotgun and used a silent count. Bridgewater saw New York ready to blitz and checked out of a play before the snap.
Minnesota had a built-in check for its rookie quarterback and Bridgewater used the opportunity to get Wright the ball on the outside. The Jets indeed brought pressure with seven defenders and Bridgewater's pass went out quick to Wright who jumped to snag the pass and had open field in front of him.
Receiver Greg Jennings provided a block to free up Wright for the catch. Tight end Kyle Rudolph came across knocking out a defender and center John Sullivan had kicked out. The only opposition in Wright's way was defensive tackle Sheldon Richardson.
"As I broke free, I saw Sully, I said, 'Oh yeah, we going a long ways,'" Wright said.
Sullivan added: "There was nobody besides 91 that could've caught him. Once Jarius was past the point on the angle, I knew it was over. I was so excited that we had won this game and not given it away with some mistakes we made earlier."
The touchdown was Wright's third catch of the pass on the same play. He felt he had a chance earlier, but made the most of his biggest opportunity.
Down three starting offensive linemen from the season's first game and down to the third running back, the Vikings put the game in the hands of its rookie quarterback. Bridgewater has said he's been making quicker decisions recently. He made the right decision to go to Wright.
"That's the thing that the veterans really respect and appreciate about Teddy, the way he prepares, the way he studies, the way he cares about his job, and I think the way he wants to play in the scheme," Zimmer said.
All season long, Zimmer has heaped praise on his rookie starter, the first-round pick who has the hope of the franchise on his shoulders. If anything, Zimmer wants to see Bridgewater take on more.
"I think when Teddy decides to be the leader of the football team, because right now he's still feeling his way a little bit and his personality is just do what you do, and do what you have to do, this franchise is Teddy's," Zimmer said. "That's what he needs to do. He needs to take it over. This is his team now."
Sunday, Bridgewater did take over with the proper check and Wright did the rest.
Follow Brian Hall on Twitter
---
---