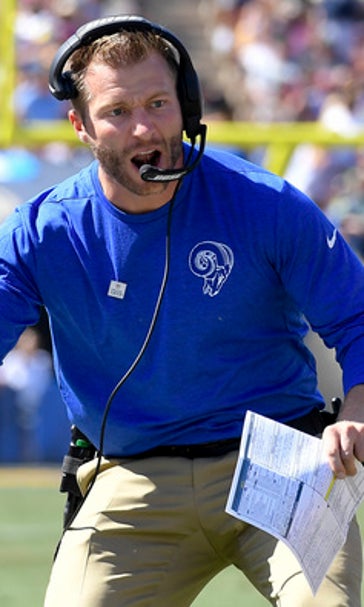 Rams roll into bye with eyes on 1st playoff berth since 2004
October 26, 2017

THOUSAND OAKS, Calif. (AP) With a charismatic young coach, a high-scoring offense and a surprising start to the season, the Los Angeles Rams are the talk of the NFL.
At 5-2, they're off to their best start since 2003. That's also the last year this long-struggling franchise finished a season with a winning record.
Sean McVay might be only 31 years old, but he has been around the NFL long enough to be wary of the midseason excitement building around a team in position to challenge for its first playoff spot since 2004.
''Who were you talking about after seven weeks in the NFL last year?'' McVay asked. ''What were guys' records? Nobody cares. Because really, it's about what you do at the end.''
Still, the Rams can be proud of the strides they've made into football relevance after 10 straight losing seasons.
After the euphoria of relocation devolved into a miserable losing streak and wholesale franchise turnover last fall, the Rams are doing things right this year.
''I think guys have earned the right to enjoy their bye week, get back, get away, get refreshed, get recharged,'' McVay said.
Although McVay isn't handing out any trophies right now, just about everybody has done work that's worthy of a reward.
''I think we've got a comfortable rhythm right now,'' McVay said. ''I think we've done a lot of things pretty well.''
McVay's offense is the most impressive achievement of the season for Rams fans who watched the NFL's worst offense in each of the past two years.
Much of the credit should go to the revamped offensive line, which has been thoroughly transformed into an above-average unit led by left tackle Andrew Whitworth, but the Rams' young skill players are turning into stars under McVay's tutelage.
Most notably, the new coaching staff has revitalized running back Todd Gurley and turned Jared Goff into a solid NFL quarterback in just his second season. Gurley entered the weekend third in the NFL with 627 yards rushing, while Goff is seventh in the league with 1,719 yards passing.
The defense has made an impressive transition to coordinator Wade Phillips' 3-4 scheme, with All-Pro lineman Aaron Donald returning to dominance after holding out for the entire preseason. The rest of the defense has overcome injuries and absences to remain solid around linebacker Alec Ogletree, its emotional leader.
''The biggest thing that we'll always strive to achieve is that continuous improvement,'' McVay said. ''I think when you look at what our team has done, we do feel like we're getting better.''
Los Angeles headed into its bye week with a 33-0 thrashing of the Arizona Cardinals, underlining the Rams' rise with another win over an NFC West foe.
Sadly for LA fans, that ''home'' victory happened on a rugby field in London. The Rams continue to sacrifice one actual home game per year to the NFL's international schedule as part of the price for getting permission to return to California after 21 years in St. Louis.
Combining the England jaunt with two East Coast trips and a bye week, the Rams are in the midst of a 34-day stretch without a home game. That's not exactly what the Rams need when they're playing their best football in years, but still working to get Los Angeles fans excited about their franchise's return - and to fill the cavernous Coliseum.
The Rams are unbeaten away from LA this season, but just 1-2 at the Coliseum. Since relocation, they're 2-8 overall in their temporary home stadium, unable to put on a consistent show for the fans they're trying to win over - and now with competition across town from the improving Los Angeles Chargers.
The fans will keep paying attention if the Rams can maintain this level of play for an entire season, and there's ample to reason to think it can happen.
As for McVay's bye week, it will be another week of film study and preparation for the Rams' trip to New York next week to face the Giants - but even the hard-grinding young coach will take a short break with his girlfriend, perhaps in Santa Barbara.
''I think the nice thing about living in this area is that you don't have to go too far to feel like you can get away,'' McVay said. ''I will try to catch up on some rest.''
---
More AP NFL: www.pro32.ap.org and www.twitter.com/AP-NFL
---
---