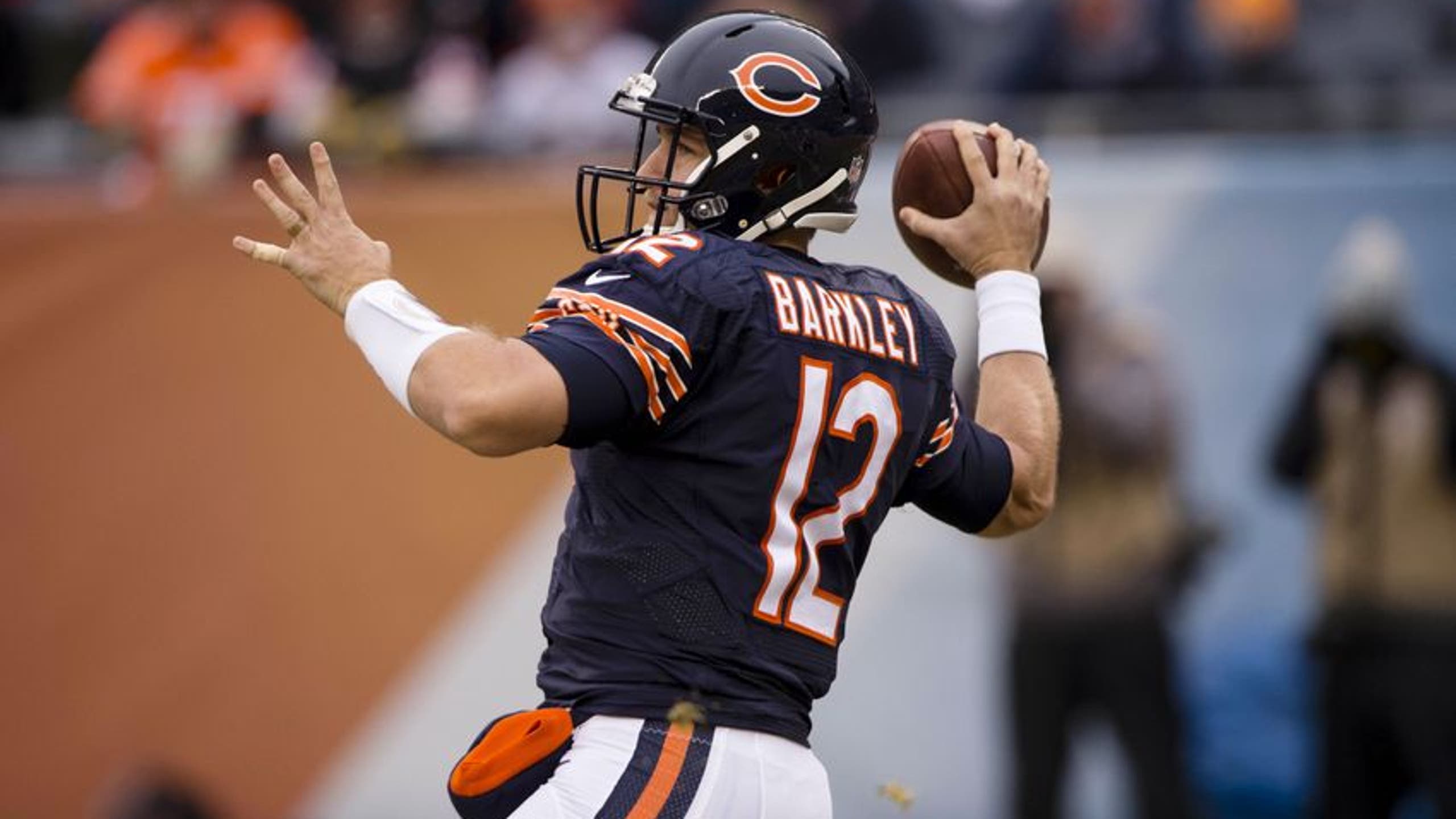 Chicago Bears Takeaways: Week 16
BY Fansided and Mike Flannery/FanSided via Bear Goggles On • December 25, 2016
Jerome Miron-USA TODAY Sports
After four competitive games to start Matt Barkley's career with the Bears, he experienced his first blow out in a 41-21 loss to the Redskins on Saturday. Unlike his first four starts, where Barkley played well enough to earn a win, he was a big reason the Bears lost. It was so bad that he tied Jay Cutler's team record with five interceptions.
From the beginning, Barkley's passes were off target and he made way too many poor decisions and even poorer throws in a game that the Bears were never really competitive. Barkley was far from the only reason the Bears lost. There were a couple good drives on offense and stops by the defense, but overall the Bears were soundly outplayed on both sides of the ball. Questionable play-calling (again) didn't help matters.
The Bears actually gained just 20 fewer yards than the Redskins (478-458), but had the ball for five fewer minutes (like usual) and lost the turnover battle 5-0 (like usual). What was unusual for the Bears is that they didn't record any sacks for the first time since week 11 and let the Skins convert 62% of their third downs (8/13).
With 458 total yards on the day, the Bears were able to move the ball between the 20s but couldn't convert in the red zone or turned the ball over to end productive drives. Most of the factors that have plagued the Bears all year were present again this week: Jordan Howard wasn't utilized enough (had only 9 carries halfway through 4th quarter), the safeties were useless, blitzes were ineffective, and the Bears missed too many tackles.
In the grand scheme of things, it's better the Bears lost and maintained their shot at a top five draft pick. I'll give an update of their draft odds below and there is some good news (Jags won!). I'll also break down the few positives and many negatives from Saturday's loss in my takeaways below.
Bears Takeaways: Week 15
1.) Matt Barkley has been exposed
In the NFL there is usually a reason that a journeyman quarterback hasn't been given a legitimate chance to be an every week starter. At times over the last few weeks, it appeared the Bears may have found one that slipped through the cracks in Matt Barkley.
He had arguably played well enough in first four NFL starts to be 4-0, but week 15 had been his worst start as a Bear so far with three interceptions and a lost fumble. This week Barkley was even worse with a team-record five interceptions (tying Jay Cutler, of course).
Last week's turnovers weren't egregious and could even be blamed on others besides Barkley, but this week the blame falls squarely on his shoulders. None of the five interceptions could be written off as bad luck or miscommunications, Barkley was flat out bad this week.
His five interceptions ran the gamut from forcing the ball into double or triple coverage, throwing off his back foot when a check-down was wide open (in true Cutler fashion), and just not being accurate with the ball. Barkley actually got lucky as at least two other balls should have been picked off.
In the last two weeks, Barkley has turned the ball over a ridiculous nine times! That would be bad even for Jay Cutler, Chicago fan's convenient whipping boy. The offensive line did a solid job against a good Redskins pass rush and the receivers finally caught the ball consistently, but Barkley just sucked against the Redskins.
Barkley's recent stretch of incompetence is eerily similar to what happened when Brian Hoyer took over for Cutler earlier in the season. Hoyer replaced Cutler as the starter and threw for 300+ yards in four straight starts but the Bears only won one of those games, just like Barkley has only won one of his five starts despite putting up solid stats.
There is a reason both Hoyer and Barkley were available for pocket change, they both have legitimate flaws and the more they play, the more those flaws are going to get exposed. Hoyer either couldn't or wouldn't throw the ball downfield and defenses figured out pretty quick that Hoyer would try to dink & dunk them to death.
Barkley is at least willing to throw the ball downfield and stretch defenses, but hasn't shown that he can do it effectively. He lacks average NFL arm strength and while he is willing to try, Barkley can't put enough zip on long passes to complete them consistently.
His passes tend to hang too long in the air and give defensive backs plenty of time to catch up. For example, Barkley had Josh Bellamy in one-on-one coverage deep but by the time Barkley's wobbly deep ball got there, Bellamy was triple-covered and the pass was intercepted.
I'm not completely giving up on Barkley after one disastrous game, but nine turnovers in a two-game stretch is unacceptable and Saturday he looked like a third-string QB for most of the game. He's got one more game this year to prove that the last two weeks were a fluke, but if he continues to regress than his chances of getting a starting gig with the Bears next year will regress as well.
Regardless of how the Bears brass feels about Barkley moving forward, they need to add a young QB this offseason. Matt Barkley could end up being a solid NFL backup QB and even win a few games for the Bears in relief, but he is probably not the guy who will lead the Bears back to the playoffs next year.
Patrick Gorski-USA TODAY Sports
2.) Jordan Howard STILL isn't being used correctly
I write about it every week, but apparently OC Dowell Loggains isn't reading BearGogglesOn. The Bears have an elite power back, but they can't figure out how to use him effectively (hint: give him the ball more).
Maybe Loggains was paying attention to how the Redskins used their power back, Robert Kelley? With the 4th quarter half over, Kelley had 18 carries. At the time, Howard had just nine. Kelley was averaging an even 4.0 yards per carry, which is decent, and the Skins kept running him up the middle. Howard was averaging almost seven yards per carry, but the Bears kept benching him for Jeremy Langford (seven carries).
For some reason, Loggains just doesn't know how to use Howard correctly. By correctly I mean, how every other NFL team utilizes their big running backs. You run them 20+ times a game to wear down opposing defenses and then take advantage of their weariness in the 4th quarter. This isn't a new strategy. It's been how power runners have been used since… Forever.
Loggains refuses to feature Howard, despite him being one of the top five backs in the league this year (stats below) and 2nd best rookie in the NFL this year. On Saturday Howard finished with 119 rushing yards on 18 carries for an average of 6.6 ypc, another exceptional game.
It may seem like I'm nitpicking between 18 and 20 carries, but half of Howard's carries came in the last few minutes of the game when things were already decided. Howard got just nine carries in the first 55 minutes of the game and then nine more in the last five minutes when it didn't matter anymore.
I could see if Howard had some glaring flaws in his game, but he has become a reliable pass blocker and had a couple of nice blitz pickups this week. His receiving skills are a work in progress, but he caught two of three targets on Sunday. For the record, the one he dropped was low and behind him and Howard had two catches called back due to penalties.
The fact that the Bears found one of the best running backs in the league in the 5th round could be impressive, except that Howard was the 3rd string back to start the year and may never have even gotten a chance had Langford and Carey stayed healthy. It reflects poorly on the Bears ability to judge talent that Howard (5.1 ypc) was behind Langford (3.4 ypc) and Carey (3.9 ypc) on the depth chart for the first three weeks of the season.
One would think that after seeing Howard play, the Bears coaching staff would realize their mistake and start featuring Howard, but they keep compounding their mistake by not using Howard enough. Going into the fourth quarter, Howard had just one more carry than Langford for some unknown reason.
The Bears coaches haven't figured it out yet, but Langford isn't good. He averaged 3.6 ypc last year and is even worse this year at 3.4. His last touch of the game perfectly summed up the Langford experience. He caught a screen pass on the last play of the game, his ankle was brushed by a Skins safety, and he went down without a fight. That's what he does when he gets the ball, he goes down on initial contact almost every time. Howard on the other hand, fights for every yard whenever he gets the ball. He's bigger, stronger, almost as fast and most importantly doesn't give up on initial contact.
I could understand if Langford brought something to the table that Howard doesn't, but he's at best equal as a pass blocker, he had plenty of drops in the passing game last season (one of which cost the Bears a win), and is much worse running between the tackles or in short yardage situations.
Maybe the coaching staff is trying to prove they were right having Langford as their top back to start the season? Maybe it's stubbornness and not stupidity that's driving their decision to keep benching Howard for Langford?
I guess I would prefer it being a stubborn streak instead of the alternative, but whatever it is, it needs to end by week one of next season. Howard is by far the best running back on the roster and needs to start being used correctly with 20+ carries every week.
To give you (and Loggains if he's reading) an idea how impressive Howard has been this year, here is how he ranks in some key rushing categories:
Let's hope Loggains and Fox see this!
Patrick Gorski-USA TODAY Sports
3.) Cameron Meredith is a legit starting WR
I wrote last week about how Meredith is earning some playing time in 2017 and he backed it up with another strong performance on Saturday. Meredith led the Bears with nine catches for 135 yards and a touchdown. It's the second consecutive week that Meredith had nine catches, over 100 yards, and a touchdown.
The former college QB continues to impress and seems to be getting better every week. Meredith gets open consistently and unlike most of the Bears receivers, can actually make difficult catches in traffic.
As a former undrafted free agent in 2015, Meredith has made a ton of progress in his development. In just under two seasons, Meredith has become the Bears most trusted receiver. He has ideal size (6'3, 207), good enough speed (4.49), and reliable hands, but it's his route running skill and ability after the catch that has separated Meredith from his fellow inexperienced Bears receivers.
For the year, Meredith leads the Bears in catches (62), yards (827), and receiving touchdowns (4) which I don't think anyone predicted before the season. With questions about whether the Bears re-sign Jeffery, whether Kevin White can stay healthy, whether Eddie Royal gets cut, and whether Josh Bellamy can catch the ball… Meredith is the one receiver the Bears can count on to produce next season.
Jerome Miron-USA TODAY Sports
4.) Tracy Porter was awful (and has been for a few weeks)
I resisted the urge to rip on Porter in my takeaways the last couple of weeks, but he was so bad this week that it has to be mentioned. Looking back over my notes, "Porter burned by…" is listed five times in just the first half!
The Bears secondary got noticeably better early in the second half while Porter was sidelined with an injury. I was hoping that he was done for the day, but sure enough as soon as he was back in I added another "Porter burned by…" to my notes.
The stats aren't available yet to show how many catches Porter gave up, but I'm sure it will be at least double any other Bears corner. Porter was a liability on Saturday and really has been the last few weeks. If he's injured, then he shouldn't be out there, since Porter was only hurting the team this week verse the Skins.
Porter has been the Bears most reliable corner this season, despite fighting through an injury seemingly every week, but he's gotten steadily worse the last few weeks. Whether he was covering DeShaun Jackson or Pierre Garcon, both players were wide open consistently. I'm sure the Bears incompetent safeties were at fault as well, but if Porter can't stay within five yards of the man he's covering than he shouldn't be on the field.
The Bears are extremely thin at corner, but I don't see the purpose of putting Porter on the field if he's not close to 100%. The Bears need to figure out if players like Deiondre Hall and Jonathan Banks can contribute next season. They couldn't have played any worse than Porter did on Saturday.
5.) Ted Larson is deadweight
Unlike Porter, guard Ted Larson isn't a key piece of the Bears immediate future, so why was he playing this week? Larson was the worst linemen on the field for the Bears this week, getting beat for a sack early and getting knocked on his backside by a defender who blocked the Bears first field goal attempt.
I live in Arizona, which means I see the Cardinals play more than any team but the Bears. I bring that up because last year Ted Larson played for the Cardinals. He was so bad in 2015, that the Cards not only made no effort to bring Larson back but head coach Bruce Arians went out of his way to tell the media that he had zero interest in bringing Larson back.
He's just not a good offensive linemen. His versatility to play center or guard is useful I guess, but if he's bad at both, how useful is that? My long-winded point is… why is Larson playing in a meaningless game at the end of the season?
Shouldn't these games be used as a tryout for young Bears? Rookie G/C Eric Kush has played well in limited chances this season, but was on the bench in favor of Larson on Saturday. Why not see what Kush can do? It makes no sense to me.
If Larson was good, I could understand, but he's clearly not and probably won't even be a Bear next season. It's another in a long string of questionable decisions by John Fox and his fellow coaches.
6.) Injuries continue to hurt the Bears
The Bears have a league leading 19 players on the injured reserve this year. You would think that eventually the Bears would get through a game without losing any players, but alas the Bears had a few more injuries on Saturday.
Most importantly Leonard Floyd got hurt in the first half and didn't return. It's the third time this season that Floyd has suffered an injury. That is troubling.
In other injury news… Pernell McPhee left the game for an extended stretch but eventually returned. Rookie Deon Bush was hurt early in the first half, while getting roasted by DeShaun Jackson, and never returned.
The way things have gone this year, I wouldn't be surprised if Floyd, Bush, and even McPhee are done for the season.
Raj Mehta-USA TODAY Sports
7.) Cody Whitehair was a steal in the 2nd round
I've discussed it the last two weeks, but I'm doing it again because rookie Cody Whitehair deserves more recognition. He was listed as one of the top ten players in week 15 by Pro Football Focus and was even better this week.
Whitehair did an exceptional job controlling the middle of the line of scrimmage against a good defensive line. He had help from Josh Sitton and occasionally from Ted Larson, but on most of the Bears positive inside runs Whitehair was the driving force behind them.
The fact that Whitehair was a guard in college last year and also for almost all of the preseason, makes his play at center even more impressive.  Whitehair has not only been able to switch positions, but succeed at one of the most challenging positions on the offensive line.
Whitehair has had some help from the veteran guards on either side this season, but eventually took over the play calls at the line of scrimmage and over the last few weeks has become one of the best centers in the NFL. It might sound like hyperbole, but Whitehair's tape backs it up.
He's already the Bears best center since Olin Kreutz and looks like a steal in the second round of this year's draft.
8.) Bears safeties are sooo bad
Another week and another bad game by the Bears safeties. There is nothing new to say, none of the safeties on the roster are even average by NFL standards.
They routinely look lost in coverage and leave huge coverage gaps in the middle of the field. The rarely help in run support either. For some reason, instead of tackling the safeties have decided to try and strip the ball the last few weeks. It hasn't worked yet, but that hasn't stopped them from trying and giving up huge chunks of yards to ball carriers in the process.
I didn't expect much from Harold Jones-Quartey, Chris Prosinski, or Deon Bush (the only draft pick I didn't like), but Adrian Amos had a promising rookie year. He started every game in 2015 and showed flashes of legitimate talent, but has regressed so much this season that he lost his starting gig two weeks ago.
The Bears really need to spend some resources in free agency and the draft to find some NFL-caliber safeties. Their strategy of drafting multiple safeties on day three just isn't working. It's a deep safety draft this year, which I will be covering in depth soon.
Jerome Miron-USA TODAY Sports
9.) The Bears had no pass rush this week
After 13 sacks over the Bears last three games, the pass rush disappeared on Sunday verse the Redskins. The Skins do have an above-average offensive line, but not a good enough one to completely shut out the pass rush like they did on Saturday.
On most pass plays Kirk Cousins had as much time as he wanted to find an open receiver. The lack of pass rush combined with the lack of coverage from Tracy Porter was a big reason the Skins put up 41 points on Sunday.
The Bears primary pass rushers had a hard time getting off blocks on pass plays, but DC Vic Fangio deserves some blame as well. The Bears scaled back the blitzing compared to last week and also rushed just three players on more pass plays than I've seen since early in the season.
Perhaps Fangio was worried about the Bears secondary so kept a few more players back but considering how wide open Skins receivers more, Fangio may have been better off using the normal amount of pass rushers or even blitzing more.
Even when the Bears blitzed, they weren't able to get to Cousins. Not only did they have zero sacks, but they only hit Cousins three times on 29 pass attempts. Rookie Nick Kwiatkoski continues to show promise as a blitzer and almost got to Cousins twice, but like last week he was just a step off target.
The Bears came into the game ranked fourth in the league in total sacks, but will probably drop out of the top five after Saturday. The loss of Leonard Floyd took some teeth from their rush attack, but hopefully he'll be back for the Bears final game next Sunday.
10.) The Bears run defense was bad for the second week in a row
The Bears defense came into Sunday's game ninth in the league in total yards allowed. That's pretty impressive, considering the defense has been on the field longer than all but three teams this season.
What's not impressive is the Bears run defense the last two weeks. They will surely be out of the top ten after allowing over 200 rushing yards (208) for the second week in a row. For some reason, the Bears tackling ability has disappeared the last two weeks. It may have something to do with the time of possession discrepancy or it could just be too many rookies on the field due to injury.
Either way, the Bears final stats won't properly reflect how well the Bears defense has played for most of this season. It's been a long year for both the fans and the players and it's somewhat understandable that the on-field play has degraded somewhat at the end of a very difficult season.
Jerome Miron-USA TODAY Sports
11.) Right tackle Bobby Massie had his best game as a Bear
The Bears offensive line has arguably been the best unit on the team this season, but right tackle Bobby Massie has probably been the worst of the starting o-linemen. Saturday he played his best game of the season in one of his most challenging matchups. Skins OLB Ryan Kerrigan is going to the Pro Bowl this year and had 11 sacks on the season, but he was almost completely neutralized by Massie.
Most of Massie's struggles have come in pass pro, but Saturday he played well in both aspects of the game. He not only shut down Kerrigan, but had some impact blocks in the running game to free Howard for big runs. It was a flash of what Massie is capable of if he can be more consistent with his pass pro technique.
The talent has always been there for Massie, but mental and technique issues have led to crucial mistakes. If he can play consistently like he did on Saturday, then the Bears could have one of the best offensive lines in the league next year.
12.) Jonathan Bullard also played his best game as a Bear
The Bears had a very solid 2016 draft. Leonard Floyd, Cody Whitehair, Jordan Howard, and Nick Kwiatkoski all look like long-term pieces for the Bears, but their third round pick Jonathan Bullard has been a disappointment so far.
Bullard stepped up on Saturday and played the best game of his young career. He's still not showing the explosion off the ball as a pass rusher that he showed in college, but against the Skins he made an impact against the run.
Bullard was credited with just two tackles (one for loss), but was around the ball often and looked like he was playing faster and stronger than he has all season. I thought Bullard was a steal in the third round of the draft, but Saturday was the first time that he played like it.
The Bears have the makings of a dominant defensive line next year, but with Cornelius Washington a free agent, they will need to decide if Bullard deserves a starting role. If not they will need to add another d-linemen to fill Washington's role. Another game from Bullard like this week and he will have some momentum going into 2017 and a better chance at earning a spot in the d-line rotation.
Patrick Gorski-USA TODAY Sports
13.) Bears tight end auditions
The Bears continue to try and find a future replacement for injured tight end Zach Miller. Miller does have one more year on his contract, but with so many injuries throughout his career, I don't think the Bears can rely on him to be healthy in 2017. Even if he does avoid injury, he's 32 and coming off another foot injury. It's possible, perhaps even likely, that Miller will be a step or two slower in 2017.
The Bears have been signing new tight ends almost every week this season, but they seem to have decided on three finalists for Miller's backup next year: Daniel Brown, Ben Braunecker, and MyCole Pruitt.
All three got significant snaps on Sunday with Brown leading the way. Both Brown and Braunecker had two catches for 19 yards, while Pruitt got his first snaps as a Bear after being signed before week 15.
All three have above average speed and receiving ability, but all three have also struggled as blockers in their young careers. Brown got tossed aside like a rag doll by Skins DE Preston Brown and gave up a sack Sunday, which won't help his chances of locking down the #2 TE position next year.
With one more week to go, look for the Bears to feature MyCole Pruitt next week against the Vikings, the team that drafted him in 2015.
14.) No takeaways again for the Bears defense
The Bears came into the game tied with the Jags for the fewest turnovers caused in the league with just ten. The Jags had a pick-6 interception in their surprising win over the Titans, which puts the Bears in dead last in the league with still just 10 turnovers created.
There is no easy fix out there for the Bears turnover problem. I thought a good pass rush would force more turnovers, but the Bears are in the top five in the league in sacks and it hasn't impacted turnover creation at all.
The answer may be upgrading their secondary. If they can continue to rush the passer in 2017, then better defensive backs should be in position to make more plays. A couple of young Bears have the potential to create more turnovers next season; Rookie Deiondre Hall had 13 interceptions in college and fellow rookie Cre'Von LeBlanc has led the team in practice interceptions by a wide margin.
Hopefully, the Bears can supplement the few potential playmakers they have with more in free agency and the draft next year. The Bears won't win the turnover battle consistently unless they start creating some on defense and they won't be a competitive team unless they can win the turnover battle consistently.
It's pretty clear to me that after the quarterback position, the Bears secondary should be their priority this offseason.
15.) Bears Draft Position Update
The Jags won! It's kind of a big deal since the Jags have the tie-breaker verse the Bears (right now at least), which means that if the season ended today the Bears would have the 3rd overall pick.
The Jags play at the Colts next week and they will be underdogs, but they almost won last week so seem to be playing good football since firing their head coach (take note Bears). The Bears play the struggling Vikings in Minnesota, which most likely will be another loss for the Bears and could lock up the 3rd overall pick.
With the Jags possibly moving on from QB Blake Bortles, moving ahead of them in the draft could give the Bears their choice of the 2nd best QB in the draft after the Niners select one with the 2nd overall pick.
Behind the Bears in draft position, both the Jets and Rams lost this week so they are just one game ahead in the win column with four. Neither team will be favored to win next week, so the Bears will probably need to lose to secure the 3rd overall spot. A Bears win next Sunday could drop them all the way to the seventh overall pick (you should probably bet on the Bears).
Game Notes:
More from Bear Goggles On
This article originally appeared on
---
---