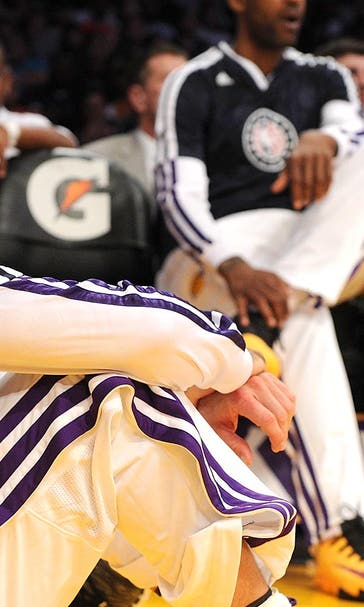 Nash not retiring yet, says Kobe 'could be back Sunday'
BY foxsports • November 22, 2013
Steve Nash has made one thing clear: He isn't contemplating retirement ... yet.
Even though the soon-to-be 40-year-old hasn't been in a game since he was sidelined Nov. 10 with back pain, and when asked how he feels during Friday night's nationally televised Lakers game, he replied "Not good."
But he has one more year on his contract and feels he still can play, especially with Kobe Bryant nearing his return; Nash said Bryant "could be back Friday."
Earlier, Nash killed all rumors of retirement talk.
"I don't know where that came from," he told the LA Times. "For me, I realize I have about 18 months left of basketball and I want the most out of this that I can possibly get and I don't know if that's going to be one game or the vast majority of what's left, but I have a long life without basketball, so I don't want to give in too soon. I want to try to make the most of this opportunity to play if I can."
Nash may feel he still can play, but he knows he's not the MVP-quality guard he was a few years back. During Friday's broadcast, Nash called Chris Paul the best point guard in the NBA.
The two have faced off against each other 22 times and have split the series even 11 a piece. The only difference is CP3 had his way with Nash overall. While both backcourt leaders average 9.5 assists against each other, Paul has a commanding 22.3 ppg and 4.5 boards compared to Nash's 13.3 ppg and 2.5 boards.
CP3 has proven he can lead a team with everything from steals to points to no-look passes, so while his 8-5 Clippers are off to a slow start sitting at fourth place in the West, he has the potential to put up MVP-quality numbers. But he's still chasing a title, something that the Spurs' Tony Parker has three of.
Nash could be back into practice as early as late next week, and Bryant said he could be back by the end of the month -- if not Sunday. That's great news for the Lakers, who are 6-7 and 12th in the West after Friday night's 102-95 win over the Warriors.
Follow Nick Creegan on Twitter
---
---