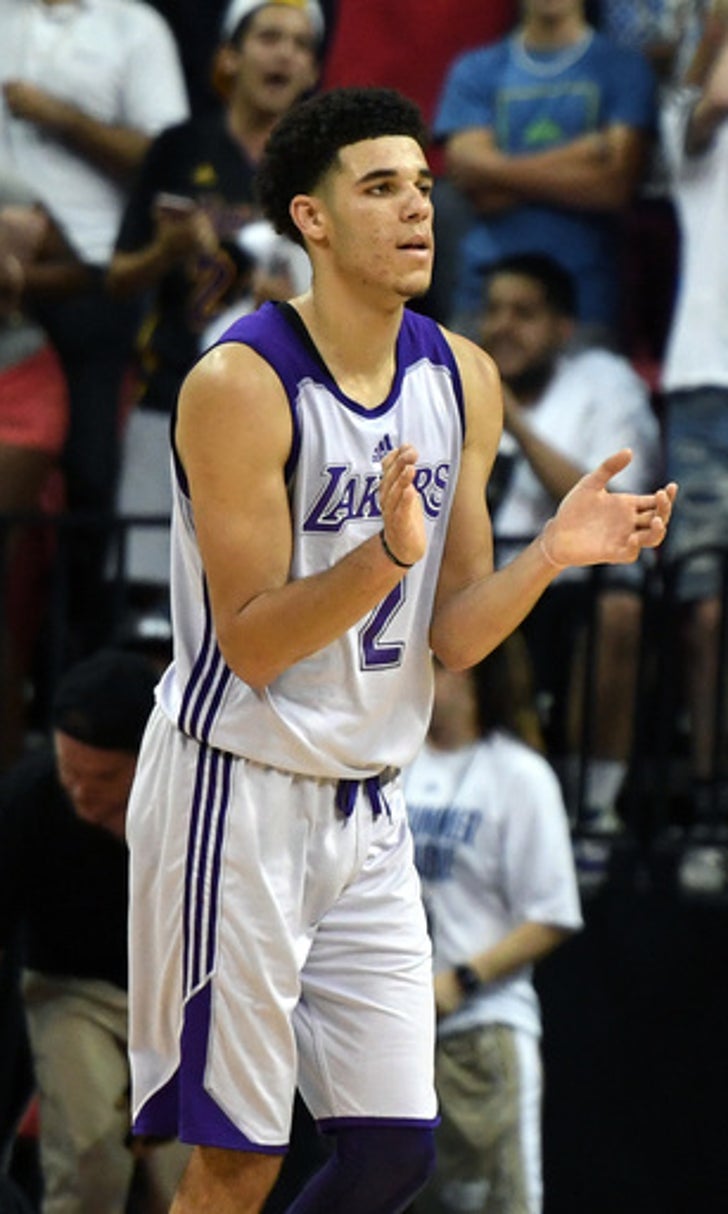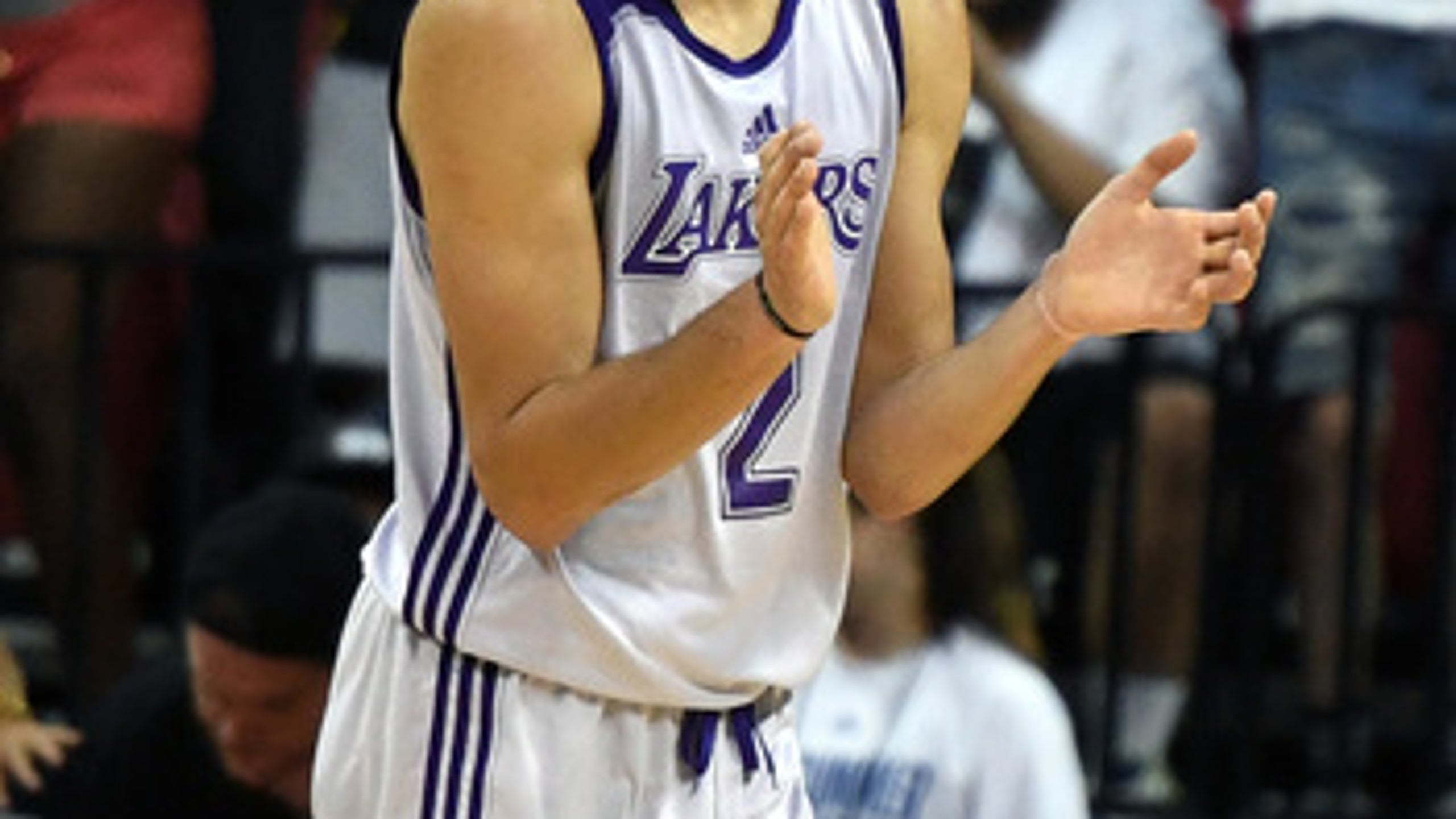 Must be the shoes: Ball has 36 in Nike sneakers, Lakers win
BY AP • July 13, 2017
Lonzo Ball's dud of a debut is long forgotten. And on Wednesday night, so were his Big Baller Brand sneakers.
Now he has the best game of the NBA Summer League - and another playoff game for a chance to top it.
Ball had 36 points, 11 assists, eight rebounds and five steals to lead the Los Angeles Lakers to a 103-102 victory over the Philadelphia 76ers in their opening game of the tournament stage.
The No. 2 overall draft pick came back from a one-game absence - and did so wearing Nike Kobe AD sneakers instead of a pair from the line that his father, LaVar, is marketing for $495 a pair. Then he brought the Lakers back from a 15-point deficit to claim a spot in the round of 16 on Thursday against No. 2 seed Cleveland.
Asked why he changed sneakers, Ball said it was ''Mamba mentality,'' referring to Kobe Bryant's nickname.
''Just thought I'd switch it up,'' Ball added. ''Wore them tonight. It's good when you can wear whatever you want.''
LeBron James was at the game and he noticed, posting a picture of the shoes on Instagram and writing ''Just. Do. It.''
Ball was having an up-and-down start to his pro career in Las Vegas. He was 2 for 15 from the field in an opening loss, responded with a triple-double in another loss, then sat out the third game with a sore groin as critics said he was avoiding having to face No. 5 pick De'Aaron Fox in that game against Sacramento.
Ball looked fine Wednesday while playing against a Philadelphia team playing without Markelle Fultz, the player drafted before Ball who is sitting out with an ankle injury.
The point guard from UCLA scored 28 points in the second half, but the Lakers couldn't get him the ball on an inbounds pass trailing by one. Instead, Ivaca Zubac got free and was fouled with 4.6 seconds left, making both free throws to give the No. 15 seeds the lead for good.
Furkan Korkmaz scored 19 for the No. 18 76ers (1-3).
The tournament began Wednesday with eight games, featuring the Nos. 9-24 seeds. The top eight seeds earned byes into the second round Thursday.
In other action:
WARRIORS 77, TIMBERWOLVES 69
Patrick McCaw scored 26 points, Jordan Bell had another big defensive effort and the Warriors won their opening game of the tournament stage.
After losing all three games of the preliminary round, the 22nd-seeded Warriors avenged a loss to the Timberwolves in the sudden-death second overtime a night earlier and advanced to a second-round game against No. 6 Boston, which is 3-0 in Las Vegas.
McCaw, a UNLV product who started for the eventual NBA champions in the first round while Kevin Durant was injured, was 10 for 16 from the field back on his college campus.
Bell, a second-round pick from Oregon whose rights were acquired by the Warriors, had six points, 16 rebounds and three blocked shots. He had 11 rebounds and six blocks in the final preliminary game.
C.J. Williams, who hit the winning basket in that matchup, topped the No. 11 Timberwolves with 19 points.
SUNS 97, JAZZ 81
No. 4 pick Josh Jackson had 21 points and 15 rebounds to power 13th-seeded Phoenix into a round of 16 matchup with unbeaten Memphis.
Dragan Bender and Mike James each added 18 points for the Suns (2-2), who will meet the fourth-seeded Grizzlies on Thursday.
Utah rested rookie Donovan Mitchell a night after his 37-point performance and fell to 0-4. Eric Griffin had 18 points and 10 rebounds for the No. 20 seed.
KINGS 69, BUCKS 65
Skal Labissiere had 19 points and nine rebounds, Georgios Papagiannis added 17 points and 13 boards, and short-handed Sacramento advanced with its first victory.
All-Rookie selection Buddy Hield and No. 5 pick De'Aaron Fox sat out, then college player of the year Frank Mason left after 4 minutes with an apparent ankle injury. But rookie Justin Jackson from North Carolina shook off a 2-for-14 night from the field to make two free throws with the game tied at 65 with 13.2 seconds remaining, and the No. 19 Kings (1-3) moved on to a meeting with unbeaten and third-seeded Dallas.
Rashad Vaughn and Sterling Brown scored 12 points apiece for the No. 14 Bucks (1-3).
PELICANS 105, HAWKS 95
Quinn Cook had 26 points, seven assists and five rebounds as New Orleans picked up its first victory after three losses.
Cheick Diallo and Jalen Jones each added 21 points for the No. 24 seeds, who advance to face No. 8 San Antonio.
John Collins had 25 points and nine rebounds for ninth-seeded Atlanta (2-2).
NUGGETS 87, ROCKETS 81
Torrey Craig had 27 points and 11 rebounds off the bench to lead Denver to its first victory and a spot in the second round.
The Nuggets, who had dropped their first three games and are seeded 23rd, will meet the No. 7 Brooklyn Nets.
Troy Williams and Chris Johnson each scored 20 points for the No. 10 Rockets (2-2).
HEAT 89, WIZARDS 88
Justin Robinson made a go-ahead jumper with 11 seconds remaining to send No. 12 Miami into a second-round matchup with the unbeaten and fifth-seeded Los Angeles Clippers.
Robinson scored 13 of his 19 points in the fourth quarter as Miami improved to 3-1. Lamond Murray Jr. added 17 points.
Washington, the No. 21 seed, fell to 0-4 despite 18 points from Marcus Keene. Ike Diogu had 15 but his potential winning shot was blocked.
TRAIL BLAZERS 88, BULLS 77
Jake Layman scored 22 points, Jarnell Stokes had 16 points and 17 rebounds, and Portland set up a meeting with top-seeded Toronto.
Rookie first-round pick Caleb Swanigan added 13 points and nine rebounds for the No. 16 Trail Blazers (2-2).
Antonio Blakeney had 27 points and 11 rebounds for the Bulls (1-3), the No. 17 seed.
---
---