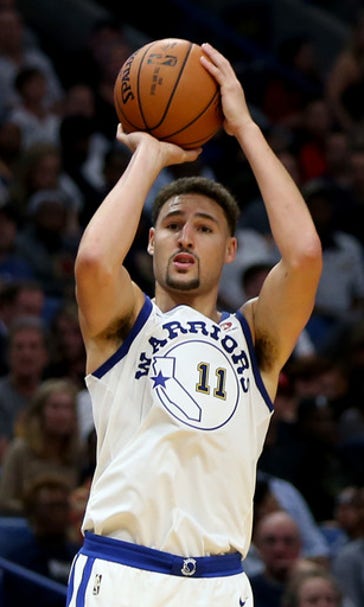 Curry, Thompson, Durant lead Warriors past Pelicans 128-120 (Oct 20, 2017)
October 21, 2017

NEW ORLEANS (AP) As quickly as Golden State's Klay Thompson pulled up for his seventh 3-pointer of the night, the Pelicans' packed, home-opening crowd stopped chanting, ''Defense,'' and started looking for the nearest exits.
Thompson scored 31 points, Stephen Curry added 28 and the Golden State Warriors easily erased a 15-point first-half deficit en route to a 128-120 victory over the New Orleans Pelicans on Friday night.
''I felt like I was in the zone,'' Thompson said. ''If I went out there and shot some more jumpers, I'd probably make some more. I was just getting great looks tonight.''
Kevin Durant added 22 points and a career-high seven blocked shots for the Warriors, who won for the first time this young season after dropping their opener to Houston.
New Orleans is still looking for its first victory after two games, shooting well early in both contests before fading in the second half.
Anthony Davis had 35 points and 17 rebounds for the Pelicans, while fellow big man DeMarcus Cousins had 35 points and 14 rebounds.
Despite the loss, coach Alvin Gentry and several Pelicans players felt their play improved against the defending champion Warriors and left optimistic about an upcoming West Coast trip.
''We took another huge step tonight,'' Cousins said. ''I'm proud of the way we battled, looking forward to the next matchup. I think we are in a good place.''
The teams combined for 34 3-pointers, with the Warriors hitting 18. Thompson, his quick-release perimeter shooting on full display, was 7 of 12 from deep.
The Pelicans, who wound up trailing by double digits much of the fourth quarter, pulled as close as five points on Cousins' 3 with about three minutes to go. But Thompson responded immediately with a 3, after which Golden State remained comfortably in control.
''We were better today than we were the last game (at Memphis). That's important,'' Gentry said. ''We have to continue to try to figure it out.''
TIP INS
Warriors: Curry reached 3,927 assists, passing Tim Hardaway for second place on the franchise's assists list. ... David West, who was New Orleans' first-round draft choice in 2003 and spent his first eight NBA seasons with the franchise, received polite applause after scoring his first points on a mid-range jumper. He followed that up with a 3-pointer shortly after and finished with 11 points.
Pelicans: G Ian Clark had 14 points, while Jrue Holiday and Jordan Crawford each added 13 from the back court. ... Gentry was assessed a technical foul by official Ed Malloy in the second quarter. ... The Pelicans announced that C Alexis Ajinca would miss four to six weeks following successful bilateral knee injections to treat patellar tendinitis. ... New Orleans shot 50 percent from 3-point range in the first half, hitting 11 of 22, but made just five of 14 from deep in the second half.
MOMENTUM SHIFT
New Orleans stormed in front early, thanks to eight 3-pointers in the first quarter. The period closed with a long 3 by each team. Draymond Green hit from 31 feet as the shot clock ran down, then Davis beat the horn from 30 feet, turning after the shot to face the crowd and pound the palm of his right hand into his chest.
Davis' shot put the Pelicans up 39-26, and New Orleans led by as many as 15 when Cousins' free throw made it 57-42 half way through the second quarter.
Golden State closed out the half with a 19-7 flourish, capped by Durant's 3 that made it 64-61 at halftime. That turned out to be part of a 26-7 run that gave the Warriors their first lead in the third quarter.
''We're just not ready to put together a complete game. We're basically still in training camp in my mind,'' Warriors coach Steve Kerr said. ''We're still working on everything and that's pretty obvious.''
SHOELESS DURANT
Durant scored two points and blocked two shots by Tony Allen during a short stretch in which he played with only one shoe after the other had fallen off right before he hit a layup. Durant and Curry grinned as they watched a replay of the sequence in the locker room.
Meanwhile, Green said Durant will ''never'' get the credit he deserves for his defensive play because ''his offense is too pretty.''
HEAD GAMES
Green, who scored 10 points, was assessed a technical foul after shoving Cousins in the second quarter.
''I was just trying to get in Cous' head. That's it. He was playing well,'' Green explained. ''He put his armpit in my face and he flopped a little bit on the push.''
But Green stressed that Cousins is ''my guy'' when they're not competing.
''We won a gold medal together so that's a relationship that will be there for a lifetime,'' Green said.
UP NEXT
Warriors: At Memphis on Saturday night.
Pelicans: At the Los Angeles Lakers on Sunday night.
---
For more NBA coverage: https://apnews.com/tag/NBAbasketball
---
---