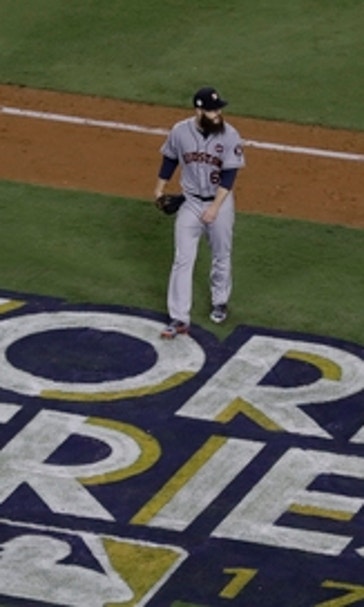 The Latest: Springer's 2-run homer gives Astros Game 2 win
October 26, 2017

LOS ANGELES (AP) The Latest on Game 2 of the World Series between the Houston Astros and Los Angeles Dodgers (all times local):
9:35 p.m.
George Springer hit a two-run drive in the 11th inning and the Houston Astros won a thrilling home run derby at Dodger Stadium, beating Los Angeles 7-6 Wednesday night to tie the World Series at one game apiece.
The teams combined for a Series record eight homers. When the slugging was finally over, the Astros had hung on to win a World Series game for the first time in their 56-season history.
Houston trailed 3-2 in the ninth when Marwin Gonzalez hit a leadoff home run against closer Kenley Jansen. Jose Altuve and Carlos Correa hit back-to-back homers in the Houston 10th for a 5-3 lead.
The Dodgers then rallied, tying it on Yasiel Puig's home run and an RBI single with two outs by Enrique Hernandez.
Springer's shot off Brandon McCarthy gave Houston just enough margin to withstand Charlie Culberson's homer in the bottom of the 11th.
Game 3 is Friday night in Houston.
---
9:14 p.m.
George Springer has hit a two-run homer in the 11th inning that has given the Houston Astros a 7-5 lead over the Los Angeles Dodgers in Game 2 of the World Series.
It's been a wild one at Dodger Stadium, no doubt about that.
After both teams scored twice in the 10th, Cameron Maybin led off the Astros 11th with a single and stole second. Springer followed with his drive against Brandon McCarthy.
---
9:06 p.m.
Enrique Hernandez hit an RBI single with two outs in the 10th inning and the Los Angeles Dodgers are tied 5-all with the Houston Astros in Game 2 of the World Series.
Game 2 of the World Series has been a topsy-turvy thriller at Dodger Stadium.
Marwin Gonzalez hit a tying home run off Dodgers closer Kenley Jansen in the ninth that made it 3-all. Jose Altuve and Carlos Correa hit consecutive homers in the 10th for a 5-3 lead.
But Yasiel Puig opened the Dodgers 10th with a homer, and Hernandez tied it with his single.
---
8:37 p.m.
Jose Altuve and Carlos Correa have hit back-to-back home runs in the 10th inning to put the Houston Astros ahead 5-3 in Game 2 of the World Series.
The Dodgers were three outs from a commanding 2-0 edge in the Series until Marwin Gonzalez led off the ninth with a homer against closer Kenley Jansen that made it 3-all.
After Cody Bellinger's bid for a winning homer with two outs in the bottom of the ninth was caught on the warning track, the Astros broke loose.
Altuve and Correa both connected off Josh Fields, silencing the crowd at Dodger Stadium.
---
8:32 p.m.
Game 2 of the World Series is tied at 3 after nine innings at Dodger Stadium.
The Houston Astros tied it in the ninth on a leadoff home run by Marwin Gonzalez off Los Angeles closer Kenley Jansen.
Cody Bellinger came close to winning it in the bottom of the ninth, with a two-out drive that was caught at the warning track.
Pretty certain most everyone at the park remembers - or has heard about - the last ninth-inning winning homer at Dodger Stadium. Who could forget Kirk Gibson in 1988?
---
8:23 p.m.
Marwin Gonzalez hit a startling home run off Dodgers closer Kenley Jansen in the top of the ninth inning that lifted Houston into a 3-all tie in Game 2 of the World Series.
Jansen has been one of baseball's most dominant relievers in recent years. But he gave up a tying single to Carlos Correa in the eighth, and Gonzalez tagged him leading off the ninth.
The Astros then had a chance to take the lead in the ninth after George Springer doubled with two outs, but Alex Bregman grounded out.
Los Angeles leads the Series 1-0.
---
8:12 p.m.
The Dodgers have three outs to get to win Game 2 of the World Series.
They'll do it with ace closer Kenley Jansen on the mound.
The Dodgers lead the Astros 3-2 going into the ninth. That's after Jansen came in with no one out in the eighth to allow a run on a single by Carlos Correa to score Alex Bregman.
It was the first run the Dodger bullpen had given up after 28 consecutive scoreless innings in the postseason.
---
7:47 p.m.
The Dodgers are trusting their dominant bullpen to protect a late lead against the Houston Astros. It's becoming a familiar formula in this World Series.
Los Angeles leads 3-1 after seven innings in Game 2. The Dodgers won the opener by the exact same score.
Kenta Maeda, Tony Watson, Ross Stripling and Brandon Morrow have combined for three innings of scoreless relief so far. Overall, Dodgers relievers have now thrown 28 straight shutout innings.
Unless the Astros get their bats going, they'll be heading home facing a big deficit.
---
7:17 p.m.
Corey Seager's 2-run homer has given the Dodgers a 3-1 lead through six innings of Game 2.
Justin Verlander had been mostly cruising through the Dodger lineup before allowing a home run to Joc Pederson in the fifth. With two outs in the sixth he walked Chris Taylor and Seager followed with a home run to left field.
Verlander has faced only 21 batters through six innings and allowed two hits - both home runs.
The Dodgers, meanwhile, are on their fourth pitcher after starter Rich Hill was taken out after four innings.
---
6:55 p.m.
Joc Pederson has homered off Justin Verlander to pull the Dodgers into a 1-all tie with Houston after five innings in Game 2 of the World Series.
With two outs, Pederson sent a shot into right field, spoiling Verlander's no-hitter.
Verlander has struck out five and had only allowed a leadoff walk to Chris Taylor in the fourth before Pederson's tying homer, his first since July 26.
Kenta Maeda retired the side in the top of the fifth after relieving Los Angeles starter Rich Hill.
---
6:28 p.m.
Houston ace Justin Verlander is pitching no-hit ball through four innings at Game 2 of the World Series.
The Astros lead 1-0 at Dodger Stadium, a day after losing the opener.
Verlander is throwing almost all fastballs and has struck out four. The only runner he allowed came on a leadoff walk to Chris Taylor in the fourth, and the Dodgers haven't hit much very hard.
Los Angeles starter Rich Hill did well for four innings, striking out seven. But he got pulled to begin the fifth after 60 pitches, and Kenta Maeda came in to relieve.
---
6:05 p.m.
The Dodgers are trailing in a World Series game for the first time since 1988.
The Astros broke through for a run in the third inning of Game 2 off Rich Hill, who limited the damage by striking out Jose Altuve and Carlos Correa to end the threat with runners on first and second.
The inning began when Josh Reddick reached first on a ground ball Chase Utley couldn't handle. He was sacrificed to second and George Springer singled him to third and Alex Bregman singled Springer home.
Justin Verlander has been dominating through three innings for the Astros, not allowing a baserunner and striking out four.
---
5:55 p.m.
There's no score in Game 2 of the World Series through two innings.
Justin Verlander of the Astros and Rich Hill of the Dodgers are dueling on the mound.
Verlander has struck out four of his first six batters.
Hill gave up a leadoff walk to start the game before retiring the next six batters he faced. He has three strikeouts.
---
5:31 p.m.
Game 2 of the World Series is scoreless after the first inning at Dodger Stadium.
It was a downright pleasant 93 degrees when Los Angeles lefty Rich Hill threw the first pitch - that's 10 degrees cooler than it was for the opener.
Houston ace Justin Verlander brought his own heat. His fastball was topping out in the upper 90s as he struck out Chris Taylor and Corey Seager to begin the bottom of the first.
The Astros are counting on Verlander to help them pull even after they lost 3-1 in Game 1.
It's another star-studded crowd in Dodgerland. Former NFL great Peyton Manning was in attendance, as was comedian George Lopez.
---
5:15 p.m.
For 67 years Vin Scully provided the soundtrack to the Dodgers, first in Brooklyn and then in Los Angeles.
He rarely called in for a reliever, though that changed Wednesday night in Game 2 of the World Series.
Much to the delight of the crowd packing Dodger Stadium, Scully came out to throw the ceremonial first pitch. He carried a microphone in one hand and a baseball in the other, fitting for the announcer whose voice reverberated for years on transistor radios throughout Dodger Stadium.
Scully went into a windup and stopped, feigning a rotator cuff injury. He said he would have to call to the dugout for relief.
And who should come out? None other than Fernando Valenzuela, the Dodger great who now works as a Spanish language announcer for the team.
Valenzuela went into his classic windup and threw the ball to a familiar target, Steve Yeager, who spent 14 years as catcher for the Dodgers.
---
4:43 p.m.
Viewers for the World Series opener dropped 21 percent from last year.
The Los Angeles Dodgers' 3-1 win over the Houston Astros on Tuesday night was seen by an average of 15,458,000 viewers, according to Fox. That includes 14.97 million on Fox, 348,000 on Fox Deportes and an average of 140,000 who streamed the game on FSGO.
Cleveland's 6-0 victory over the Chicago Cubs last year was viewed by an average of 19,786,000 on the three outlets, including 19.4 million on Fox, 297,000 viewers on Fox Deportes and 121,000 who streamed.
Last year's opener was the most-watched since 2004. This year's was the second-most-watched since 2010.
---
4:15 p.m.
Astros second baseman Jose Altuve was busy before Game 2 being honored as winner of the Hank Aaron Award as the most outstanding offensive performer in the American League.
Miami outfielder Giancarlo Stanton won the NL award.
Aaron was on hand at Dodger Stadium to present the trophies. The winners were decided in voting by a special panel of Hall of Fame players and fans.
Altuve is the first Astros player to win the award. Aaron was enthusiastic about the 5-foot-6 player, saying there aren't many people that he would pay to see play, but Altuve is one of them.
Stanton won for the second time since 2014. He posted 59 home runs and 132 RBIs for the Marlins.
---
3:05 p.m.
The heat is still on at the World Series.
The mercury has hit 100 degrees for the second straight day as the teams are on the field for batting practice.
The temperature at the start of Game 1 on Tuesday was 103, making it the hottest World Series ever.
---
2:55 p.m.
Adrian Gonzalez is on the field with the Dodgers for batting practice. The veteran first baseman was shut down for the season with a back injury after going on the disabled list for the first time in his career this year.
Gonzalez didn't join the team for introductions before Game 1 on Tuesday.
The five-time All-Star has played more games without a World Series appearance than all but active players Ichiro Suzuki and Brandon Phillips.
---
2:35 p.m.
Lance McCullers Jr. will start Game 3 of the World Series for the Houston Astros on Friday and Charlie Morton will open Game 4.
Astros manager A.J. Hinch had held off announcing the order of his rotation until Wednesday.
McCullers did not get a decision in his one postseason start, when he allowed one run over six innings in Game 4 of the AL Championship Series at Yankee Stadium. He gave up two runs over three innings of relief in Game 3 of the Division Series at Boston, and he followed Morton with four scoreless innings to finish Game 7 against the Yankees last Saturday, when he finished with 24 consecutive breaking pitches.
''It opens up Lance a little more in Game 6 and 7, if we can get that far, and if we don't clinch before that or if they don't clinch before that,'' Hinch said.
Morton is 1-1 in three postseason starts this year, allowing nine runs and 15 hits in 13 innings.
Yu Darvish starts Game 3 for the Dodgers and Alex Wood goes in Game 4.
---
2:25 p.m.
Joc Pederson earned a start in Game 2 of the World Series over Andre Ethier because Los Angeles Dodgers manager Dave Roberts thinks he has a better chance for success against Justin Verlander.
''This guy is obviously plus, plus velocity,'' Roberts said. ''I like Joc a little bit better with the velocity. And I think Joc is a better defender in left field, too.''
Pederson was not on the active roster for the NL Division Series after going 4 for 22 from Sept. 1 on. He was 1 for 5 in the NL Championship Series.
''In his batting practice and simulated games I think he's in his legs a little bit more, more consistent mechanically,'' Roberts said. ''And so I think for us is it hasn't really translated into production. And he hasn't had those opportunities really, to be fair to him. But I think in this one case I think he's going to put some at-bats together against him.''
---
1:30 p.m.
Left fielder Joc Pederson and second baseman Chase Utley get the start for the Los Angeles Dodgers in Game 2 of the World Series in place of Enrique Hernandez and Logan Forsythe, and shortstop Corey Seager moves from sixth to second in the batting order.
Chris Taylor bats leadoff and plays center field Wednesday night, followed by Seager, third baseman Justin Turner, first baseman Cody Bellinger, right fielder Yasiel Puig, Pederson, catcher Austin Barnes, Utley and left-hander Rich Hill.
Center fielder George Springer tops an unchanged Houston Astros batting order, followed by third baseman Alex Bregman, second baseman Jose Altuve, shortstop Carlos Correa, first baseman Yuli Gurriel, catcher Brian McCann, left fielder Marwin Gonzalez, right fielder Josh Reddick and right-hander Justin Verlander.
---
More AP baseball: https://apnews.com/tag/MLBbaseball
---
---