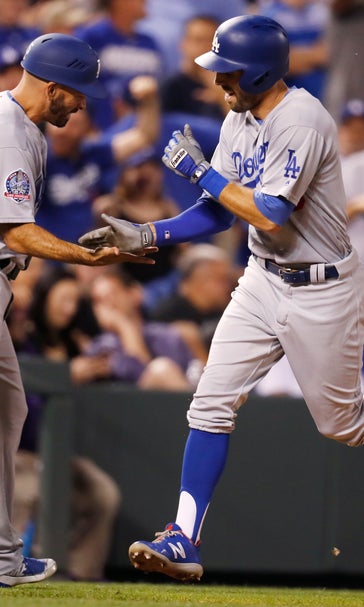 Taylor, Dozier homer in ninth as Dodgers beat Rockies 8-5
August 10, 2018
DENVER (AP) — A well-pitched, crisp game by the starters suddenly turned into a late-inning slugfest.
It became a race to see which bullpen would hold a lead first. Los Angeles prevailed on a night when its best reliever was not at the park.
Chris Taylor and Brian Dozier homered off closer Wade Davis in the ninth inning and the Dodgers exploited Colorado's shaky bullpen to beat the Rockies 8-5 on Thursday night.
"It changed pretty quick," said Dodgers infielder Manny Machado, who was making his first foray into Coors Field.
Earlier in the day at the team hotel, Dodgers closer Kenley Jansen experienced an irregular heartbeat and was sent to the doctor to be checked out. He will head back to Los Angeles for more tests.
"We're holding out hope it's not too serious," Dodgers manager Dave Roberts said.
Starters Tyler Anderson and Ross Stripling did their part as they turned in similar lines: Six innings pitched, four hits, one run.
Then, it got crazy as Coors Field lived up to its reputation.
"Finally playing here, you can see why the games go like that," said Machado, who recorded his 1,000th career hit with a single in the sixth.
Taylor lined the first pitch he saw from Davis (1-6) — a knuckle-curve — into the left-center bleachers to make it 6-5. Two batters later, Dozier followed with a two-run shot to cap off another late-inning, flip-flopping game at Coors Field.
Caleb Ferguson (3-1) threw 1 2/3 innings to earn the win. Scott Alexander pitched the ninth for his second save.
The Rockies bullpen surrendered five homers and seven runs as the Dodgers pulled into a first-place tie with idle Arizona in the NL West. It was Los Angeles' sixth straight win at Coors Field.
A struggling Davis was brought into the game in the eighth to quiet a rally, which he did, but allowed three runs in the ninth. He was booed as he walked off the mound.
Chris Iannetta gave the Rockies a 5-3 lead with a three-run homer in the seventh. It didn't last, as Cody Bellinger connected on a two-run shot off reliever Seunghwan Oh to tie it with two outs in the eighth.
Anderson pitched six strong innings before turning it over to reliever Scott Oberg, who allowed solo homers to pinch-hitters Joc Pederson and Max Muncy in the seventh to give the Dodgers a 3-1 lead.
"We even said it this morning, try to get to the bullpen as quick as possible," Machado said.
It worked.
Nolan Arenado had three hits, including an RBI double. The Rockies have dropped three straight at home.
"All these guys have been through tough losses before," Rockies manager Bud Black said. "This group has great resolve."
Both teams stressed the importance of this four-game series even though it's only August.
It was a tough-luck no-decision for both starters. Stripling was strong all night in his return from the 10-day disabled list. The All-Star righty has been sidelined since July 30 while recovering from inflammation in his right toe.
"When you think about our bullpen and their bullpen, both have really good names," Stripling said. "Guys you expect to go out and keep it a low-scoring game. That's what this park does. If you make a mistake, guys can make you pay for it."
Anderson lowered his career ERA at Coors Field to 3.39, which is the second-lowest all-time mark among Rockies pitchers with at least 25 starts. He trails teammate Kyle Freeland, who has a 3.23 ERA at home.
TRAINER'S ROOM
Dodgers: Roberts will meet with LHP Hyun-Jin Ryu (groin) to map out his next step. Ryu may make one more rehab start. "I know he's champing at the bit to get back in the rotation, get back online," Roberts said. ... LHP Julio Urias (shoulder) will throw two innings at Class A Rancho Cucamonga on Friday. ... LHP Alex Wood (adductor) is slated to join the rotation next week.
THIS & THAT
Enrique Hernandez had a 12-pitch at-bat in the fourth that ended with a long, running catch by Charlie Blackmon in center. ... It was Iannetta's first homer since July 4. ... Pederson hit his second career pinch-hit homer and Muncy his first. ... The five homers allowed by the Colorado relievers tied a team record.
UP NEXT
Dodgers: RHP Kenta Maeda (7-7, 3.73 ERA) takes the mound Friday against Colorado. He's held the Rockies to a .149 average in two previous starts this season.
Rockies: RHP Jon Gray is 2-0 with a 1.52 ERA in four quality starts since he was recalled from Triple-A Albuquerque, where he straightened out his mechanics.
---
---