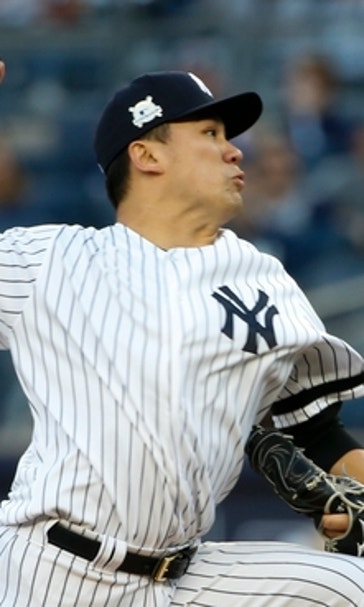 Tanaka decides to stay with Yankees, not use opt out
November 3, 2017

NEW YORK (AP) Masahiro Tanaka decided to stay with the New York Yankees and not exercise the right to opt out of the remaining three seasons of his contract.
A right-hander who turned 29 on Wednesday, Tanaka was 13-12 with a 4.74 ERA, the highest of his four seasons with Yankees, and he allowed a career-high 35 home runs. He was on the disabled list for nearly two weeks in August because of right shoulder inflammation, then went 5-2 in his last seven regular-season starts.
Tanaka excelled in the playoffs, going 2-1 with a 0.90 ERA, 18 strikeouts and three walks in 20 innings during the Division Series against Cleveland and League Championship Series versus Houston. That led to speculation he might give up the $67 million still owed on his $155 million, seven-year deal and test the market.
''It was a simple decision for me as I have truly enjoyed the past four years playing for this organization,'' he said in a statement released by the team on Friday. ''I'm committed to our goal of bringing a World Series championship back.''
Tanaka is 52-28 with New York. He was found to have a partially torn ligament in his pitching elbow during the 2014 season, and since then the Yankees have tried to give him extra rest at times. He gets a $22 million salary in each of the next two seasons and $23 million in 2020.
In other Yankees news, Kevin Reese was promoted to senior director of player development. He replaces Gary Denbo, who left last month to join the Miami Marlins.
The 39-year-old Reese played 12 games for the Yankees in 2005-06. He was a professional scout from 2008-14, then spent the last three seasons as director of pro scouting.
Denbo was with the Yankees for 23 years over three stretches and was vice president of player development for the last three seasons. He was hired by the Marlins as vice president of scouting and player development under former Yankees captain Derek Jeter, who heads baseball and business operations for Miami's new ownership group.
Also Friday, the Yankees activated right-hander Luis Cessa from the 60-day disabled list. Cessa did not pitch after Aug. 14 because of a ribcage injury.
---
More AP baseball: www.apnews.com/tags/MLBbaseball
---
---