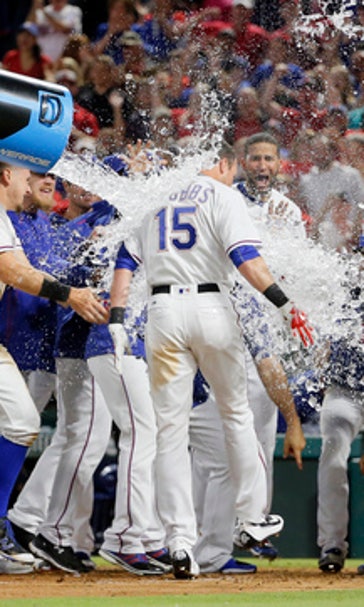 Stubbs' 10th-inning HR helps Rangers win after Jays rally
May 15, 2016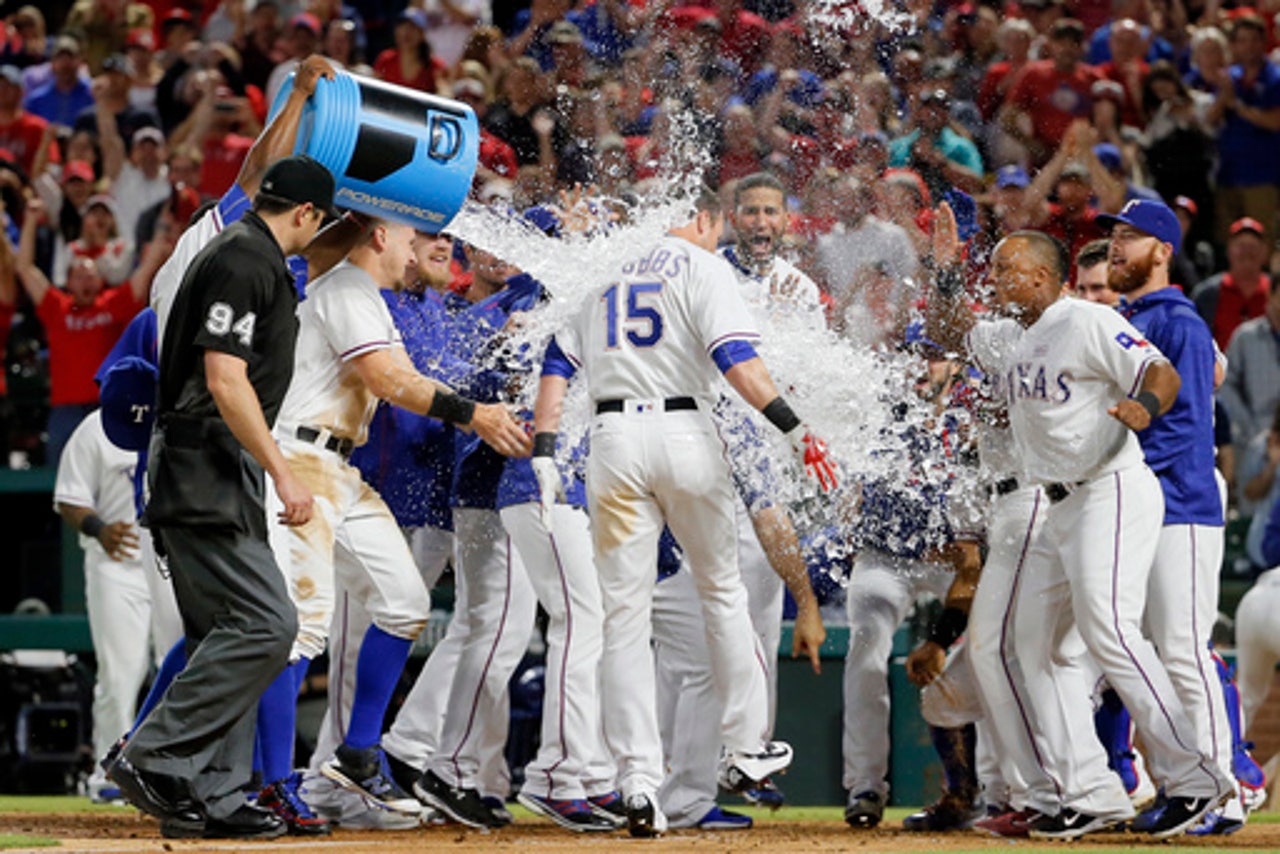 ARLINGTON, Texas (AP) Eight days into his second stint with the Texas Rangers, Drew Stubbs is finding new ways to help his ballclub win.
Stubbs homered with two outs in the 10th inning, helping the Rangers beat Toronto 6-5 on Saturday night after the Blue Jays rallied with consecutive homers in the ninth to force extra innings.
It was the Rangers' first walk-off win of the season and their third victory in four games. It broke a four-game Texas losing streak to Toronto, which rallied last fall from a 2-0 deficit to win the teams' Division Series.
Stubbs was released by the Rangers on March 29 after joining Texas for last season's stretch drive. He signed with Atlanta the following day, was released on May 3 and rejoined the Rangers last week as a free agent.
''Just to step in in a spot like that after a week, it felt good,'' said Stubbs, whose main contributions are as a base runner and late-inning defensive replacement. ''I knew I got the good part of the bat on it, but I was a little out front.''
Stubbs homered over the left field fence off Gavin Floyd (1-3)
Justin Smoak hit a two-run homer and Troy Tulowitzki followed with a tying shot off closer Shawn Tolleson in the ninth. Tolleson has a 7.07 ERA and has blown two of his last four save opportunities.
Tony Barnette (3-2) got the last four outs for Texas, allowing a two-out double by Jose Bautista in the 10th.
Texas' Bobby Wilson hit his second grand slam of the week and his second homer of the season in the second inning. Wilson, like Stubbs, rejoined Texas recently after joining the team during the second half of last season en route to the AL West title.
''I'm grateful for them believing in me,'' said Wilson, reacquired from Detroit on May 3 after being traded to the Tigers on March 29.
''Different players in different scenarios step up, show up and do things,'' Texas manager Jeff Banister said. ''It just happened to be Stubbs and Wilson tonight.''
''It's tough sometimes to tie on the road; you've got to take the lead because they've got the last at-bat,'' Blue Jays manager John Gibbons said. ''But we battled, like we always do.''
Wilson's homer came on the 11th pitch of his at-bat against Toronto starter Marco Estrada.
''I was getting a little frustrated at myself fouling off some pitches that were decent pitches to hit,'' Wilson said.
Wilson hit his first grand slam of the season last Sunday at Detroit off Mark Lowe.
Rangers starter Colby Lewis allowed two runs in seven innings on four hits and struck out six, one short of his season high. He has worked at least six innings in all eight starts this season, seven being quality starts. Lewis went into the game with a 3-6 career record and 6.97 ERA against Toronto.
SOAKING IT IN
RHP Matt Bush said he got a good night's sleep after making his major league debut Friday night, 12 years after being the No. 1 draft choice. Bush retired all three batters he faced, opening with a strikeout of reigning AL MVP Josh Donaldson.
Bush said his father brought him a bacon cheeseburger late Friday night since ''I've kind of been forgetting to eat these last couple of days,'' he said.
SELECT COMPANY
Wilson became the fourth major leaguer to hit two grand slams this season. He joined Houston's George Springer, who also hit his second on Saturday, Baltimore's Manny Machado and Washington's Bryce Harper.
TRAINER'S ROOM
Blue Jays: CF Kevin Pillar (chest soreness) was scratched from the starting lineup, replaced by Ezequiel Carrera, and entered the game in the bottom of the ninth.
Rangers: RF Shin-Soo Choo (calf strain) will begin a rehab assignment with Triple-A Round Rock on Sunday at Albuquerque.
UP NEXT
Blue Jays RHP Aaron Sanchez (4-2) has the AL's ninth-best ERA (2.58), which ranks third on the team. He has won four of his last six starts. Rangers LHP Cesar Ramos (0-2) will make his fourth appearance of the season and second spot start. He pitched 4 1/3 innings of scoreless relief against Toronto on May 5.
---
---