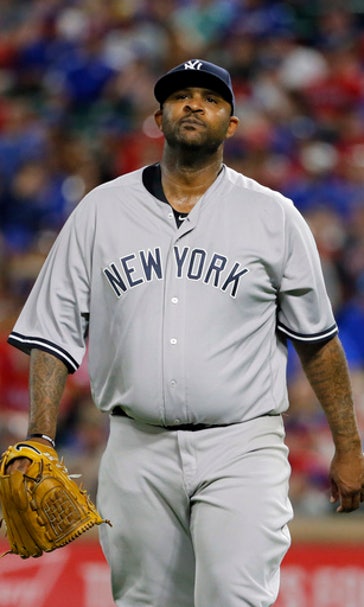 Sabathia goes on 15-day DL and Ellsbury gets hurt
May 7, 2016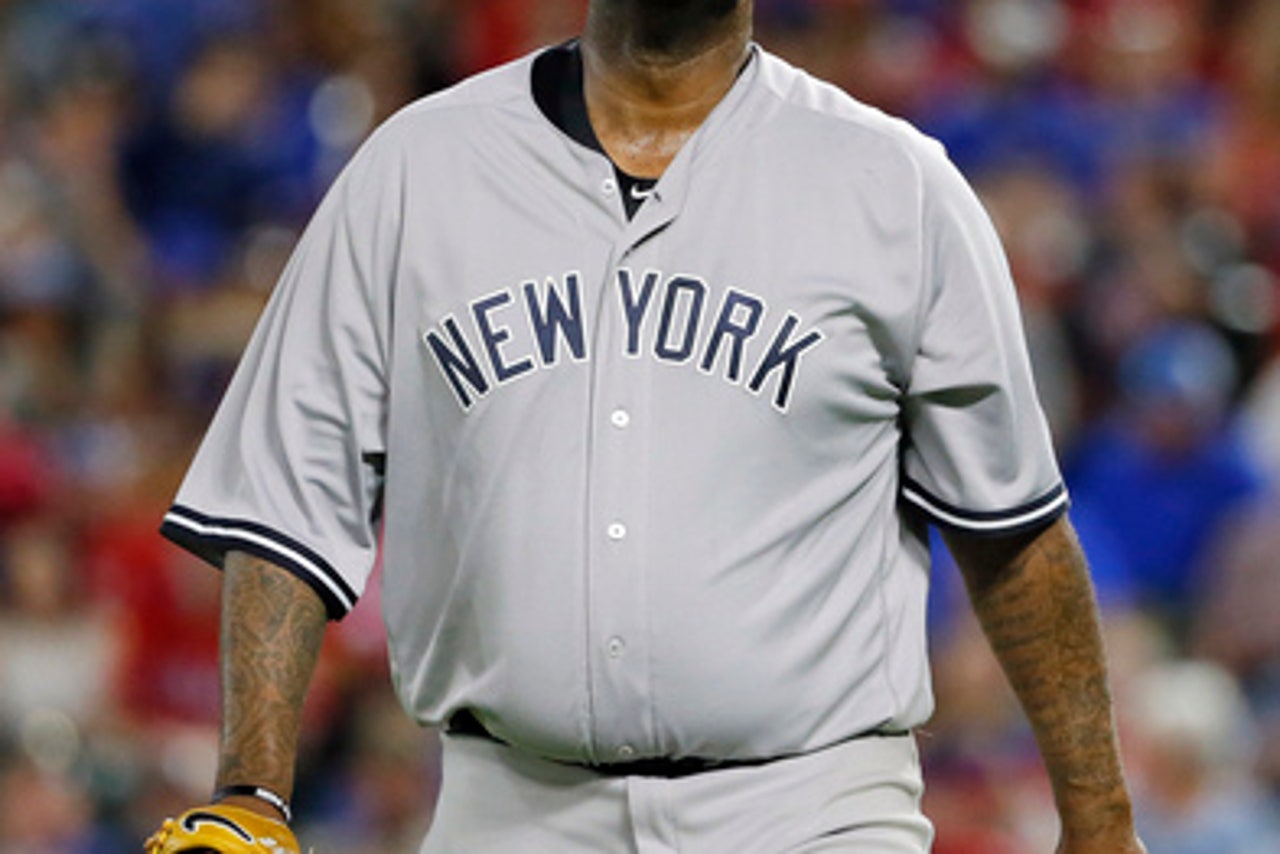 NEW YORK (AP) The Yankees are losing off the field, too.
Two days after his best outing this season, CC Sabathia was put on the 15-day disabled list by the New York Yankees on Friday because of a strained left groin. A few hours later, Jacoby Ellsbury injured his right hip in the first inning against Boston.
Yankees manager Joe Girardi said Sabathia felt irritation during a pitch in the fourth inning at Baltimore on Wednesday but did not tell anyone until after the game. The Yankees sent him for an MRI on Friday.
''I think the last time he had this he was out about three weeks,'' Girardi said.
Ellsbury grabbed his hip after stealing third base on a cool, rain evening, then walked home gingerly on Brian McCann's double and left the game. Girardi said an MRI showed Ellsbury strained a hip muscle, and the manager said the center fielder likely will be out a couple days.
Sabathia's place in the rotation will be taken by Ivan Nova, who is to start Monday against Kansas City. Girardi said Nova, who was relegated to the bullpen at the start of the season, could throw up to about 75 pitches.
Nova didn't know about Sabathia's injury until told by reporters following a bullpen session.
''Now you surprise me,'' he said.
Sabathia allowed six hits in seven shutout innings at Baltimore on Wednesday and struck out six, stopping the Yankees' six-game losing streak. It was just the second scoreless outing since April 2013 for the 35-year-old left-hander, who is 2-2 with a 3.81 ERA five starts this season.
''He pitched so well, you would have never known it,'' Girardi said. ''There's a lot of toughness in CC, and we've seen it manifest itself in a number of ways. But I never saw a falloff in his stuff.''
Sabathia did not speak with reporters before Friday's 3-2 win. His roster move was retroactive to Thursday.
To replace him, the Yankees selected the contract of 33-year-old left-hander Phil Coke from Triple-A Scranton/Wilkes-Barre, where he was 2-0 in seven scoreless innings over one start and one relief appearance.
Last-place New York is 10-17, its worst start since 1991. Before Wednesday's game, designated hitter Alex Rodriguez went on the 15-day disabled list with a strained right hamstring. Yankees team physician Dr. Christopher Ahmad told the team it was a grade 1-plus, which is just above mild.
''My hope he's back in 15 days, but we'll have to see how he heals,'' Girardi said.
Coke was acquired by New York on April 26 from Lancaster of the independent Atlantic League. He pitched for the Yankees in 2008-09, helping them win their last World Series title, then was dealt to Detroit as part of the three-team trade that brought Curtis Granderson to New York.
Coke stayed with the Tigers through 2014, then split last season among the Chicago Cubs, Toronto and three minor league teams, including one in Oakland's organization.
''He's a guy that can be just for left-handers or give you distance,'' Girardi said.
Coke received a call at 11:30 a.m. telling him to report to New York. He was assigned No. 43 - five below his previous number - and a locker on the opposite side of the clubhouse. Andrew Miller has his old number and Aaron Hicks is using his old stall.
Coke had signed a minor league contract in early March with Atlanta, then was released. He signed with Lancaster, and New York announced April 26 it had bought his contract.
His deal with the Yankees calls for a $750,000 salary in the major leagues and $90,000 in the minors.
''It feels like home, man,'' he said. ''Now I'm back to finish some unfinished business.''
Notes: Yankees closer Aroldis Chapman ended his stay at extended spring training in an impressive fashion, striking out all five batters he faced against Pittsburgh minor leaguers at extended spring training in Tampa, Florida. Chapman has been working out in Florida since the end of spring training while serving a season-opening 29-game suspension stemming from baseball's new domestic violence policy. He is eligible to pitch for the Yankees on Monday. ''It's unfortunate I had to miss this time, but I'm going to New York and I'm looking forward to it,'' Chapman said through a translator. Chapman also completed the process while in Florida of becoming a United States citizen, and took part in a swearing-in ceremony last week. ''I'm very happy, I'm very proud,'' he said. ''I'm very proud of the fact that I get to be a citizen in a country like this that has given me all these great opportunities.''
---
AP freelance writer Mark Didtler contributed to this report.
---
---