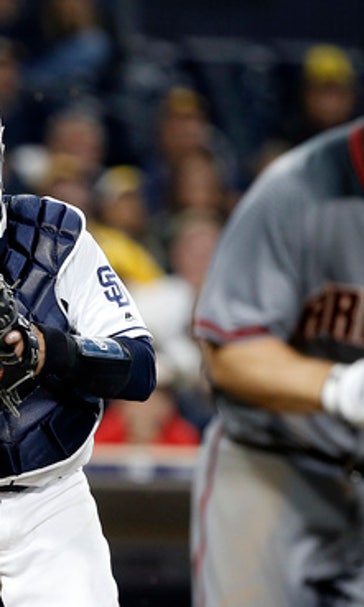 Richard, backed by two homers, pitches Padres past D'backs (Apr 20, 2017)
BY AP • April 21, 2017
SAN DIEGO (AP) Clayton Richard showed the Arizona Diamondbacks why the Padres wanted him back this season.
''He gets ground balls and gives your team a chance,'' San Diego manager Andy Green said.
Richard pitched into the seventh inning and Wil Myers and Austin Hedges homered to lead San the Padres to a 4-1 win over Arizona on Thursday night.
Richard (2-2) gave up a run on nine hits in 6 2/3 innings. The left-hander struck out a season-high eight to win for the first time in his last three starts. Brandon Maurer pitched the ninth for his third save and second in consecutive nights.
Myers cracked his fourth homer in the first and Hedges added his third in the seventh as the Padres won their second straight to earn a split of the four-game series.
Patrick Corbin (1-3) limited the Padres to three runs or less for the fourth time at Petco Park. But it wasn't enough with Richard keeping the Diamondbacks off-balance with his sinker.
Corbin lasted six innings, surrendering three runs on five hits. His eight strikeouts, like Richard's, came with zero walks.
Arizona put the tying runs aboard in the seventh, but Paul Goldschmidt was fanned by reliever Brad Hand. It was the fourth strikeout of the inning, with catcher Hedges drawing a throwing error to allow Goldschmidt to hit.
''Brad Hand is wired right,'' Padres manager Andy Green said. ''He had to face one of the best hitters in the National League and he punched him out.''
Richard tiptoed from a jam in the fifth, when Yasmany Tomas and Brandon Drury produced one-out singles. But Chris Iannetta, who had doubled earlier, hit into a double play when Erick Aybar was able to handle a tricky hop at shortstop.
''I had a really good feel for everything,'' Richard said. ''Once you established yourself down in the zone, you kind of feed off of that.''
Aybar pushed the Padres ahead, 3-1, with a two-run double in the fifth inning. Aybar, who won Wednesday's game with an eighth-inning homer, chased in Yangervis Solarte and Hedges.
''He's an experience hitter, he hunts mistakes and he got a fastball that was up in the zone a little bit,'' Arizona manager Torey Lovullo said.
Solarte opened the inning with a hot grounder off third baseman Jake Lamb's glove for a double. Hedges followed with a crisp single.
The Diamondbacks pulled even when Nick Ahmed's RBI single in the second scored Iannetta. He led off the inning with a double.
Myers continued his hot start with his homer to give the Padres a 1-0 lead. Myers punished Corbin's 93 mph fastball deep into the Padres' bullpen, a distance of 431 feet, to extend his hitting streak to 11 games.
''There's all the potential for him to be one of the absolute elite players in the game,'' Green said.
The Diamondbacks managed but one run in the final two games of the series.
FOUR AND NO SCORES
The Padres wiggled from a situation in the seventh when they recorded four strikeouts for only the second time in franchise history. Richard got the first two and Hand the second two, after an error by Hedges. Padres manager Andy Green was asked if he ever saw an inning like that. ''I was probably one of the hitters the last time it happened,'' said Green, a former infielder who was offensively challenged.
TRAINER'S ROOM
Padres: RHP Luis Perdomo (right shoulder strain) will come off the disabled list in time to start on Sunday against the Miami Marlins. For Perdomo (0-0, 8.44) it will be his second start of the season.
UP NEXT
Diamondbacks: RHP Taijuan Walker (2-1, 3.94) kicks off a 10-game homestead by taking on the Los Angeles Dodgers to open a three-game set on Friday. Walker is coming off a winning outing against L.A. on Sunday, as he allowed one run in five innings on four hits and a walk, while striking out seven.
Padres: RHP Trevor Cahill (0-2, 4.76) looks to rebound against the Florida Marlins in the opener of the three-game series on Friday. Cahill took the loss against the Braves on Sunday, charged with four runs and four hits in 5 2/3 innings. Cahill, who held the Braves hitless over the first four innings, is 3-3 with a 4.66 ERA against the Marlins.
---
---