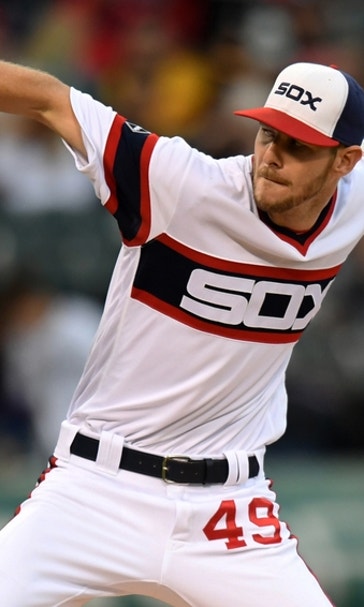 Report: Atlanta Braves Showing Strong Interest in Chris Sale
BY foxsports • November 15, 2016
Oct 2, 2016; Chicago, IL, USA; Chicago White Sox starting pitcher Chris Sale (49) pitches against the Minnesota Twins during the first inning at U.S. Cellular Field. Mandatory Credit: Patrick Gorski-USA TODAY Sports
Jon Heyman decided to stir up the simmering pot on the hot stove this morning with a rumor that will definitely wake up Braves County this morning.
The Atlanta Braves have been surrounded  by a lot of smoke since November started – literally and figuratively.  But this is news that goes well beyond the odd speculation from yesterday.
Jon Heyman, writing for Fan Rag Sports, writes that the White Sox seem to be serious about dealing their ace this off-season, and that the Braves are definitely involved:
The Atlanta Braves have joined the Chris Sale derby in a big way and are among the teams trying hardest to land one of baseball's best pitchers.

The White Sox listened to offers at the July trade deadline for Sale, but rival teams seem to believe there is a greater likelihood than ever that Sale will be dealt this winter. The White Sox are said to be listening on co-ace Jose Quintana and just about all their veteran players, including Todd Frazier and Melky Cabrera, who are free agents after the year.
Heyman goes on to say that of all teams with interest in Chris Sale – and that's probably all teams – the Braves, Dodgers, and Nationals are those that would have the prospects to interest the White Sox enough to get a deal done.
I would add the Yankees in that discussion as well, after the haul they received this Summer when dealing both Anrdrew Miller and Aroldis Chapman – relievers that both ended up in the World Series.  The Red Sox could also get involved, but they are known to be reticent to deal Yoan Moncada, who most certainly would be asked for.
But even after writing his FanRag piece, Heyman doubled down on the Braves with this tweet:
He didn't mention that Dodgers or Nationals here – just the Braves.  Interesting.
That requires us to dig quite a bit deeper.
Nov 8, 2016; Scottsdale, AZ, USA; Atlanta Braves general manager John Coppolella during the MLB general managers meeting at the Omni Scottsdale Resort. Mandatory Credit: Mark J. Rebilas-USA TODAY Sports
But Coppy Said…!
It's a bit funny.  When we first proposed a scenario in which the Braves might pursue Justin Verlander, there was interest among fans, but some responses approaching ridicule from those who cover the team full-time… based around quotes from John Coppolella made this off-season.
Paraphrasing, Coppy has directly or indirectly made statement like this:
Of course he also indicated a desire to obtain one frontline starter to go with 1-2 innings eaters that would solidify the rotation while the kids continued to develop.  We discussed that rationale last weekend.
Most recently, Coppy seemed caught off-guard to learn that at least one name had leaked out in discussions he's had (with 20-ish teams) over pitching:  Chris Archer of the Rays.  That came from Jon Morosi:
Now sure:  the sexy names are going to be the ones that these writers lead with.  But in the case of Chris Sale, this is not a general 'kicking the tires' kind of rumor – it's specific.
So why is Coppolella seeming to welch on his words from just a couple of weeks ago?
There is a reason… count to 40 and turn the page.
Aug 11, 2015; Phoenix, AZ, USA; Arizona Diamondbacks bench coach Glenn Sherlock (53) looks over a lineup card prior to facing the Philadelphia Phillies at Chase Field. Mandatory Credit: Joe Camporeale-USA TODAY Sports
How Do I Love Thee? Let Me Count the Ways
BRAVES PITCHERS ON 40-MAN ROSTER (22)
BRAVES HITTER ON 40-MAN ROSTER (12)
That's 34 names.  Sounds like there's plenty of room on the list for transactions, but that's actually not the case.
This Friday, November 18th, is the deadline for teams to set their roster up for Rule 5 draft protection.  Back in September, Fred gave us some things to look forward to as this date approaches, including the names of several that would need protection.
The team has already made several background moves in this direction:  out-righting some; losing others.
But there's only so many roster spots available for the minor league clubs as well, so even as some of these players are being removed, they have to have new landing spots.
Atlanta also has been hoping to re-sign Jeff Francoeur this Winter – a 35th name. If a Catcher is still to be obtained, then that would be a 36th name.
So there's only about 4 slots that the Braves could use to protect prospects.  From Fred's list, there were several that might require such a move:
These would be the most likely… Fred listed 8 others (and this might not quite be the complete list, but it's close).  If all were placed on the 40-man, then that gives Atlanta no "wiggle room" for the rest of the off-season… and could serve to exclude Francoeur or a catcher.
Could a Big Trade Serve to Resolve This Crunch?
One way to fix this problem without losing 'value' (i.e., losing players on waivers with no compensation) would be to use them in a trade.
It could be that Coppolella has realized that the loss of an odd starter or two – especially when compared with the possibility of getting a prize such as a Chris Sale – doesn't seem like a hard choice to make.
It could be the killing of two birds with one stone… or removing 2 or 3 names from the 40-man roster while adding one very big name.
On top of that, Sale would be a controllable name… through 2019.
Let's now see what such a deal might look like.
Oct 1, 2016; Chicago, IL, USA; Chicago White Sox starting pitcher James Shields (25) pitches against the Minnesota Twins during the first at U.S. Cellular Field. Mandatory Credit: Patrick Gorski-USA TODAY Sports
Three Scenarios
This is always a tricky thing:  trying to place a proper value on somebody of the caliber of Chris Sale.
When we were considering Justin Verlander, one of the key considerations impacting the basic offer proposed was that he has a hefty contract.  That's not the case for Chris Sale.
The Condor's deal finally starts paying him something close to his value this season… but it's still "just" $12 million.  Two team options for 2018-19 jump that slightly to $12.5m and $13.5m.  There's also a bonus for winning a Cy Young trophy.
Considering what he's been doing (on the mound, not in the clubhouse), that's dirt cheap… and he's still not yet 28 years old.
Let's also consider the needs of the White Sox, who would have the worst farm system in the majors except for the abysmal nature of the Angels and Marlins.  As a direct result, they have in mind the possibility of tearing it all down and going the route of the rebuild… with Sale being the key to the vault.
As another consequence, that raises the possibility of making this into a much bigger deal.
So this is going to hurt… but could be interesting for Atlanta.
More from Tomahawk Take
ONE:  SALE ALONE
Told you this would hurt. It might even be light… was considering the addition of Mike Soroka.
So there's a couple of 40-man players (or almost so, in the case of Sims).  Wisler replaces Sale in their rotation while Newcomb and Sims are there since they will need major league rotation support sooner than later.
TWO:  SALE PLUS SHIELDS
While the Sox want to get value for Chris Sale, they also do not want James Shields on their roster any longer.  The Padres are paying them just over half his contract to pitch poorly in Chicago.  Could this be an opportunity for Coppy to work his 'buy-a-bad-contract-to-get what-he-wants' magic?
Roughly the same package going back, except that Shields' contract means Gant instead of Newcomb… which is a significant change, for certain.  Again, another pitcher like a Mike Soroka might still be needed.
Meanwhile, Coppy then puts Shields back on the market for half of the $10 million the Braves would owe (2017 and 2018).  Somebody will bite at Big Game James for a $5 million/yr flier in the hopes that he bounces back.
Of course, the Sox could reject such an overture:  their needs aren't cash driven – they are prospect driven.  That said, a high payroll during a rebuild makes little sense, and that's where they are headed.
THREE:  SALE, SHIELDS, FRAZIER
Now this gets a little nutty, but the White Sox do wish to move the Todd-Father as well.  If Kevin Seitzer thinks he can get a little more contact out of Frazier, then this could be a great move for the Braves.  Even if not, he still slugged 40 homers in 2016.
The bad news?  Unless you can extend him for 2-3 years beyond 2017 (bridging the gap for Austin Riley or Kevin Maitan), this is probably not worth the effort… and it would get quite a bit more expensive, too (MLBTR projects $13.5 million for him in 2017 via arbitration).
So the odds of this happening are close to zero… but for the sake of argument and discussion, we'll include it anyway:
The proposed package is closer to the original (Scenario One) offer, plus adding the top pair of third basemen in the organization.
As you see, this is getting into the realm of silliness… but it's probably worth the discussion since third base is also an upgradable position for the Braves… and teams have won the World Series with a lot less than that.
PERMUTATIONS
Yes, it's certainly possible that you might see other names bandied about, given the needs of the White Sox:  Ozzie Albies, Mallex Smith – just to name two right away.
Positionally, the team is okay at the major league level for the most part, but their purpose for selling off Sale and others would be for farm system assets, so figure that many names could be in play.
With all of this, we realize that 95-98% of all rumors result in … nothing.  Just more smoke blowing around, clogging our lungs.
But do realize our premise here:  if such a deal is to assist the Atlanta Braves in unclogging their 40-man roster, then it needs to be done by Friday of this week.
So whether we're talking Sale, Archer, Gray, or any other hot young pitcher… Coppy has his work cut out for him.
We'll know soon enough.
This article originally appeared on
---
---