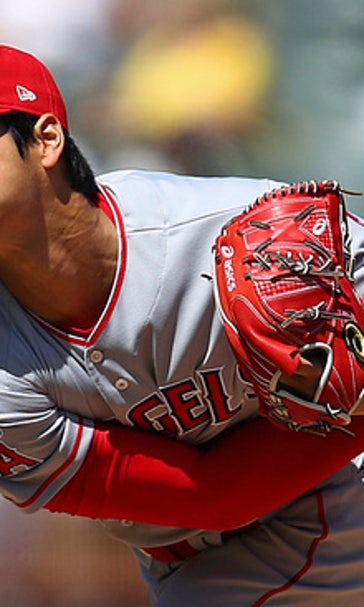 Phillies reliever unwraps rare Ohtani card on snow day
April 3, 2018
NEW YORK (AP) As an early April snowstorm hit New York City on Monday morning, Philadelphia Phillies reliever Pat Neshek found a fun way to pass the time.
Opening packs of baseball cards, the avid collector unwrapped a rare gem and shared the news on Twitter.
''Ripping open packs in ny, I found it!!!!!!! Ohtani (hash)'d 1/69,'' the 37-year-old Neshek tweeted , along with a photo of his prize - an autographed Shohei Ohtani rookie card from the 2018 Topps Heritage set.
Since the two-way phenom signed with the Los Angeles Angels in December, his cards and other autographed items have been highly coveted throughout the sports collectible industry.
This particular card was signed by the Japanese star in red ink, making it the rarer of two parallel groups of Ohtani autographs found within the set. Only 69 of this variation were produced, each one numbered individually. What makes Neshek's lucky haul extra special is it's the first one in the group that the pitcher/slugger signed, numbered ''01/69''.
Neshek often solicits autographs from teammates and opponents to add to his robust memorabilia collection. When he discovered the Ohtani card, though, he got a little flustered and accidentally placed it upside down in a protective case.
''Noticed how excited I was and put this in upside down...brutal,'' he tweeted.
Ohtani autographed cards have been selling for a premium on secondary markets such as eBay, which is exactly where Neshek's discovery appeared to be headed.
''Im going to give this to my dad to put up on eBay later this week, buy some more cases!'' Neshek tweeted .
With listings ranging from $2,000 to $5,500 for the card, Neshek and his father may be able to purchase a whole bunch of boxes with their potential windfall.
A two-time All-Star who signed a $16.25 million, two-year contract with the Phillies last offseason, Neshek is on the 10-day disabled list with a strained right shoulder. He was sent for an MRI in Philadelphia on Tuesday, the team said.
Philadelphia's scheduled game against the New York Mets on Monday night was postponed due to the wintry weather and will be made up in July.
---
More AP baseball: https://apnews.com/tag/MLBbaseball
---
---