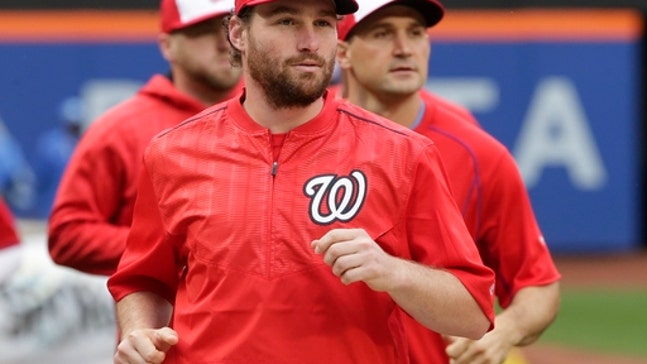 Nationals' Murphy gets 1 hit, 2 ovations in return vs Mets
Published
May. 18, 2016 12:38 a.m. ET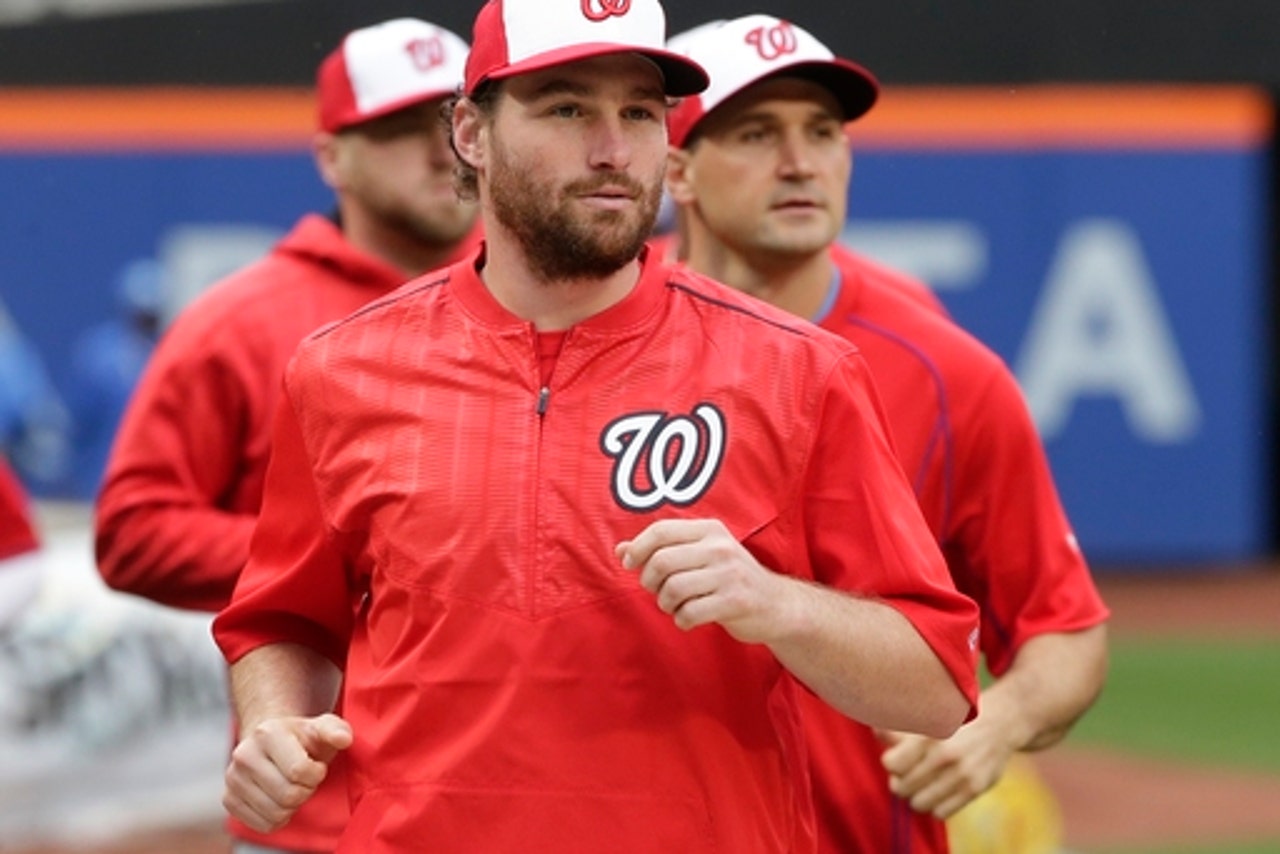 NEW YORK (AP) Back at Citi Field for the first time as an opponent, Daniel Murphy walked into the visiting clubhouse and knew his way around.
Sort of.
He'd been inside that locker room once before when he played for the New York Mets - for a fantasy football draft run by David Wright.
''It took a little getting used to, coming out of the third base dugout,'' Murphy said after the Washington Nationals lost to his old team, 2-0 Tuesday night. ''I have been coming out of the other side a couple more times.''
Murphy began the day leading the majors with a .400 batting average. He went 1 for 3, leaving him at .399 for the NL East leaders.
Along with his one hit, he drew two standing ovations.
''It was really nice. Very nice of them,'' he said. ''I thought the ovation from the crowd left me humbled, to say the least.''
Even before facing Noah Syndergaard's 100 mph heat, it had been a good day for Murphy.
Hours prior to the first pitch, Murphy received his 2015 NL championship ring from Mets general manager Sandy Alderson and two assistants during a private ceremony.
''It's big,'' Murphy said, ''and it is really nice.''
Said Alderson: ''None of us would be wearing that ring without his substantial contributions.''
A while later, Murphy walked onto the field for warmups. The Mets were taking batting practice and on his way over to greet them, he stopped for a handshake with a security guard he recognized.
A bit later, he drew a standing ovation when the Mets showed a one-minute video montage of his highlights with them that ended with ''Thank You Daniel.'' Stretching along the third base line, he waved his cap as the crowd cheered. One fan held up a sign that said ''Miss U Murph.''
''It's warm for the organization to play that video before the game. They didn't have to do that, knowing that I'm going to go out there and compete against them as hard as I can,'' Murphy said.
Murphy drew a few playful boos when he made a diving stop at second base to end the first inning. He got another standing O when stepped to the plate in the second, and he fouled out.
Murphy said he wasn't sure what kind of reaction he'd get after becoming a free agent and signing a $37.5 million, three-year deal with the rival Nationals.
''Dan Murphy should get a very, very warm reception,'' Mets manager Terry Collins said before the game.
As for how Mets fans would remember him, Murphy said: ''Hopefully, they can say I played hard.'' He added, ''I didn't always play well.''
Now 31, Murphy spent nearly 10 years in the Mets organization. His highlight came last October, when he set a record by homering in six straight postseason games, launching seven long balls in all during the NL playoffs.
''I wish I'd cracked a couple of home runs in the World Series,'' he said.
Murphy hit .150 without an RBI in the five-game loss to Kansas City and also committed a couple of errors.
Murphy has stayed in touch with several of his former teammates. Before this first of 19 matchups between the Nationals and Mets, he texted New York lefty Steven Matz to say he was glad to hear the pitcher's elbow trouble wasn't too bad.
In addition, Murphy talked to pitcher Jacob deGrom to say he was happy the righty's newborn son had gotten past some health concerns.
''Don't know if that's something I'll ever wash off,'' Murphy said, referring to his relationships with the Mets.
Murphy said it struck him in spring training, when he saw the orange-and-blue uniforms of the Mets across the diamond, that he'd moved on.
''The red is growing more comfortable every day,'' he said.
UP NEXT
Nationals: LHP Gio Gonzalez (2-1, 1.93 ERA) is 9-4 lifetime against the Mets. He's handled Curtis Granderson well, striking him out 10 times in 30 at-bats.
Mets: Bartolo Colon (3-2, 3.53) gave up five earned runs at Dodger Stadium in his last start, the most he'd allowed since last Aug. 21.
---
---