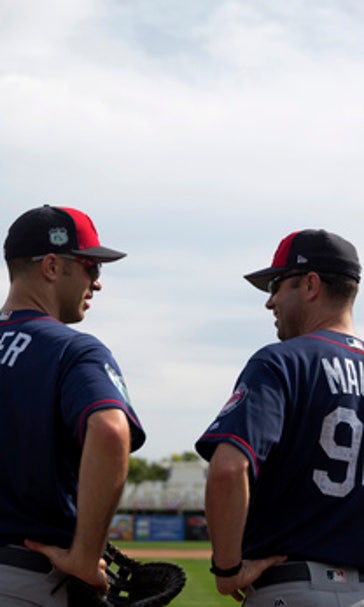 Mauer enters 14th year still excited he's at home as a Twin
February 21, 2017

FORT MYERS, Fla. (AP) For a local kid that grew up a Minnesota Twins fan, Joe Mauer has had quite a career with his home team.
Entering his 14th season with the Twins - a total that matches two of the organization's previous stars, Harmon Killebrew and Kent Hrbek, and is one year less than former standout Tony Oliva - the 33-year-old Mauer is touched when his name in mentioned with those stalwarts who wore the Minnesota uniform before him.
''It's pretty special,'' the soft-spoken Mauer said in an interview with The Associated Press. ''I'm a Minnesota kid. I know a lot about this organization, who played for this franchise since I was a little kid. I understand the history. When you mention some of the greats, it's pretty humbling and quite an honor.''
Mauer grew up in St. Paul. A three-sport high school star in football, basketball and baseball, he originally committed to play football at Florida State until the Twins called his name first overall in 2001 amateur draft.
A stellar big league career followed.
''I'm happy I'm here. It's a crazy game,'' he said. ''It seems like when I started up until now, it seems like there's been a lot of guys changing uniforms and moving on. Ever since I've known about this team as a little kid, I'm happy and grateful to put the uniform on.''
A three-time batting champion from 2006-09, Mauer was the AL's most valuable player in 2009. He hit over .300 in seven of his first 10 seasons in the majors before dropping off the past three seasons.
He is looking to rebound, just like the team, which is coming off a club-record 103 losses. Mauer hit under .280 in each of the last three years, capped by a career-low .261 last season.
''I'm anxious every year,'' he said. ''It's a fun time of the season, a clean slate. I'm excited to see what this year will bring.''
The local guy that's had a solid career with his childhood team still enjoys playing at home. In 2010, he signed an eight-year extension that will take him through 2018.
''It's been great. It's been nice,'' he said. ''It's funny, at FanFest there were a lot of Minnesotans walking around saying, `Hey, Joe.' That's pretty cool. I feel like I'm one of them and it goes both ways.''
Mauer's presence in the clubhouse is appreciated by his teammates, too.
''It's a tremendous accomplishment,'' right-hander Phil Hughes said of Mauer's longevity. ''He kind of takes the same approach. He's not a very vocal guy, but certainly goes about things and does things the right way. I think that's instrumental for the young guys to see that because he's accomplished so much in the game.''
Said center fielder Byron Buxton said: ''He's got that knowledge for you to pick his brain, to try to learn to make your game better and be smarter in the game of baseball. That's a good weapon to have.''
As he got to his locker after a workout, Mauer started stretching while he was talking.
Asked how he felt, a smile came across his face before he answered: ''I'm a little more stiff than most of these guys in here, but it feels good. It's good to be back.''
NOTES: Kyle Gibson will start the Twins' spring training opener Friday against Tampa Bay. Tyler Duffey and Hughes are scheduled to work against the Red Sox in a road game across town on Saturday. ''For me, I try to treat every spring like I'm a young guy fighting for a spot,'' the 30-year-old Hughes said. ''It keeps your edge to you a little bit. I've been around the game for a little while now, but I still don't try and assume anything.'' . Manager Paul Molitor walked around the outfield for a while watching the workouts. ''I try not to make anybody uncomfortable early,'' he said.
---
---