Miami Marlins
Miami Marlins
Marlins try to maintain momentum against Phillies (May 30, 2017)
Published
May. 30, 2017 2:20 a.m. ET

MIAMI -- The Miami Marlins finally seem to be gathering some momentum. The Philadelphia Phillies, meanwhile, are going backward.
After beating the Phillies 4-1 on Monday night, the Marlins on Tuesday night will try to win their second consecutive series.
The Marlins (19-30) have won three of their past four games, which is a modest "hot streak" to be sure. But it is still welcome news for manager Don Mattingly.
"It's been an awful month to this point," Mattingly said of the Marlins, who are 8-18 in May. "But at this point, we can only move forward.
"(Rookie shortstop) JT (Riddle) has solidified us in the middle where we had been in flux (with injuries to Miguel Rojas and Adeiny Hechavarria). We're eventually going to get guys healthy.
"I don't want to get too excited, but (three of four) is something. I don't want to think about how bad it's been. I just want to think about what we've done recently."
To try to keep things going in the second game of a three-game series vs. the Phillies (17-32), the Marlins will start left-hander Justin Nicolino, who has received numerous chances in the past but has yet to cement himself as a major-leaguer.
The Phillies will counter with right-hander Vince Velasquez, who has had wild swings of inconsistency.
Nicolino (0-1, 5.40 ERA) will be making his third start this season and his 32nd since the start of the 2015 season. Since making his big-league debut on June 20, 2015, Nicolino has been a human yo-yo, shuffling between Triple-A and the majors numerous times.
A soft-tosser, Nicolino has seen his numbers get worse almost across the board since he broke into the majors. The only major exception is his strikeout rate, which has improved from 2.8 per nine innings in 2015 to 4.2 last season and 7.2 this year.
But the unfortunate tradeoff for Nicolino has been an increased walk rate that has more than doubled from last year's ratio of 2.3 per nine innings. This year, he is walking 5.4 per nine.
The bottom line is the 0-1 record and what would be a career-high ERA. Nicolino, though, has good career numbers against the Phillies. He is 1-0 with a 2.74 ERA in four appearances, including three starts, against Philadelphia.
Meanwhile, Velasquez is 2-4 this season with a 5.55 ERA in nine starts.
Just 24, Velasquez is already in his third year in the majors. However, he has yet to take off, as evidenced by his 11-11 career record and 4.47 ERA in 52 appearances, including 40 starts.
A bright spot has been his performances against the Marlins. He is 2-0 with a 2.96 ERA in four career starts against Miami, and that includes a 1-0 record this year. He beat the Marlins 7-4 on April 26 in Philadelphia, allowing six hits, two walks and three runs in 6 1/3 innings.
It was his second-longest outing of the season and easily one of his best.
Another reason for optimism about Velasquez on Tuesday is that he has been better on the road (4.64 ERA) than at home (6.26 ERA).
Velasquez has also been better lately. After a brutal start (6.33 ERA in April), he has a 4.94 ERA in May with a chance to lower that figure some more on Tuesday.
As for Velasquez's potential run support, the Phillies got left fielder Howie Kendrick back from the disabled list on Monday. Kendrick is batting .326 after going 1-for-4 with a stolen base in his return from an oblique injury.
Phillies manager Pete Mackanin said slumping center fielder Odubel Herrera, who sat on Monday, will be on the bench again Tuesday.
Herrera is batting .181 in May and .217 for the season, and his performance is indicative of the Phillies' malaise during a stretch in which they have won just six of their past 29 games.
"We just have to show up on (Tuesday) and get after it," Mackanin said. "We're in a rut. We have to get more than three or four hits in a game. We have to battle our way of this."
---
---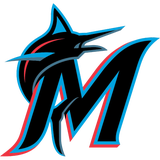 Get more from Miami Marlins
Follow your favorites to get information about games, news and more
---