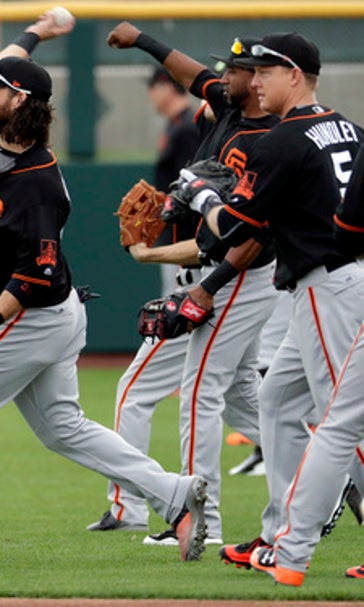 Jimmy Rollins eager to prove himself, earn spot on Giants
February 17, 2017

SCOTTSDALE, Ariz. (AP) Post-practice, Jimmy Rollins relaxed at his locker and added some orange shoelaces to his cleats, sharing with locker mate and San Francisco center fielder Denard Span how much he appreciates a pop of color in his baseball gear again.
Now the veteran infielder just needs to land a long-term job with the Giants out of spring training.
''Last year was the first time I wore black,'' Rollins said, smiling. ''I wore red, Dodger Blue. This has got that vibrant orange so it's OK. It's been a long time since I wore something with no pop of color.''
Rollins was with the White Sox last season. That after a one-season stint in Dodger Blue and bright red for 15 years with the Phillies.
The 2007 NL MVP agreed to a minor league deal in December to join a club that has liked him for years. Last season, Rollins joined Chicago with the hopes of landing an everyday job and did so. He made the roster as starting shortstop but was designated for assignment last June.
That was three days after his third daughter, Brie - ''like the cheese,'' he notes - was born. Back home in the Bay Area, Rollins' parents are hoping he makes the team so they get more regular time with his girls. Camryn is 4+ and Logan 2+, while the baby is now 8 months.
''It's good to be in a place that they wanted me for a few years now, and I've known that,'' Rollins said. ''I've been under contract with the exception of last year. The opportunity to play was more pressing at that time, so I went with what appeared to be the better opportunity to play, not necessarily the better team. The way it happened last year not playing a full season and getting a phone call, `We still like you, we'll give you a shot at least.' I'm like, `Shoot, I'm there, what numbers are available.'''
He got No. 7, the one he wore last year. His longtime No. 11 was Carl Hubbell's and is retired and ''I figured the little brother to No. 11 is 7.''
Third baseman Eduardo Nunez is thrilled to have someone like Rollins in camp to push the rest of the infielders and offer his veteran insight - and a fun personality to boot.
''I love it,'' said Nunez, limited by a hamstring injury down the stretch and in a four-game NL Division Series defeat to the Cubs. ''That's great. The competition is fun and that's what makes you better.''
The Giants made things more interesting in the competition for infield positions by adding another versatile infielder to the mix Friday. Aaron Hill agreed to a minor league contract and would earn a $2 million, one-year deal if he is added to the 40-man roster.
Hill joins a growing list of veteran infielders in the mix to try to land a job out of spring training, along with Rollins and Korean Jae-gyun Hwang. Manager Bruce Bochy reiterated that Nunez is the starting third baseman with Conor Gillaspie expected to play as well after his surprising contributions in the playoffs last fall.
The 34-year-old Hill, who has familiarity with the NL West from his years with the Arizona Diamondbacks, spent last season between Milwaukee and Boston. He batted .262 with 10 home runs, 14 doubles and 38 RBIs in 125 games. Hill spent the previous five seasons with the D-backs.
''It's great to have this kind of depth and talent with the veterans that we have,'' Bochy said following his team's first full-squad workout. ''We'll let it play out.''
For Rollins, there are still memories of losing to San Francisco in the 2010 NL Championship Series as the Giants went on to capture their first championship since moving West in 1958.
''A clubhouse that took a ring from me. Like KD, if you can't beat `em, join `em,'' he said, referencing Warriors star Kevin Durant's decision to leave Oklahoma City and join the Golden State group that beat him in last year's Western Conference Finals.
Notes: RF Hunter Pence is going through all baseball activities except for hitting after he injured a side muscle during a workout in Houston before arriving in the desert. ''He's real close,'' Bochy said.
---
---