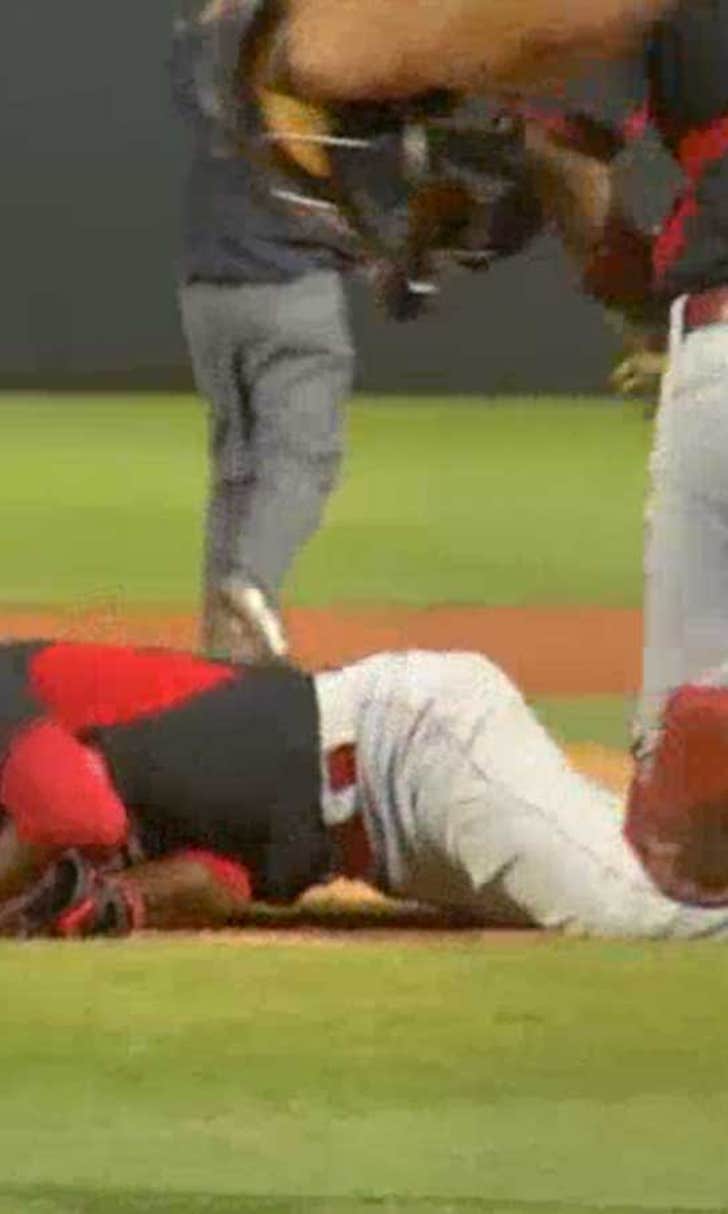 How will Cincy's Chapman deal with stepping on mound again?
BY Gabe Kapler • March 20, 2014
A return to dominance is no sure thing for Cincinnati Reds closer Aroldis Chapman.
The pitcher's talent isn't going anywhere. He will recover from the concussion and any lacerations or contusions suffered during Wednesday night's horrifying scene in which he took a fully squared up line drive to the face off the bat of Kansas City's Salvador Perez.
The human psyche, however, is far more fragile than the bones or skin. For Major League Baseball players, strength of the mind is more important than the health of the body. Think Kirk Gibson rounding the bases, jogging as if he could benefit from crutches. With his mental toughness intact, he was able to perform despite the absence of physical well-being.
I invite you to step into the body of Milwaukee Brewers catcher Jonathan Lucroy as he steps into the batter's box. 
About 90 seconds ago your teammate, Carlos Gomez, pummeled a rocket shot into the left-center-field seats in Atlanta. Gomez slowly trotted the bases while screaming obscenities in Spanish. This reckless behavior puts his teammates and you in danger. He stops near home plate to exchange pleasantries with Braves catcher Brian McCann, and both men put their highest level of bravado on display.
I encourage you now to feel Lucroy's emotion and cope with the factors now casting spells on his mind.
Atanta's Paul Maholm is on the mound and he's pissed. Jonathan, you could well wear a fastball thrown with venom right in the middle of your back. Will you charge the mound in fury or will you be a pro and jog to first base, swallowing your pain in the same gulp as your pride? Now try to clear your mind, stay on the baseball and get a hit.
I can tell you that successfully navigating an MLB at-bat takes the highest level of concentration and a clear mind. With the smallest distraction, you're an out.
For pitchers, a clear mind is equally imperative.
I spoke to young Tampa Bay Rays starter Chris Archer and he expressed this sentiment dealing with this type of situation, "convicted execution is the most important part, for me."
Players need to have a short memory, when it is related to the result of a play or an injury, this is a true separator. Concentration and, as Archer mentioned, convicted execution is of paramount importance.
If you've suffered a traumatic event like taking a baseball thrown 100 mph in the face, the mental challenge is not only centered around overcoming fear and getting back on the mound, it's silencing the voice that says, "It's going to happen again," thereby allowing full conviction to throw the pitch you have selected.
Pitcher Bryce Florie was my teammate in Detroit in 1999. The following year on Sept. 8, 2000, Bryce was struck in the eye by a line drive at Fenway Park, ultimately derailing his career. He returned to the mound, but was never as effective again.
"When you're battling an injury like that, you can't get away from it," he told the Boston Globe, "because I look through it every day."
However, Chapman does have historical examples of a full return to form.
Alex Cobb missed two months of the 2013 season after he was struck in the head by a line drive off the bat of Kansas City's Eric Hosmer and suffered a concussion. In the second half last year, Cobb posted a 2.41 ERA.
While Chapman is a different style of pitcher than Cobb, it's not unreasonable to expect a full recovery even though his injury may be closer in nature to Florie's.
Time will tell, but one thing is abundantly clear. To reacquire his 2013 form it's going to require true grit; a mental fortitude of the highest level.
---
---