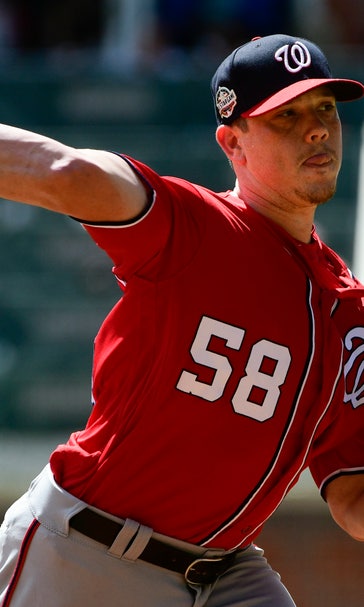 Hellickson leaves after reinjuring wrist while batting
September 15, 2018
ATLANTA (AP) — Washington Nationals pitcher Jeremy Hellickson may miss the rest of the season after reinjuring his right wrist while batting in the fourth inning of Saturday's 7-1 win over the Atlanta Braves.
Hellickson sprained his right on Aug. 15 when he landed awkwardly while covering home plate after throwing a wild pitch at St. Louis.
He made his first appearance since and got hurt again. The 2011 AL Rookie of the Year is scheduled for an MRI on Sunday.
Hellickson missed 22 games in June because of a right hamstring strain. He is 5-3 with a 3.45 ERA in 19 starts.
"The injuries have been pretty frustrating," Hellickson said. "All three were out of my control. To only make 19 starts stinks, so I've just got to think about other things and just try to get healthy."
Hellickson grimaced after fouling off the first pitch of his at-bat in the fourth inning, then swung and missed at a low and outside pitch. Hellickson walked to the dugout and was examined by director of athletic training Paul Lessard.
Andrew Stevenson pinch hit, took two balls and swung and missed at strike three, a strikeout charged to Hellickson. Jefry Rodriguez relieved to start the bottom half.
Hellickson allowed two hits and one unearned run in three innings.
His injuries have been costly. Hellickson had a $2 million base salary and earned $1.1 million in performance bonuses based on starts. He would have earned $150,000 each for 21 and 23 starts, $300,000 apiece for 25 and 27, and $500,000 each for every start from 29 to 32.
---
---