Guys you want hurling dodgeballs
BY Sam Gardner • July 26, 2013
Fans always are looking for a way to spruce up the All-Star break, and this week Royals right-hander Ervin Santana presented a brilliant idea for getting pitchers involved in the festivities:
I'm not sure why nobody has thought of this before now, but that's no matter. What does matter is forming teams so that we can get the ball rolling for next year.
According to the National Amateur Dodgeball Association, real dodgeball is played with six players per side. So without further ado, here are your proposed lineups for the first iteration of All-Star Baseball Dodgeball — a starting six and one reserve per side:
AMERICAN LEAGUE
1. Ervin Santana: It was his idea, and he's got a no-hitter to his name. That's enough for me.
2. Randy Johnson: No one said the rosters had to be made up of current players, did they? The Big Unit spent 12 years in the AL and 12 in the NL, so he probably could play on either team, but in my eyes, Johnson is a Mariner. As for his dodgeball skills? Even as a retiree, they're still pretty good:
3. Mariano Rivera: Another old guy, yes, but who else do you want on your side with the game on the line? If I know anything about dodgeball, it's that every game comes down to a one-on-one duel, and there's not anyone else in baseball I trust to get one guy out more than Mo. Plus, by next summer, he'll probably be itching to get back on the field.
4. Justin Verlander: I don't think that the selection of a former Cy Young, MVP and three-time strikeout king needs to be defended. But in case you need more justification, consider his durability. Verlander has thrown 10,072 pitches since the start of 2011 — 620 more than the next closest guy — and his arm hasn't fallen off. A dodgeball isn't a baseball, and you're going to want an arm that's ready for the long haul.
5. R.A. Dickey: Yeah, good luck dodging a knuckleball. (Don't worry, he'll figure out how to throw one with a dodgeball.) And before you get cocky, there's no way in hell you're gonna catch it either: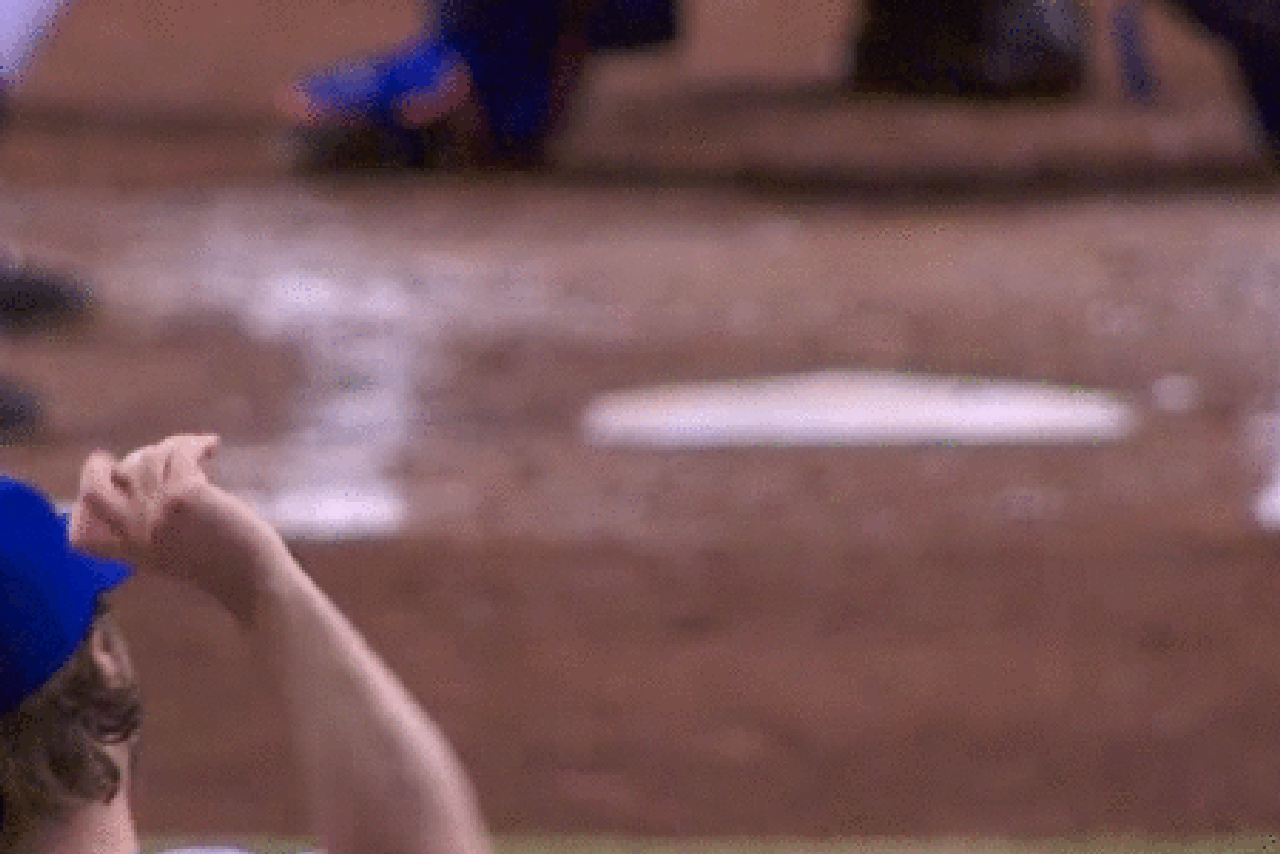 6. Doug Fister: Before you say it, yes, Fister is an odd choice, on the surface. But dive into his stats, and it's easy to see why you'd want him on your dodgeball team. Since the start of 2011, Fister has hit the second-most batters of anyone in baseball, but unlike No. 1, Justin Masterson (27 wild pitches), Fister (seven wild pitches) can't blame it on control issues. Fister is good at hitting guys with balls on purpose, and if that's not what you want on your roster, I'm not sure you understand the point of the game.
7. Curt Schilling: If you're a fan of the old guys, you're going to like this team. I assume you're wondering why Schilling, though? You must have already forgotten what happens when you make him bleed his own blood:
NATIONAL LEAGUE
1. Aroldis Chapman: Chapman can throw a baseball 105 miles per hour. Enough said:
2. Stephen Strasburg: It's been said that if you can dodge a wrench, you can dodge a ball. St. Louis Cardinals utility man Allen Craig is sometimes known as The Wrench. Strasburg has faced Craig six times, with no hits allowed, and with four strikeouts in those at-bats. You can't get much better at dodging a Wrench than that. Also, he's Stephen Strasburg.
3. Cliff Lee: OK, hear me out. I know that 2013 Cliff Lee isn't 2008 Cliff Lee, but for the purposes of a dodgeball competition, he's perfect. He's thrown 588 1/3 innings since the start of the 2011 season, and he's fourth in baseball in strikeouts in that span while walking just 92 batters (good for second in baseball among pitchers with at least 500 IP in the past three years). So he strikes guys out, and he's as accurate as they come. What more do you want?
4. Clayton Kershaw: You didn't think I was going to leave off the best pitcher in baseball, did you? Especially when he plays for the Dodgers. As for Kershaw's credentials, he's rail-thin, which makes him tough to hit from across the field, and have you seen that curveball? You get that thing rocking on a dodgeball, and there's no one who can avoid it:
5. Ian Kennedy Call him the Doug Fister of the National League. Kennedy hits batters at an alarming rate (43 since the start of 2010 and 10 this year alone), and while his accuracy isn't as impeccable as Fister's is when it comes to plunking opponents without throwing wild pitches, Kennedy makes up for it by being one of the league's top 20 strikeout guys.
6. Gerrit Cole: You can't have a dodgeball team without a Pirate, and when it comes to Pittsburgh's hurlers, I tend to lean toward Gerrit Cole. He's a No. 1 overall draft pick, so he knows what it's like to have to perform under pressure, and when he wants to crank it up to 100 mph, he's more than capable. You don't want to be staring this guy down from across the pitch:
7. Brian Wilson: I guess Wilson doesn't really have a team right now, but since he hasn't played anywhere but the NL, this is where he'll go. I know he's a bit of an injury risk, coming off Tommy John surgery and what-not, but the guy can really chuck the baseball, and with that rockin' beard, there's an intimidation factor that's tough to quantify. If there's anyone I want coming out of my dodgeball team's bullpen, it's this guy.
So there you have it, the rosters for next year's All-Star Pitcher Dodgeball Championship. Which hurlers would you include in your lineup? Include your suggestions in the comments below.
You can follow Sam Gardner on Twitter or e-mail him at samgardnerfox@gmail.com.
---
---