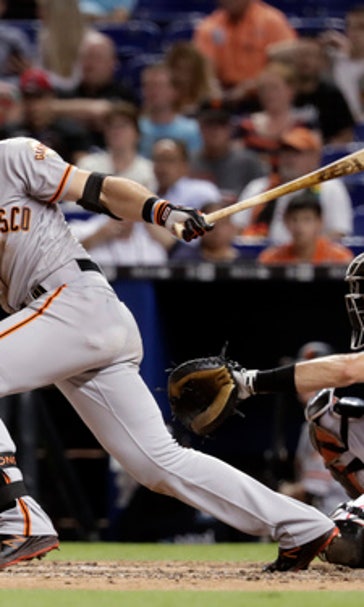 Giants' Longoria having hand surgery, hopes to return soon
June 16, 2018
LOS ANGELES (AP) San Francisco Giants third baseman Evan Longoria has elected to have surgery on his broken left hand, hoping that can speed his return to the field.
Longoria was injured Thursday when he was hit in the hand by a pitch from Miami's Dan Straily. Longoria underwent an examination in Los Angeles on Saturday morning and said surgery was not required.
The procedure could improve his recovery time, he said.
''Hopefully soon after the All-Star break, I should be back,'' Longoria said before the Giants played the Dodgers. ''It shouldn't be too long before I can start the process of strengthening it. Once the incision heals, it's pretty much pain tolerance.''
''It's best to say six to eight weeks, but I have a hard time telling myself that,'' Longoria said. ''I'll definitely push for some time soon after the All-Star break.''
The surgery will be done Tuesday in Los Angeles by hand specialist Steven Shin and a permanent pin will be inserted in Longoria's left hand.
The 32-year-old Longoria is batting .246 with 10 home runs in his first season with the Giants, and was tied for the team lead with 34 RBIs.
Longoria was a three-time All-Star in 10 seasons with Tampa Bay before being traded to the Giants last winter.
---
---