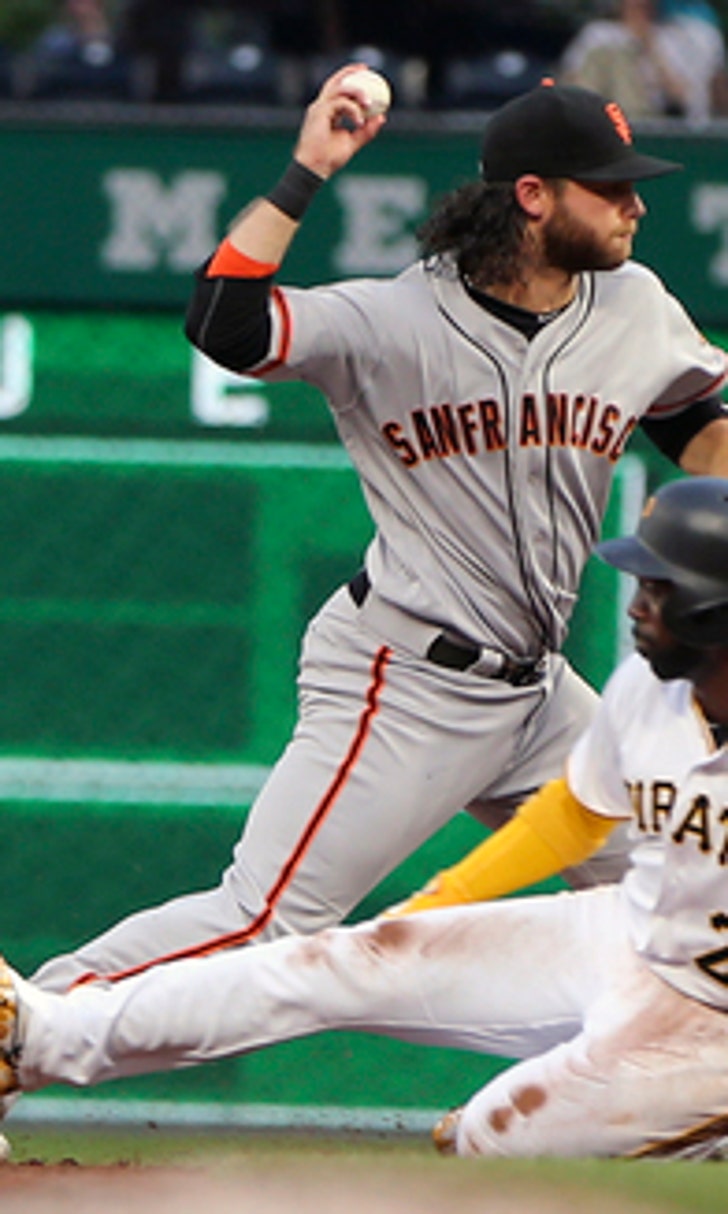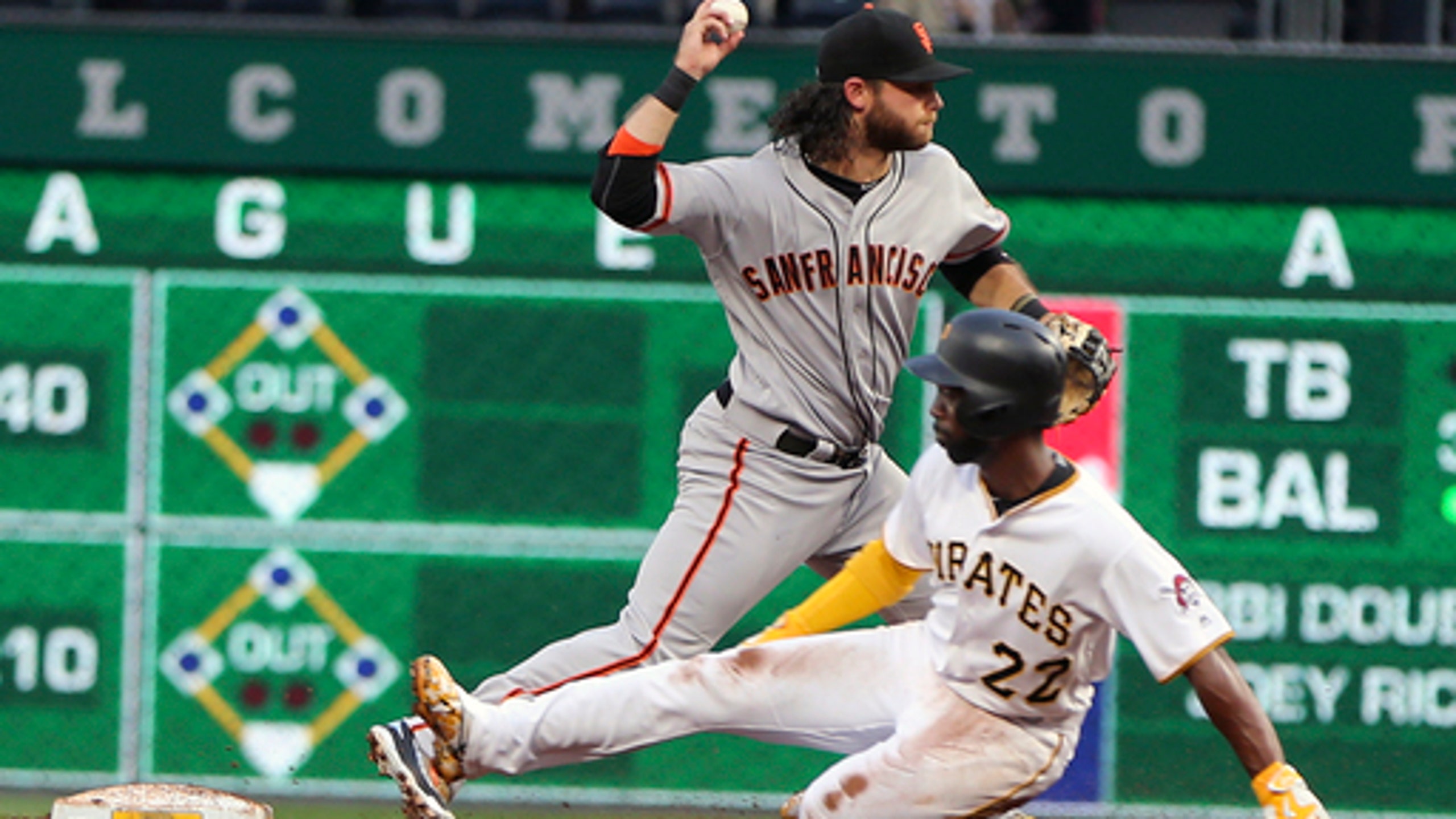 Giants beat Pirates 13-5 (Jun 30, 2017)
BY AP • July 1, 2017
PITTSBURGH (AP) Coming into Friday night's game, the San Francisco Giants had scored 311 runs in the 2017 season, the fourth-lowest total in the majors.
They didn't look like it against the Pittsburgh Pirates.
Hunter Pence drove in five runs and the Giants pounced on Pittsburgh starter Gerrit Cole for seven runs then added six more against the bullpen to rout the Pirates 13-5.
It all started at the top, as leadoff man Denard Span started the game with a solo home run and then went on to finish 4 for 5 with four runs scored.
Batting second, Joe Panik went 3 for 5 with a run and an RBI and Pence had three hits as the Giants' first three hitters went a combined 10 for 14.
''This is a small sample here, but it shows you what happens when you get timely hits,'' San Francisco manager Bruce Bochy said. ''You have a much better chance of winning the ballgame. We're getting a ton of them right now. It's getting contagious.''
Trailing by a run entering the fourth, the Giants rattled off five straight hits in that inning to score three runs, then added five more on four hits in the sixth. Buster Posey and Brandon Belt each had two-run doubles in that rally. Belt added a solo homer in the eighth and finished with four RBIs.
Johnny Cueto (6-7) fought through seven hits to get the win. After giving up three runs in the first, he settled down to hold the Pirates scoreless over his final four innings.
''It was just very difficult to get on my groove, but I'm very thankful for my teammates to pick me up and score runs for me to get a win today,'' Cueto said through an interpreter.
Cole (6-7) had seven strikeouts but gave up 10 hits. He dealt with an elevated pitch count all night and took 114 to get through 5 1/3 innings.
''Not his `A' game,'' manager Clint Hurdle said. ''He tried to battle and grind and they capitalized on missed location.''
PAIR OF FIRSTS
Giants third baseman Ryder Jones entered the game in the sixth and recorded his first major league hit in the eighth on a single to center field. Jones had gone 0 for 18 to start his major league career.
''The worst thing you can do when something like that happens is start getting passive and not being aggressive,'' he said. ''I'm a fairly aggressive hitter, so I just tried to stick with the plan and keep going. It was fun to get on base and score a run.''
Relief pitcher Dan Slania made his major league debut in the ninth.
BUSY DAY
Andrew McCutchen went 2 for 2, walked and reached on a hit by pitch, but left the game in the seventh inning after fouling a pitch off his foot. He completed the at-bat, singled, and then was lifted for a pinch-runner. McCutchen expects to be OK.
''It's just something that's going to be sore for probably few days, but I'm all right,'' he said.
Earlier in the day, he announced on Twitter that he and his wife, Maria, are expecting their first child this December.
''I have been excited for a very long time now,'' he said. ''Now everyone else gets to enjoy that with us. It's a lot of fun.''
TRAINER'S ROOM
Giants: LHP Madison Bumgarner (bruised ribs and left shoulder AC sprain) pitched in his second rehab start with Triple-A Sacramento. He went 3 2/3 innings and allowed four runs and seven hits while striking out one. Bumgarner had thrown three innings in his first rehab start. He hasn't pitched in the majors since April 19. ... 3B Eduardo Nunez (hamstring strain) will go on a two-game rehab assignment with Double-A Richmond.
Pirates: C Francisco Cervelli (post-concussion symptoms) caught, ran and hit before the game. He remains day-to-day. He's been on the seven-day DL since June 22.
UP NEXT
Giants: LHP Matt Moore (3-8, 6.04 ERA) will start Saturday. The Giants are 4-12 when Moore starts this season.
Pirates: RHP Chad Kuhl (2-6, 5.58 ERA) will attempt to snap a streak of 12 consecutive starts of five innings or less.
---
---